---
by Iain MacMillan from December 2012 issue
I believe the reaction of some guests is real – very real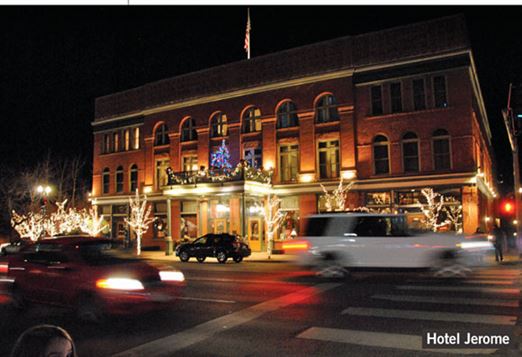 Dieter, the pro-cricketer-turned-bellhop from South Africa, looked back at us in his rearview mirror quizzically when one of my kids asked if he believed "ghosts were real." He knew immediately what the question was in reference to and thought for a second before he answered seriously, albeit diplomatically, "I believe the reaction of some guests is real—very real."
To which came the immediate and raucous reply of several voices from the back of an SUV used to chauffeur guests around the high-end shops and restaurants of town, the base area gondola and the queue of private jets at the Aspen airport: "REACTION TO WHAT!?" "HAVE YOU SEEN GHOSTS!?" "TELL US! TELL US!"
On our short trip to Aspen last winter we made the posh Hotel Jerome home for two nights simply because of its history and storied past—we weren't disappointed. In today's sea of ski area accommodation that often champions similarity more than uniqueness, this grand Victorian building stands alone. The Jerome has lived continuously as a hotel since the 1880s, surviving the highs and lows, and highs again, of Aspen, the highlights of which are well-documented in Kara Williams' story in this issue.
My family didn't share my disappointment that room 310 at the Hotel Jerome was already booked. Several ghosts apparently call the red-brick landmark in the centre of town home, the most frequently seen being that of an 11-year-old boy who drowned n the hotel pool in the 1930s. I could only drag half my family down a particular high-ceilinged corridor after a late dinner one dark night to look for mysterious wet footprints. (For decades, they've been reported to appear out of nowhere.)
We have some wonderful ski towns here at home that also started life as mining towns—but we sure ain't got no Aspen in Canada. If you've never been, haven't visited since a 1970s Skican charter or you want to compare it with other Colorado biggies such as Vail, Breckenridge or Telluride, you owe yourself some history on your next ski trip.
Contrary to popular belief, history of the purpose-built, ski-to-the-door mountain village of Snowmass far outdates Aspen's. Two years ago a curious bulldozer operator stopped to have a look at what was under his blade and quickly realized he might need a somewhat more delicate tool. Following the unearthing of the tusk of a female mammoth were (eventually) some 5,000 bones of more than 40 other animals from the last ice age. The Denver Museum of Nature & Science, having quickly jumped into the dig, discovered mammoths, mastodons, ground sloths, camels, deer, horses and giant bisons, ultimately making up Colorado's most important fossil find.
Not far from Snowmass's spectacularly mod and hip Viceroy Hotel (and a world away from Aspen's Jerome) lies the Snowmass Ice Age Discovery Center, which unfortunately opened shortly after our visit last year. Given the area's reputation with families, the pairing couldn't be more appropriate.  What child isn't interested in ancient woolly mammoths, even if the one on display is wooden? From the Ice Age to the silver rush, hippies to Hollywood, yep, there's only one Aspen.
---
Tags: Aspen, Colorado, Denver Museum of Nature & Science, Hotel Jerome, Skican, Snowmass, Snowmass Ice Age Discovery Center, USA, Viceroy Hotel