Reading Time:
7
minutes
Solo dawg Pat Lynch found what he was looking for, and more, at Sunshine
I'm three beers in and halfway through a tender fillet of Arctic char when the crackle of the fire is overtaken by a cackle from the bar. Looking up from my dinner, I instinctively drop my head, shudder and avert my gaze. A half-dozen dolled-up cougars have perched themselves at the bar rail, their squinty peepers scanning the lounge from beneath the brims of well-wworn straw cowboy hats.
It's mid-week in late April. aside from an elderly German couple sipping Gewürztraminer in the shadows of the stone fireplace, I'm the only human being in the room, and therefore, a target. The hairs rise on the back of my neck as the battle cry is sounded at the bar.
"We need some shooters, honey!"
The young barmaid speed-pours a round of draughts and fumbles with a bottle of Fireball. Then she does it gain.
This is a troop with an appetite, if the strained seams on their jeans tell the tale.
Keep 'em coming and while you're at it," drawls the pack leader,"where can we find us some MEN up here?!??"
Stealthily,I reach for my beer, hoping to hide behind the glass.It's an action that doesn't go unnoticed.
Her gaze hits me like a sausage-hunting tractor beam.
Our eyes lock. She cocks her head, lips pouty. And I start to giggle – uncomfortably.
It's awkward! I know! but this is not why I came to the Sunshine Mountain Lodge, ladies! For me,this place is about escape, quiet and sweet, sunshiney solo riding.
I drain my brew, the creepy spell broken, leave some dough on the table and slip out of the Chimney Corner Lounge. No bite marks, no scratches.
There's snow falling outside the windows, and this lone wolf's gonna be on the first chair.
---
Solitude. First felt at the moment Sunshine Village's gondola swung to halt, my bags sitting in a snowbank as I peered through the darkened windows of the Mad Trapper Saloon. Liftees wrestled with a race fence on a nearby run, the only sound to be heard aside from the hum of the Lodge's massive outdoor hot tub. I'd just arrived for four days solo, and with the gondola done for the day, it felt as if I were on a private island, some 2,000 metres up in the Rockies. Nothing to do now but focus on the task at hand. No distractions. Just hope for snow. It was, after all, almost May.
And here was that sense of detachment again, a day later and halfway up the face of Lookout Mountain, legs dangling from a chair all my own, the sun sparkling off 10 cm of fresh pow blanketing the North and South Divides. Four patrollers were getting first tracks under a bluebird sky, leaving braided lines down the face of Bye Bye Bowl. Having escaped a mauling the night before, I was feeling a certain joie e vivre . Until the gondola brought the hordes up to the village, the rest of the hill was pretty much mine, and I intended to seize it, alone. I was gonna be a salty solo dawg.
I slipped off the Divide chair and glided past the gate to Delirium Dive, a 600-vertical- metre drop into one of Sunshine's two freeride zones. Its rules were already raining on my solo parade—no entry without a transceiver, probe, shovel and an experienced partner. Harrumph. It could wait.
Instead I pointed it down the North Divide, leaning back with a grin as I tore into an untracked field of fresh, making deep, long turns at high speed, hopping over a cat track and carving around an outcropping. The village lay below, quiet, its lifts virtually empty.
By noon I'd ripped four or five speed runs off the Continental Divide, dipsy-doodled over short steeps off the Standish Express, hit stands of sun-filled trees off the Wawa quad and had yet to even move on to The Eagles or Goat's Eye, Sunshine's other distant peaks, both starting to catch the early afternoon sun.
That's the bonus of travelling solo, I told myself. There's no one to wait for. No one to bicker over runs with, no one challenging you to a more-macho-than-thou run through nipple-high moguls. I was the captain of this ship, sir! On my own!
I looked at my crumpled trail map. I looked up at the untravelled peaks in the distance. I'd barely covered any of this hill, and, if I was to be honest with myself, I didn't know if I'd even hit the good stuff yet.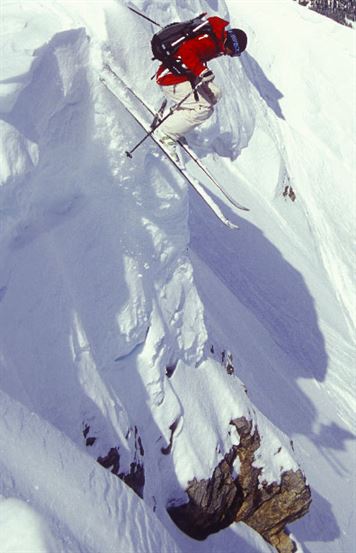 I folded my map. So much for the salty solo dawg act: If I was going to do this right, I was going to require some assistance.
"All right, the beacon's down there somewhere. Fire up that transceiver and find it."
Okay, boss. I set my beacon to receive and start to walk down the pitch. I could see Andy's bootprints and a hastily covered-over lump of snow next to a small tree. Making a beeline for it, I pretend to use my beacon to locate the hidden one. I also pretend I wasn't peeking through my gloves while the New Zealander, my recently acquired guide, was hiding it there minutes ago.
"I'm getting closer…closer…listen to this thing, Andy! I think I'm almost over top of it."
He knows I'm taking the mickey out of him.
"Right, mate. Have a dig. It's right there."
"No kidding," I thought to myself. "Let's hope I don't have to dig you out in 20 minutes' time."
Andy grins when I hand over the "lost" beacon.
"Well, I don't think we'll have to worry about a slide anyway. The snow's been stable these past few days. You ready?"
Am I ready? "Dude," I thought to myself, "if Delirium Dive didn't require a partner and avalanche gear, I'd have already ripped it. By myself!" But that was foolish pride talking, arrogance with no root in reality. In truth, I need Andy's help finding the good stuff. The REALLY good stuff. And, based solely on his goggle tan and good humour, he's already gained my unfettered trust.
Fifteen minutes later, after a short hike from the top of the Continental Divide chair, that trust gets tested. Andy takes me to the lip of the Dive proper, gives me a quick debrief on how he's going to run it and drops into the bowl. This pitch is almost 50 degrees in places, especially near the top. Hello adrenaline-drenched concentration! Hello hop turns! Hello turd in my underwear!
I catch up with Andy, who's tucked behind a cliffband a couple hundred feet down—sluff etiquette.
"Feel good?" he asks.
"Bit choppy near the top, but I think it's getting softer down here."
My heart's pounding, but I'm playing it cool.
"Yeah, the sun's warming things up," he says before pointing out the next stretch and taking off ahead of me. He's leaving sweet lines in the deeper, lower-altitude snow.
I slide out from behind the rocks and start to chase. His hoots are flying up the hill, mingling with the sound of the wind in my ears. I'm in the midst of a long carve when the snow changes. It's sudden and it's welcome. My feet are buried in soft, deep powder and I'm floating at high speed, kicking up a roost with every turn. My whoops join Andy's as we race to the bottom of the bowl, and for a moment, regardless of how fast I'm going, time slows down.
"Ho-leeee shit." I'm breathless, standing next to Andy, who's looking back uphill.
"Ah, it was good, eh, mate?" He looks at his watch. "I think we have time to do another if you're up for it."
We high-five and I chase him down to the base of Goat's Eye. I'm still grinning halfway back up the gondola.
---
So much for solitude. If I hadn't swallowed my pride and admitted I needed a guide, I'd never have run the Dive twice that day. Nor would I have gone to the top of Goat's Eye and charged black diamonds and blues, or the steeps on The Shoulder and the fast burners off the Wolverine chair. Left to my own devices, I'd probably have spent most of my trip hunting smatterings of pow in the small bowls near the Sunshine Mountain Lodge. Instead, I got a taste of local knowledge and a feel for a hill that can be hardcore or mellow, depending on what you're looking for.
And so I'm sitting in the sun on my last day here, sipping pints on the rammed patio of the Mad Trapper, the village transformed into a flurry of activity. Racers charge past the bar as part of the Bozo Cup, a memorial celebration that seems fuelled by beer and adrenaline in equal measures. My legs are toast. My face is sunburned. And when I look up, I see her. My cougar. She's walking onto the deck, selling raffle tickets with a pair of feline friends.
"You got any sunscreen, honey?" she asks, eyeballing my lobster-like face. It's a rhetorical question. "There's a big bottle of it downstairs if you wanna grab some…and, um, I think you should."
She smiles sweetly and I'm struck by her friendliness. She's no predator. She holds no malice over my weird slight at the bar a couple of nights ago. She'd probably have been fun to hang with. I buy $10 worth of raffle tickets and head down to the main floor to slather on a layer of SPF 840. I grab a pitcher and two glasses at the bar and drag my sorry ass back out onto the deck.
She's already gone. I can see her down by the finish line, laughing with friends. A woman and two jovial-looking dudes plunk themselves down next to me.
"Mind if we sit?"
They're Italian, with thick accents and ill-fitting ski suits. All three are grinning from ear-to-ear. I think about the salty solo dawg.
"Of course not," I answer. "How was your day?"
"Ho boy!" laughs the older gent before telling me how he's lucky to have survived a somersault over a small cliff. He's gesticulating wildly in the late-afternoon sun, and soon he's got us all laughing.
I flag the waitress and ask for two more glasses.
"Salute!"
We raise our pints and drain my jug, strangers bound by good times and great places.
A salty solo dawg would know none of it.
So I leave him behind.
WHERE TO STAY
Solo or as part of a group, a stay at the Sunshine Mountain Lodge offers entry into what feels like a private club. It's the only ski-in/ski-out hotel within Banff National Park, and once the gondola shuts down each day it's just you, the mountain staff and the rest of the guests chilling out at more than 2,100 metres. A large outdoor hot tub offers chances to meet the masses and heal the body, while the Chimney Corner Lounge and Eagle's Nest restaurants (casual and fine dining, respectively) are where to go for a locally sourced meal and a chance to unwind. Rooms start at $143/person/ night (includes next day skiing).
WHERE TO SKI
Start your morning in the sun off the Wawa quad, a good place to ready the legs for a run up the Divide before lunch (all advice to be hucked if you're up there on a powder day, for which I can only say "give 'er!"). Goat's Eye and Delirium Dive catch the sun later in the day; the forests off the Wolverine chair offer a more sheltered break from the high alpine of Sunshine's main peaks and lots of spots to dip into the trees for a taste of untracked deliciousness.
WHO TO SKI WITH
Trust me, if this is your first trip to Sunshine, don't go all stubborn salty solo dawg on me. Suck it up and get a free tour from a snowhost or pay for a guide to take you into the freeride zones. Local knowledge can't be trumped.
MORE INFO