Reading Time:
3
minutes
by Iain MacMillan, editor, from Fall 2012 issue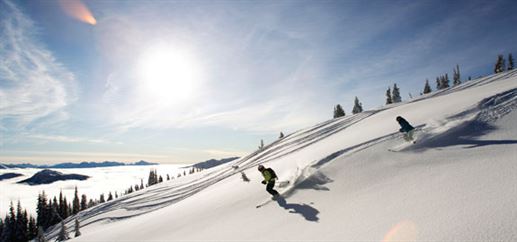 Jennifer, a dandy skier who runs our design studio, piped up the other day about her biggest frustration last winter at the Ski Canada Test at Fernie: skiing powder.
"I got so frustrated," complained Jennifer, when art director Norm and I were reviewing photos and gleefully recalling one particular late-to-work day at Fernie, but then Marcus from K2 sent me a pair of  BrightSides and I couldn't believe how much easier it was! " For Jennifer, a door had suddenly opened; it was that simple. Increase the waist of your ski by 20 or 30 mm, introduce some creative combo of rocker vs. camber construction, add two or three tips from a pro, and voila! you're on the road to off-piste happiness. Next decision: cat or heli.
As incredulous as it seems to some geographically blessed readers, there's a huge percentage of skiers in his country (particularly female), who, for lack of opportunity, remain incredibly intimidated skiing in big snow. And during our week in Fernie, it was big, which was perfect for our Big Mountain ski test.
My wife, Ray, often has to live vicariously through my ski escapades each winter, and she's an angel for quietly listening to how great the skiing was in one resort or region after I return home. But last year, after almost 20 years of putting up with me being away on another powdery business trip, she managed to step gracefully into a chopper for the first time in her life at Mike Wiegele Helicopter Skiing.
"I was definitely anxious the first day," she recalls. "There was all the serious talk about helicopters and avalanche beacons, but I was also worried I'd be the weakest skier in the group. There weren't many, or it seemed, any other females."
But on her first day in the helicopter, Ray wasn't the only woman. We joined a group of Americans who'd been returning to Wiegele's for more than a decade. Unlike 98 per cent of heli-ski wives (odds are better in a cat), women actually arrived with their husbands and a third flew in solo. Their addition definitely made the advanced/expert group feel more relaxed than other heli-days; and curiously, the guides needed to repeat instructions far less often.
Test editor and Wiegele heli-guide Ron Betts noted that "a gender mix makes for a much more interesting week of skiing—and dinner conversation." He also joked, "If a woman can handle a Ladies' Day at a private club in Ontario, she'll have no problem at Wiegele's!"
Like anywhere you go skiing from heli or cat, the dynamics of the group develop within a few runs—and contrary to popular belief the chopper isn't always full of competitive type-A guys. On our first day, we joined Sun Valley icon John Crews, who's rubbed Gore-Tex elbows with the likes of Willy Bogner, Warren Miller and Dick Barrymore. No slouch in the pow herself, John's wife, Janet, looked almost surprised by the obvious when Ray and I commented on how the two weren't ski buddies each run. I can think of 100 other couples that would fit his arrangement.
The following day Ray was the only female in the group, but was relieved to see how many were less than perfect in powder. I just thought everyone who heli-skied was an expert or movie star, but these guys could have been any of our friends!" she noted, surprised.
Anne Hendrie's only intentions while joining husband, Peter, on his trip to Wiegele's resort was to relax in the spa, catch up on reading in front of the fire and start a helly-belly from the five-star cuisine. The young grandmother from Guelph, Ontario, started skiing as an adult, but even after some time living in Europe, never skis off the groomed runs.
"The first night safety procedure video was so scary, I thought there was no way on earth I would be skiing, but then someone suggested cat-skiing and I thought I'd give it a try." The next morning a helicopter dropped Hendrie and a more timid wife from New Zealand atop nearby Saddle Mountain with a tip-dispensing guide (all Wiegele guides hold a minimum CSIA Level III instructor's card) and a handful of lucky latch-ons with heir own guide. A cat (and a tasty lunch) was purring nearby. For Anne, it was a bluebird day with knee-deep light, dry fluff and a speed at her own pace—a good book in front of the fire after a day at the spa would have to wait.