Reading Time:
4
minutes
Circling above the airport at Stockholm has me wondering if I've actually left Ontario. The familiarity out the plane window of snow, forest, frozen lakes and rock below is incredible, it looks like Muskoka down there! Later, in the terminal, Swedish TSN is blasting from TVs above our heads. Only two channels:
cross-country and alpine skiing—overall a lovely welcome.
From South Africa to Switzerland, Chile to China, Columbia Sportswear shows up in shops in more than 100 countries around the world. Part of the process in keeping sporty people warm, dry and comfortable (and looking good) is testing new gear in some of the world's more interesting locales, like Sweden, where Ski Canada was allowed to tag along. Whether you're alpine, touring or cross-country skiing, snowshoeing, fat-biking, hot-tubbing or chasing reindeer, Sweden has an outdoor testing lab waiting for you—and Columbia has just the right thing to wear for the occasion.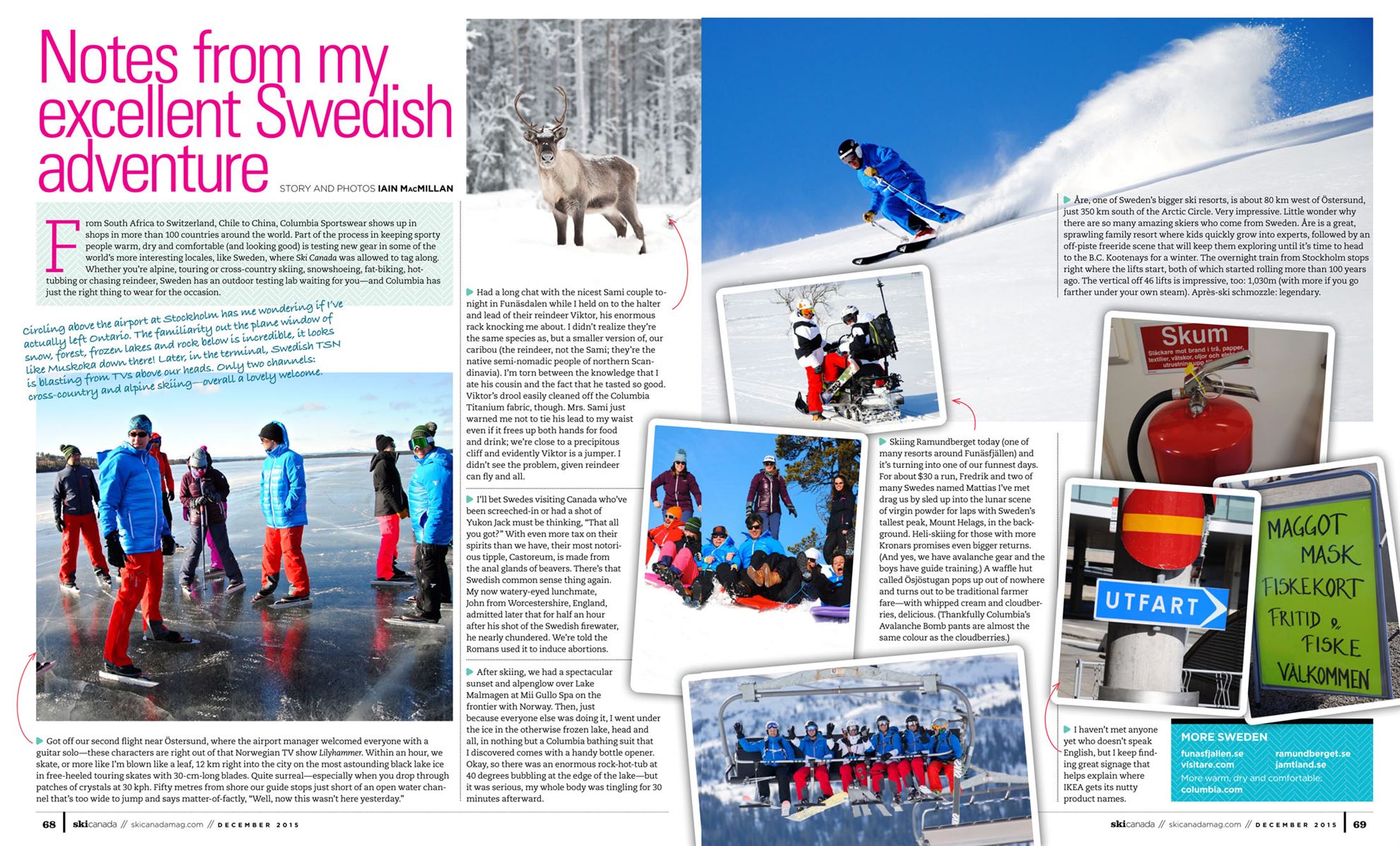 Had a long chat with the nicest Sami couple tonight in Funäsdalen while I held on to the halter and lead of their reindeer Viktor, his enormous rack knocking me about. I didn't realize they're the same species as, but a smaller version of, our caribou (the reindeer, not the Sami; they're the native semi-nomadic people of northern Scandinavia). I'm torn between the knowledge that I ate his cousin and the fact that he tasted so good. Viktor's drool easily cleaned off the Columbia Titanium fabric, though. Mrs. Sami just warned me not to tie his lead to my waist even if it frees up both hands for food and drink; we're close to a precipitous cliff and evidently Viktor is a jumper. I didn't see the problem, given reindeer can fly and all.
******************************************************
I'll bet Swedes visiting Canada who've been screeched-in or had a shot of Yukon Jack must be thinking, "That all you got?" With even more tax on their spirits than we have, their most notorious tipple, Castoreum, is made from the anal glands of beavers. There's that Swedish common sense thing again. My now watery-eyed lunchmate, John from Worcestershire, England, admitted later that for half an hour after his shot of the Swedish firewater, he nearly chundered. We're told the Romans used it to induce abortions.
*****************************************************
After skiing, we had a spectacular sunset and alpenglow over Lake Malmagen at Mii Gullo Spa on the frontier with Norway. Then, just because everyone else was doing it, I went under the ice in the otherwise frozen lake, head and all, in nothing but a Columbia bathing suit that I discovered comes with a handy bottle opener. Okay, so there was an enormous rock-hot-tub at 40 degrees bubbling at the edge of the lake—but it was serious, my whole body was tingling for 30 minutes afterward.
******************************************************
Got off our second flight near Östersund, where the airport manager welcomed everyone with a guitar solo—these characters are right out of that Norwegian TV show Lilyhammer. Within an hour, we skate, or more like I'm blown like a leaf, 12 km right into the city on the most astounding black lake ice in free-heeled touring skates with 30-cm-long blades. Quite surreal—especially when you drop through patches of crystals at 30 kph. Fifty metres from shore our guide stops just short of an open water channel that's too wide to jump and says matter-of-factly, "Well, now this wasn't here yesterday."
********************************************************
Åre, one of Sweden's bigger ski resorts, is about 80 km west of Östersund, just 350 km south of the Arctic Circle. Very impressive. Little wonder why there are so many amazing skiers who come from Sweden. Åre is a great, sprawling family resort where kids quickly grow into experts, followed by an off-piste freeride scene that will keep them exploring until it's time to head to the B.C. Kootenays for a winter. The overnight train from Stockholm stops right where the lifts start, both of which started rolling more than 100 years ago. The vertical off 46 lifts is impressive, too: 1,030m (with more if you go farther under your own steam). Après-ski schmozzle: legendary.
******************************************************
Skiing Ramundberget today (one of many resorts around Funäsfjällen) and it's turning into one of our funnest days. For about $30 a run, Fredrik and two of many Swedes named Mattias I've met drag us by sled up into the lunar scene of virgin powder for laps with Sweden's tallest peak, Mount Helags, in the background. Heli-skiing for those with more Kronars promises even bigger returns. (And yes, we have avalanche gear and the boys have guide training.) A waffle hut called Ösjöstugan pops up out of nowhere and turns out to be traditional farmer fare—with whipped cream and cloudberries, delicious. (Thankfully Columbia's Avalanche Bomb pants are almost the same colour as the cloudberries.)
*******************************************************
I haven't met anyone yet who doesn't speak English, but I keep finding great signage that helps explain where IKEA gets its nutty product names.
More Sweden
funasfjallen.se  *   visitare.com   *   ramundberget.se   *   jamtland.se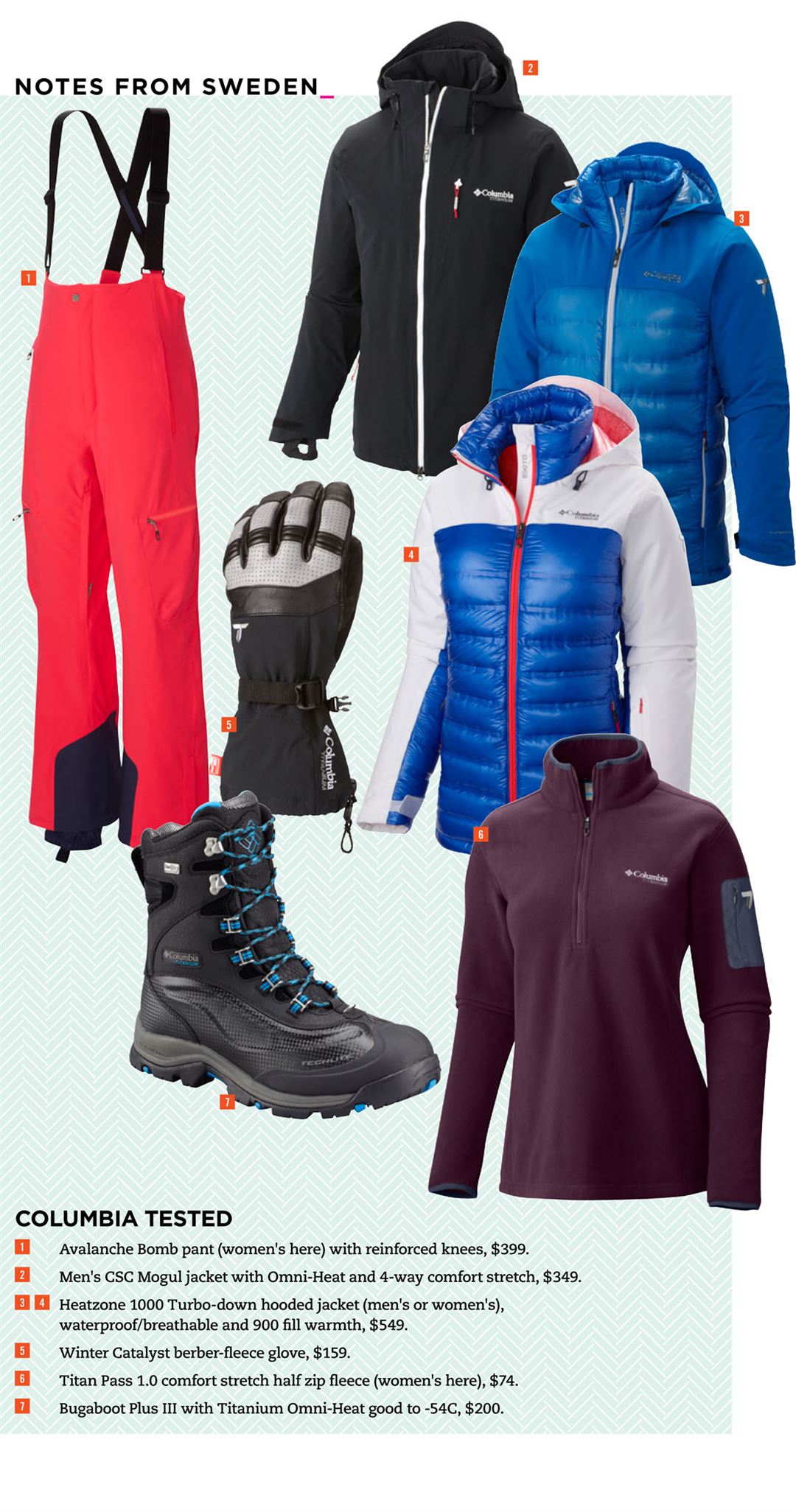 COLUMBIA TESTED
  1.  Avalanche Bomb pant (women's here) with reinforced knees, $399.
  2.  Men's CSC Mogul jacket with Omni-Heat and 4-way comfort stretch, $349.
3.  4. Heatzone 1000 Turbo-down hooded jacket (men's or women's), waterproof/breathable and 900 fill warmth, $549.
5.  Winter Catalyst berber-fleece glove, $159.
6.  Titan Pass 1.0 comfort stretch half zip fleece (women's here), $74.
7.   Bugaboot Plus III with Titanium Omni-Heat good to -54C, $200.