Reading Time:
2
minutes
The most important pieces of clothing you wear are the ones sitting next to your skin. They'll help keep you dry from the skin side, which translates to warmth. They're your first line of insulation. And if your outer layers fail they'll help keep you warm even if you get wet all the way through.
Choosing The North Face Wool Baselayer Long-Sleeve is a good place to start when layering. New for this year, the range of baselyaer tops and bottoms are 100 percent merino wool, which is soft and warm, but also pulls moisture off the skin, resists B.O. and is still machine washable. TNF adds a little bit of elastic to the merino yarn to improve durability and help the layers hug the body which is better for moisture wicking and warmth.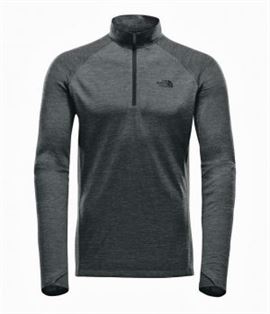 Seams are strategically placed to stay out of the way of chaff zones, like under the arms and on the shoulders. And there are those handy thumb loops on the sleeves for keeping everything in line while sliding into other layers.
In several weeks of testing in everything from above zero to -25 C skiing weather they've proven again just how versatile merino is as a base layer. We stayed dry when sweating in unexpected warmth and felt cozy in bitter cold.
Merino clothing is never cheap, but in our experience it works better, is warmer, lasts longer and is arguably easier on the environment than synthetic fibres, which are mostly made of petroleum products. This new line from TNF is worth a look if you need a new base.
The North Face Baselayer Long-Sleeve
RYAN REPORT is a frequent web post by Ski Canada magazine's technical editor, Ryan Stuart.