---
from Fall 2009
Canada is best known as the land of hockey, but at the Winter Olympics there's another indisputable marquee event—the downhill alpine race. And Canadians like their speed courses to live up to the description of being lightning fast.
In October, four full months before the 2010 Vancouver Games open, the snow cannons started firing the icy base layer at Whistler for the Dave Murray Olympic run, which will be the proving ground for the men's Olympic downhill champ and serve as part of the women's downhill course. (The new women's course combines Dave Murray with portions of Wildcard, Jimmy's Joker and Franz's Run.)
More than $27 million has been spent in modifications down 3.1 km at Whistler- Blackcomb, which will also be host to super-G, giant slalom, slalom and super-combined races. Mark your calendars now, the men's downhill kicks off the first Saturday of the
Games, the morning of February 13.
"The Dave Murray course itself is not dramatically different. Most of the $27 million has been spent on snowmaking," says Pete Bosinger, the 1988 Olympian who is sport manager for alpine events for the Olympic organizing committee VANOC.
As well as doubling snowmaking capacity, officials have installed new timing and data infrastructures, installed new infrastructure to support safety nets and doubled the width of the finish corral for the Olympics.
There will be major challenges for the Olympic field, however. The Dave Murray course has the reputation of being one of the longest in the world, a hard test on the legs.
The last World Cup skiers faced 33 turns or directional changes and Bosinger says they'll encounter a similar test in 2010. The course is shorter than it was in 1989, when Rob Boyd became the first Canadian to win a World Cup race on home snow, but the vertical drop from start to finish is still about 860 metres and the average slope gradient is 28 degrees.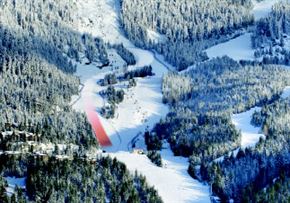 Dave Murray, for whom the men's Olympic run was named, died of skin cancer in 1989—far too young at 37. He was one of the four originals who branded the Canadian ski style as daring and risk-laden. (The Crazy Canucks were Ken Read, Steve Podborski, Dave Irwin and Dave Murray.)

The men's Olympic run is a test worthy of the Crazy Canuck legacy. It has seen 13 World Cup downhill and super-G races over the past 20 years, the most memorable for Canadians being the 1989 World Cup win by a young Rob Boyd, now a coach of the women's speed team. His name still is attached to the Whistler run. One of the prominent features identified by Bosinger is called "Boyd's Chin."

Racers reach speeds of more than 120 km an hour—not unusual on the World Cup circuit, but high-speed navigation will be a challenge on an Olympic surface that's "different from the kind you and I might face on a sunny Sunday," says Bosinger, who also has coached the national teams for Canada and the United States. "It will be a classic downhill, with high speeds, flats and technical sections"—not unlike classics like Kvitfjell in Norway or Chamonix in France. "But we'll increase the density of the snow. It will be harder snow, created with the intent of building a racetrack. From the beginning, we'll be making snow with more moisture (water) in it. It will be groomed immediately by snowcats, then compacted. Water will be added on the women's courses, too."

One year before the Games open, Erik Guay of Mont Tremblant, Quebec, praised the Dave Murray course at the World Cup race that served as an Olympic test, saying it has "a little bit of everything…everything a downhiller wants and everything a downhiller looks for."

Liechtenstein's Marco Buechel lauded the Dave Murray Downhill as a "true Olympic course. Whoever wins here at the Olympic Games will be the true champion. I can say nothing against this course. It has everything…it's just amazing to ski here. But it is very, very difficult."

Guay, John Kucera of Calgary, Manuel Osborne-Paradis of North Vancouver and Jan Hudec of Calgary—if he recovers from a knee injury—are all medal threats for Canada in the Olympic speed events. Alpine Canada's goal is to win at least three medals at the 2010 Games. Guay wasn't three-years-old when Edi Podivinsky placed 3rd in the downhill at the 1994 Games in Lillehammer, Norway—the last Canadian to win an Olympic skiing medal.

Tags: 2010 Vancouver Games, British Columbia, Dave Irwin, Dave Murray, downhill alpine race, downhiller, Érik Guay, Jan Hudec, John Kucera, ken Tead, Marco Buechel, men's run, Olympic course, Rob Boyd, ski racing, Whistler, Winter Olympics