---
The ultimate test for a manufacturer is the no-compromise, All-Mountain ski.
These products are the backbone of the ski world—they may not be in the sexiest category but they remain the top-selling multi-purpose tool for the whole mountain. Not surprisingly, you can expect them to appeal across the spectrum, from those who love to rip turns in spandex to those who charge with shovels and probes in their backpacks.
RTM RENEW
 Völkl completely renews the Ride the Mountain, or RTM, series, bringing down weight by close to 20 per cent through specialized CNC milling at the extremities, both rear and front as well as side-to-side. Its 3D Ridge Core technology integrates with a unique Marker binding retention setup in lieu of an external rail, resulting in an elegant one-screw system. The package offers a wider, sturdier hold with better power transmission and flex than previously possible. Vibration reduction comes from the racecourse UVO (Ultimate Vibration Object) technology. At the top of the six-ski series is the RTM 86 Ti followed by the steel-backed RTM 84. The new shaping of the ski means that this season's RTMs come with camber underfoot, early low-rise rocker in the tip and rockered tails.
I KONIC
 K2 introduces Konic Technology, which seeks to optimize material distribution throughout the ski so you can ride longer and harder without burning out. Look for it throughout its All-Mountain K2 Konic, K2 iKonic and the athlete-inspired Pinnacle series. At the top of the heap is the iKonic 85Ti (126/85/114mm). Built from a strong metal-laminate and paulownia-wood perimeter graced with forgiving aspen, the unique core enables the ski to switch from arcing through cruisy groomers to charging turns in the steeps.
A Noble Cause
 Like the popularity of cottage breweries, craft skis are everywhere these days, and there are more and more going after the bulging All-Mountain market. The Noble from the crowd-funded Templar, for instance, is a ski with only a little rocker in the tip to make turn initiation easy, but almost full camber to secure your edges and complete the carve. A torsionally strong poplar/bamboo/paulownia vertical sandwich is wrapped in carbon, the only laminate used. And at 90mm underfoot, it's a versatile balanced machine that'll let you pop from groomers to trees, fluff to machine-made with confidence.
ADDED TO THE MIX
 DPS adds the Cassiar 95 Hybrid T2 (129/95/116) into its growing All-Mountain offering. Expect some of the key traits of the Cassiar lineup, including a slightly higher tip profile and flat tail, and Hybrid T2 construction—a proprietary mix of Titanal, glass and carbon. The 95mm-waist iteration comes with an altered flex profile that carves an 18m radius at 178cm and leans slightly toward softer snow, making it the widest and floatiest member of DPS's All-Mountain series.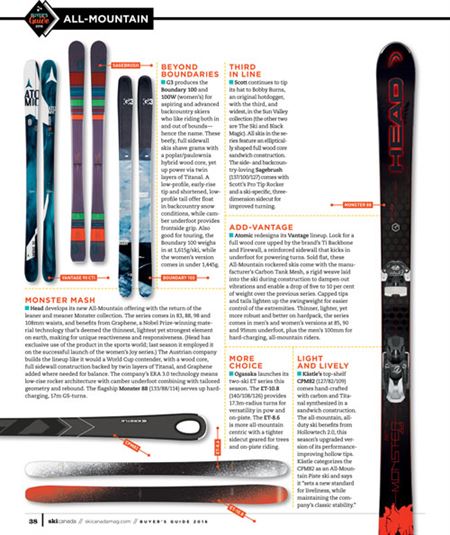 BEYOND BOUNDARIES
 G3 produces the Boundary 100 and 100W (women's) for aspiring and advanced backcountry skiers who like riding both in and out of bounds—hence the name. These beefy, full sidewall skis shave grams with a poplar/paulownia hybrid wood core, yet up power via twin layers of Titanal. A low-profile, early-rise tip and shortened, low-profile tail offer float in backcountry snow conditions, while camber underfoot provides frontside grip. Also good for touring, the Boundary 100 weighs in at 1,615g/ski, while the women's version comes in under 1,445g.
THIRD IN LINE
 Scott continues to tip its hat to Bobby Burns, an original hotdogger, with the third, and widest, in the Sun Valley collection (the other two are The Ski and Black Magic). All skis in the series feature an elliptically shaped full wood core sandwich construction. The side- and backcountry-loving Sagebrush (137/100/127) comes with Scott's Pro Tip Rocker and a ski-specific, three-dimension sidecut for improved turning.
ADD-VANTAGE
 Atomic redesigns its Vantage lineup. Look for a full wood core upped by the brand's Ti Backbone and Firewall, a reinforced sidewall that kicks in underfoot for powering turns. Sold flat, these All-Mountain rockered skis come with the manufacturer's Carbon Tank Mesh, a rigid weave laid into the ski during construction to dampen out vibrations and enable a drop of five to 10 per cent of weight over the previous series. Capped tips and tails lighten up the swingweight for easier control of the extremities. Thinner, lighter, yet more robust and better on hardpack, the series comes in men's and women's versions at 85, 90 and 95mm underfoot, plus the men's 100mm for hard-charging, all-mountain riders.
MONSTER MASH
 Head develops its new All-Mountain offering with the return of the leaner and meaner Monster collection. The series comes in 83, 88, 98 and 108mm waists, and benefits from Graphene, a Nobel Prize-winning material technology that's deemed the thinnest, lightest yet strongest element on earth, making for unique reactiveness and responsiveness. (Head has exclusive use of the product in the sports world; last season it employed it on the successful launch of the women's Joy series.) The Austrian company builds the lineup like it would a World Cup contender, with a wood core, full sidewall construction backed by twin layers of Titanal, and Graphene added where needed for balance. The company's ERA 3.0 technology means low-rise rocker architecture with camber underfoot combining with tailored geometry and rebound. The flagship Monster 88 (133/88/114) serves up hard-charging, 17m GS-turns.
MORE CHOICE
 Ogasaka launches its two-ski ET series this season. The ET-10.8 (140/108/126) provides 17.3m-radius turns for versatility in pow and on-piste. The ET-8.6 is more all-mountain centric with a tighter sidecut geared for trees and on-piste riding.
LIGHT AND LIVELY
 Kästle's top-shelf CPM82 (127/82/109) comes hand-crafted with carbon and Titanal synthesized in a sandwich construction. The all-mountain, all-duty ski benefits from Hollowtech 2.0, this season's upgraded version of its performance-improving hollow tips. Kästle categorizes the CPM82 as an All-Mountain Piste ski and says it "sets a new standard for liveliness, while maintaining the company's classic stability."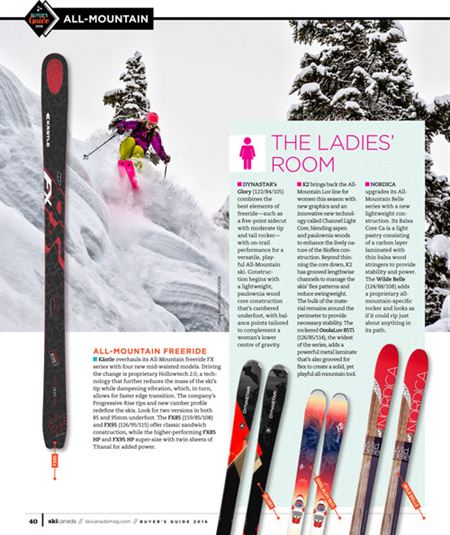 ALL-MOUNTAIN FREERIDE
 Kästle overhauls its All-Mountain freeride FX series with four new mid-waisted models. Driving the change is proprietary Hollowtech 2.0, a technology that further reduces the mass of the ski's tip while dampening vibration, which, in turn, allows for faster edge transition. The company's Progressive Rise tips and new camber profile redefine the skis. Look for two versions in both 85 and 95mm underfoot. The FX85 (119/85/108) and FX95 (126/95/115) offer classic sandwich construction, while the higher-performing FX85 HP and FX95 HP super-size with twin sheets of Titanal for added power.
The Ladies' Room
 DYNASTAR's Glory (122/84/105) combines the best elements of freeride—such as a five-point sidecut with moderate tip and tail rocker—with on-trail performance for a versatile, playful All-Mountain ski. Construction begins with a lightweight, paulownia wood core construction that's cambered underfoot, with balance points tailored to complement a woman's lower centre of gravity.
 K2 brings back the All-Mountain Luv line for women this season with new graphics and an innovative new technology called Channel Light Core, blending aspen and paulownia woods to enhance the lively nature of the Bioflex construction. Beyond thinning the core down, K2 has grooved lengthwise channels to manage the skis' flex patterns and reduce swingweight. The bulk of the material remains around the perimeter to provide necessary stability. The rockered OoolaLuv 85Ti (126/85/114), the widest of the series, adds a powerful metal laminate that's also grooved for flex to create a solid, yet playful all-mountain tool.
 NORDICA upgrades its All-Mountain Belle series with a new lightweight construction. Its Balsa Core Ca is a light pastry consisting of a carbon layer laminated with thin balsa wood stringers to provide stability and power. The Wilde Belle (124/88/108) adds a proprietary all-mountain-specific rocker and looks as if it could rip just about anything in its path.
1,000+ Ski & Boot Specs and pricing at skicanadamag.com
---
Tags: all mountain skis, Atomic Vantage, backcountry, buyers guide, DPS Cassiar 95, Dynastar Glory, G3 Boundary 100, Head Monster 88, K2 I Konic, K2 OoolaLuv, Kastle CPM 82, Kastle FX-85, Nordica Wilde Belle, Ogasaka ET 10.8, Scott Sagebrush, Templar Noble, Volkl RTM