Reading Time:
6
minutes
One ski to rule! The All-Mountain division has become the holy grail—the ultimate quiver of one. In the ongoing search of such lofty goals, the trickle-down upgrades and tweaks fresh from all the industry's big-money events continue to show up under our feet. Look closely in ski shops this season and you'll find the DNA of the FIS, X-Games and big-mountain film shoots between every tip and tail.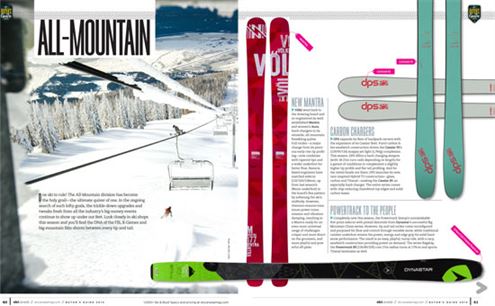 New Mantra
 Völkl went back to the drawing board and re-engineered its well-established Mantra and women's Aura, hard-chargers in its versatile, all-mountain freeskiing quiver. Full rocker—a major change from its previous early-rise tip profiling—now combines with tapered tips and a wider underfoot for better float. Bavaria-based engineers have matched sidecut (132/100/118mm, up from last season's 98mm underfoot) to the board's flex pattern by softening the ski's midbody. However, titanium ensures maximum power transmission and vibration damping, resulting in a Mantra ready for an even more universal range of challenges: crisper and more direct on the groomers, and more playful and powerful off-piste.
 Carbon chargers
 DPS expands its fleet of hardpack-carvers with the expansion of its Cassiar fleet. Pure3 carbon fibre sandwich construction drives the Cassiar 95's (129/95/116) snappy yet light (1,760g) complexion. This season, DPS offers a hard-charging weapon (with 18-21m turn radii depending on length) for a gamut of conditions to complement a slightly higher tip profile and flat tail profiling. And for the metal-heads out there, DPS launches its new, race-inspired Hybrid T2 construction—glass, carbon and Titanal—making the Cassiar 85 an especially hard-charger. The entire series comes with chip-reducing chamfered top edges and solid carbon bases.
Powertrack to the people
 Completely new this season, the Powertrack lineup's unmistakable five-point sidecut with pintail descends from Dynastar's successful Big Mountain Cham series. However, tip and tail rocker come reconfigured and purposed for float and control through variable snow, while traditional camber underfoot retains the power, energy and edge grip for solid hard-snow performance. The result is an easy, playful, turny ride, with a racy, sandwich construction providing power on demand. The series flagship, the Powertrack 89 (126/89/109) cuts 17m-radius turns at 179cm and sports Titanal laminates as well.
MOTIVE-ated
 Fischer's All-Mountain Motive and women's Koa series have had significant upgrades over last season. The skis ride with an early-rise tip and flat, power-generating tail (except the Koa 100, with its rockered tail). The R&D department adds Air Tec (a wood core that's strategically milled with a weight savings of up to 220g per ski) to the 80, 86 and all-new Motive 95 underfoot models. The 86 and 95 also benefit from a new, milled double layer of Ti, offering close to 20-per-cent weight savings with improved flex.
An MX 98 high
 Kästle expands its high-performing All-Mountain line with the MX 98 (132/98/117). At 174, 184 and 194cm lengths, it delivers the hallmarks of a hard-charger: full wood core (ash and silver fir, to be exact) with a pair of 0.5mm Titanal sheets, old-school camber, and powerful fast-grip tip and tail. Its elliptical radius sidecut with a 27-30m turn radius combines with extra girth to make it a full mountain carver, while the brand's Hollowtech tip cutout lightens things up at both ends.
Shred it
 Park-loving all-mountain skiers can look to K2's manoeuvrable Shreditor 92 (124/92/118), a relatively narrow brother in the popular Shreditor brethren. Freeride and freestyle inspired, the twin features an All-Terrain Baseline Rocker profile, combining camber underfoot with tapered tips and tails. Low swingweight blends with the mountain toy company's triaxial braided wood core blend of fir and aspen for an All-Mountain ski that does just what the name says.
 The full Spectrum
 All-mountain skiers looking for a taste of big-mountain construction should check out Elan's Spectrum 85 (127/85/110). Developed for advanced and expert riders, the fibreglass-reinforced Power Woodcore combines with PST sidewalls and the company's storied Amphibio profiling (a cambered inside edge and a rockered outside edge). The surf-inspired ALUblade tip, which results in improved deep-snow performance, comes from the bigger models in the freeride-centric Spectrum lineup.
 Experience-d
 Building off four years of success, Rossignol's All-Mountain series now benefits from the World Cup's most recent trickle-down technologies and the latest
freeride innovations from the 7-Series. Expect new waist widths, more progressive (and catch-free) tips with this year's Air Tip technology lightening the swingweight and focusing the centre of gravity underfoot for optimal power transmission, and a re-engineered Auto-turn profile. At the sweet spot in the lineup, the men's Experience 88 and the women's Temptation 88 (both 135/88/124) boast a full sandwich construction reinforced with basalt over a meaty poplar core.
All-mountain NRGy
 Nordica's sophisticated NRGy i-Core Ti incorporates prepreg laminates, a full wood core and polyamide top foil protection. At the heart of it all, Torsion Bridge technology, a specifically engineered Ti sheet, offers the performance of metal but without the weight. Look for it in its skin-ready, All-Mountain NRGy lineup in 100, 90 and 80mm waist widths.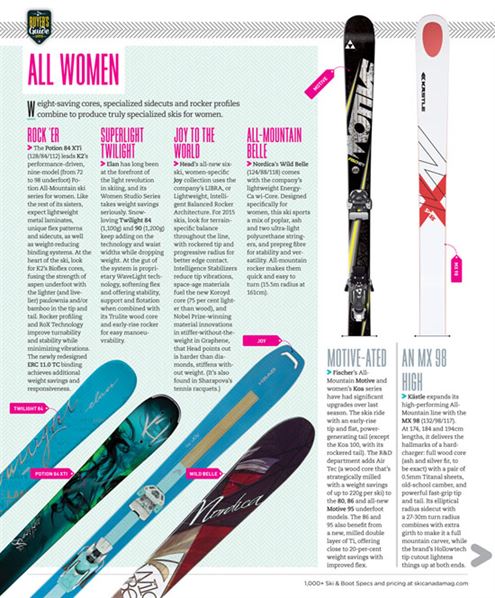 ALL WOMEN

Weight-saving cores, specialized sidecuts and rocker profiles combine to produce truly specialized skis for women.
Rock 'er
 The Potion 84 XTi (128/84/112) leads K2's performance-driven, nine-model (from 72 to 98 underfoot) Potion All-Mountain ski series for women. Like the rest of its sisters, expect lightweight metal laminates, unique flex patterns and sidecuts, as well as weight-reducing binding systems. At the heart of the ski, look for K2's Bioflex cores, fusing the strength of aspen underfoot with the lighter (and livelier) paulownia and/or bamboo in the tip and tail. Rocker profiling and RoX Technology improve turnability and stability while minimizing vibrations. The newly redesigned ERC 11.0 TC binding achieves additional weight savings and responsiveness.
Superlight Twilight
 Elan has long been at the forefront of the light revolution in skiing, and its Women Studio Series takes weight savings seriously. Snow-loving Twilight 84 (1,100g) and 90 (1,200g) keep adding on the technology and waist widths while dropping weight. At the gut of the system is proprietary WaveLight technology, softening flex and offering stability, support and flotation when combined with its Trulite wood core and early-rise rocker for easy manoeuvrability.
 Joy to the world
 Head's all-new six-ski, women-specific Joy collection uses the company's LIBRA, or Lightweight, Intelligent Balanced Rocker Architecture. For 2015 skis, look for terrain-specific balance throughout the line, with rockered tip and progressive radius for better edge contact. Intelligence Stabilizers reduce tip vibrations, space-age materials fuel the new Koroyd core (75 per cent lighter than wood), and Nobel Prize-winning material innovations in stiffer-without-the-weight in Graphene, that Head points out is harder than diamonds, stiffens without weight. (It's also found in Sharapova's tennis racquets.)
All-mountain Belle
 Nordica's Wild Belle (124/88/118) comes with the company's lightweight Energy-Ca wi-Core. Designed specifically for women, this ski sports a mix of poplar, ash and two ultra-light polyurethane stringers, and prepreg fibre for stability and versatility. All-mountain rocker makes them quick and easy to turn (15.5m radius at 161cm).
FRONTSIDE FRIENDLY
 Thinner underfoot numbers are returning to ski shops this season, as well as added stiffness and carving profiles on many skis that favour the frontside.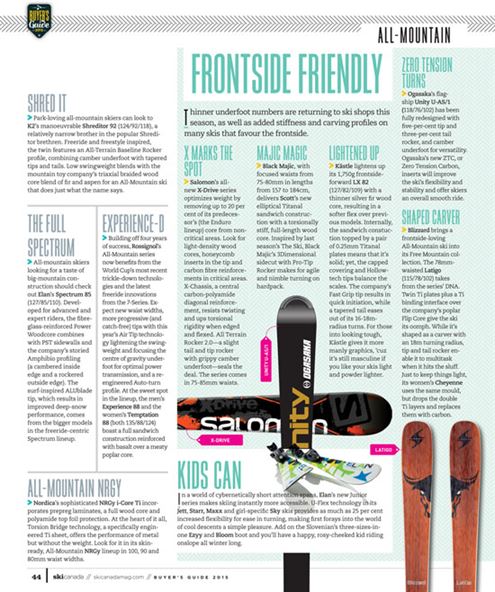 X marks the spot
 Salomon's all-new X-Drive series optimizes weight by removing up to 20 per cent of its predecessor's (the Enduro lineup) core from non-critical areas. Look for light-density wood cores, honeycomb inserts in the tip and carbon fibre reinforcements in critical areas. X-Chassis, a central carbon-polyamide diagonal reinforcement, resists twisting and ups torsional rigidity when edged and flexed. All Terrain Rocker 2.0—a slight tail and tip rocker with grippy camber underfoot—seals the deal. The series comes in 75-85mm waists.
 Majic magic
 Black Majic, with focused waists from 75-80mm in lengths from 157 to 184cm, delivers Scott's new elliptical Titanal sandwich construction with a torsionally stiff, full-length wood core. Inspired by last season's The Ski, Black Majic's 3Dimensional sidecut with Pro-Tip Rocker makes for agile and nimble turning on hardpack.
 Lightened up
 Kästle lightens up its 1,750g frontside-forward LX 82 (127/82/109) with a thinner silver fir wood core, resulting in a softer flex over previous models. Internally, the sandwich constuction topped by a pair of 0.25mm Titanal plates means that it's solid; yet, the capped covering and Hollowtech tips balance the scales. The company's Fast Grip tip results in quick initiation, while a tapered tail eases out of its 16-18m-radius turns. For those into looking tough, Kästle gives it more manly graphics, 'cuz it's still masculine if you like your skis light and powder lighter.
 Zero Tension turns
 Ogasaka's flagship Unity U-AS/1 (118/76/102) has been fully redesigned with five-per-cent tip and three-per-cent tail rocker, and camber underfoot for versatility. Ogasaka's new ZTC, or Zero Tension Carbon, inserts will improve the ski's flexibility and stability and offer skiers an overall smooth ride.
 Shaped carver
 Blizzard brings a frontside-loving All-Mountain ski into its Free Mountain collection. The 78mm-waisted Latigo (115/78/102) takes from the series' DNA. Twin Ti plates plus a Ti binding interface over the company's poplar Flip Core give the ski its oomph. While it's shaped as a carver with an 18m turning radius, tip and tail rocker enable it to multitask when it hits the sluff. Just to keep things light, its women's Cheyenne uses the same mould, but drops the double Ti layers and replaces them with carbon.
KIDS CAN
In a world of cybernetically short attention spans, Elan's new Junior series makes skiing instantly more accessible. U-Flex technology in its Jett, Starr, Maxx and girl-specific Sky skis provides as much as 25 per cent increased flexibility for ease in turning, making first forays into the world of cool descents a simple pleasure. Add on the Slovenian's three-sizes-in-one Ezyy and Bloom boot and you'll have a happy, rosy-cheeked kid riding onslope all winter long.