Mont-Sainte-Anne: Live In The Moment
---
Learn to soak it all in at Mont-Sainte-Anne.
BY Catherine Dawson March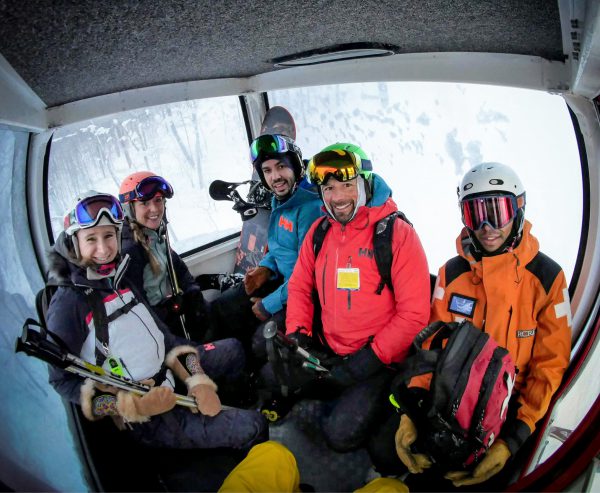 Stand shoulder-to-shoulder, put away your phones and look at the mountain. Now, close your eyes." Mountain guide Jean-Francois Plouffe wanted to make sure this weekend at Mont-Sainte-Anne (MSA) would not slip from memory too soon. A bluebird first-tracks morning, a stormy powder-happy afternoon, a chance to try alpine touring—it would all, he insisted, be too easily forgotten if we didn't take the time to absorb the moment. So we did as we were bid. The 10 of us in our group turned our backs on the 40-km winds and after a long, hard look at the darkening slopes, closed our eyes to the blowing snow and imprinted our blowout weekend in our mind's eye.
Plouffe was our raconteur, leader and breakfast chef in the condo each morning. A backcountry guide for more than 20 years, Plouffe grew up in Gatineau, Quebec, but now makes a living taking clients backcountry skiing in B.C. He'd returned to ski the East as a Helly Hansen ambassador, taking turns leading some of us down powdery black and double-black glades on the South Side of the mountain and doling out stories of backcountry adventure and life-saving gear advice during the lift rides back up.
First-tracks opportunities at Mont-Sainte-Anne are booked through the ski school and our group filled the gondola before the rest of the crowds arrived. Cold enough to freeze nostril hairs ("That's a Quebec cold!" Plouffe laughed), it was also bright with the sun pushing through the clouds smiling on our lines carved into fresh corduroy. "Les Gross Vallon is always our classic first-tracks run," a ski patroller noted, pointing to the grand view of the St. Lawrence River and Île d'Orléans at our feet.
A 35-minute drive from Quebec City, Mont-Sainte-Anne remains an impressive, all-round resort with some of the loveliest views in Eastern Quebec. The winding St. Lawrence River stretches in one direction, and the hills and valleys looking toward Quebec City in the other, especially if you take a break at Chalet La Crête on the summit. (If it's a busy weekend, though, head over to the lesser used west-side runs. The T-bar on this side, almost nostalgic in 2019, may be partially why it's quiet, but it's better than shuffling through a lift line.) Since MSA is owned by Resorts of the Canadian Rockies (like Fernie, Kicking Horse et al), skiers with an Epic Pass are given up to seven days here and at its sister resort Stoneham, just north of Quebec City.
That night under the mountain lights, however, Plouffe wasn't ready to let us start our après too early. Evidently our mountain meditation wasn't done. "Open your eyes. Look left and then right," he commanded. "Capture the wind, the snow, the beauty, the moment. And close your eyes again."
Sure we were getting cold, and maybe a little hungry. We'd certainly been working up our appetites. After first tracks we headed off to explore the north, south and west sides of the ski area until the last chair stopped rolling. I slid through the new kids' glade, La Forêt Enchantée, for fun—ringing the bells, whacking the wind chimes hanging from the trees and crying out in delight and maybe fear when I hit "les bosses," Québécois for moguls, unexpectedly. There may even have been a faceplant that I'll never admit to.
We decided day two would be a choose-your-own adventure kind of day. A fat bike trek? More alpine? Or keep it horizontal along the resort's 200 km of cross-country trails (the longest in Canada)? I took advantage of MSA's in-bounds randonnée. With a -23° temperature outside, it also seemed better than rushing downhill. Why freeze when you can sweat? MSA is a great place to try alpine touring, a sport that's gaining traction as more and more skiers escape into the backcountry. The resort opened its slopes to uphill travel in 2016.
As a complete newbie, I had to ask what the acronyms AT and skimo meant but was happy to try the genre without being overwhelmed by the specifics of avalanche training or carrying all the avy gear. Alpine touring beyond the runs and through the trees of a resort has its advantages, especially since I could take advantage of MSA's rental shop and trade in my alpine gear for touring equipment. The staff made sure I understood how to apply the skins and set my boot heel into "Walk" mode for the skin up and "Ski" mode for the way down.
I was also handed a map highlighting the resort's three marked trails. The two longest, La Libériste at 7.3 km and Montée Sud at 5.9 km, start on the busy South Side, with the former not far from the gondola and the latter not far from the rental shop. But this was my first time so my plan was to keep it simple, thank you. I asked Xavier and Lisa, the pros showing me the ropes, if they'd slum it by taking the shortest (3.1-km) trek through the trees.
In the gondola on our way to the North Side of the mountain, a ski patroller told us to watch for porcupines in the resort's woods, explaining how he was once called to rescue a prickly little guy whose foot got stuck in an icy stream. He waved and wished us luck as we skied down to the North Lodge.
Normally, Lisa explained, we'd prep the skis outside. But it was -23°, so we dragged our skis and skins inside to get ready and warm up. We weren't the only ones taking refuge: in between bites of maple syrup crepes, the hard-core kids on the local ski team were using a hair dryer to warm their toes.
The trail began on a groomed green run. It didn't take long to get the hang of the moves: "Push your foot into the ski, and keep it on the snow even when you lift your heel," Lisa had told me. So far so good up the traverse. Lisa and Xavier charged ahead on this easy terrain, while I took my time and got used to the feeling of my pounding heart. Stopping (maybe too often) to take selfies as the sweat froze on my face and the ends of my hair, damp from my ragged breathing, looked darn pretty as it froze. I looked as if I were wreathed in a silver halo, especially when I noted icicles hanging off my eyelashes. Who needs a powder run for a great faceshot?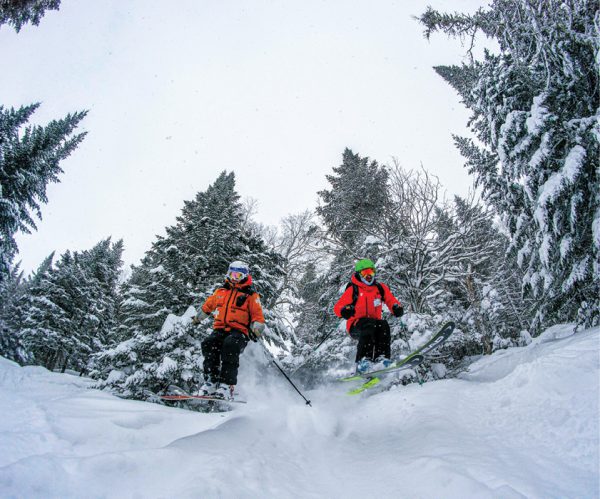 Lisa was the first to spot the trail marking that took us off the ski run and into the forest—and this is when I truly began to understand why alpine touring is so revered. Moving into the deeper snow of the forest felt as though we'd just been swallowed by a picture-book winter wonderland. Towering fragrant pines, each branch loaded with pillows of snow, cut off our view of ski runs and chairlifts. The trees also absorbed any sound but the clunk of our boots hitting the skis and the squeak of the snow as we broke our own trail zigzagging up the mountain. It truly felt as if we'd left the ski resort behind—at least until we had to cut through a gladed run, surprising a few little rippers who must have been shocked to see us appear out of nowhere in the middle of their run.
As the incline steepened, there were new skills to learn. Xavier showed me how to lift the heel risers in my bindings to make it easier to slide-n-step, and how to keep my weight centred to avoid sliding backward despite the protection of the skins. I may not have looked graceful as a first-timer—my Charlie Chaplin waddle over a short steep pitch with ski poles sticking in my backside comes to mind; thank goodness we were secluded from the rest of the resort—but it was an unforgettable, stress-releasing few hours. The Japanese like to call it shinrin-yoku, or forest bathing. I like the French word: randonnée.
Eventually, we popped out of the forest onto a busy blue run, and the quiet of our morning was swept away by families and boarders rushing past. "We usually go ski touring to get away from all this," Xavier grinned as he pushed ahead to find a quiet spot to peel off our skins.
I didn't mind. I was happy to reach the top, recalling Plouffe's mountaintop mindfulness. Happy—after so much cardio—that my heart hadn't burst out of my chest. Happy that, for the first time ever, I'd earned my turns. It won't be my last.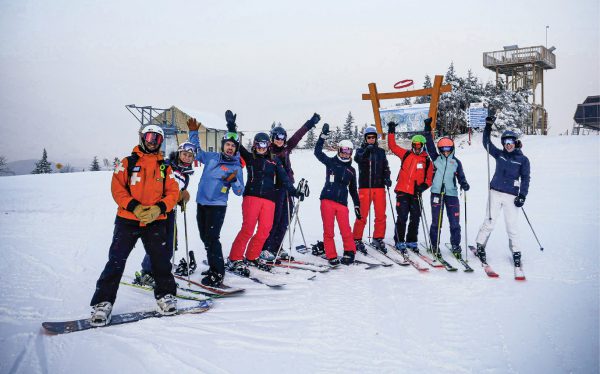 MSA BY NUMBERS

› 35-minute drive from Quebec City

› 800 metres in elevation

› 625 metres of vertical drop

› 3 mountain faces

› 71 runs (9 lit at night)

› AT trails open every day, last "ascension" 2:30 p.m.

alpine touring, Mont-Sainte-Anne, Québec, Randonée