---
December 1984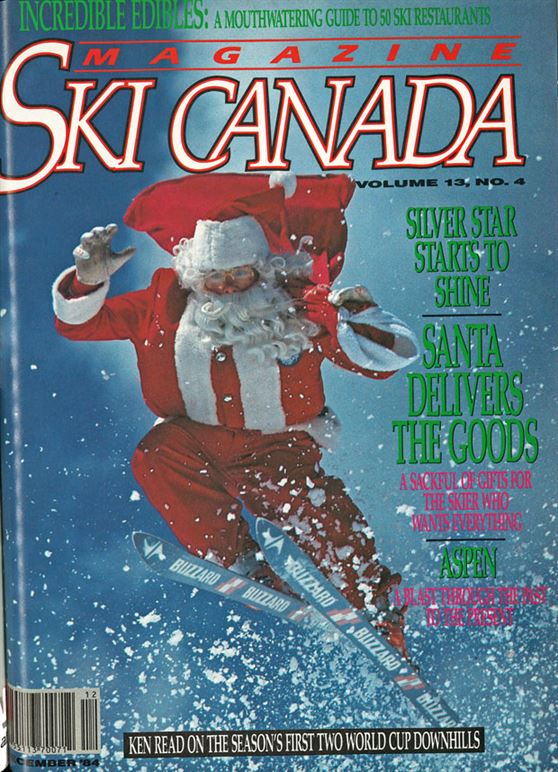 This month's cover photo of Dave Irwin playing Santa Claus was taken by Alec Pytlowany at Sunshine Village, Alberta
Vol 13 # 4
Also in this issue:
A Racer's Eye-view of the First Two Downhills
by Ken Read
Ken Read  previews the 10-race chase to the Men's World Cup Downhill title, with a look at the season's first two races.
Silver Star: the Little Resort That Grew
by Ian Lennie
A unique experience is what they strive for at this Okanagan resort. And now the word is out that Silver Star is truly something special.
Feeling Full at 50
by Tony Leighton
Whether you have a craving for crêpes, a passion for pasta or just a mountainous appetite for home-style cooking, you'll really sink your teeth into Ski Canada's guide to 50 great ski restaurants.
One-Stop Christmas Shopping
Some crackling good gift suggestions for the skier in your life.
The Team Behind the Team
The fourth in a six-part series leading to Calgary 88
"Being coached on the Canadian team is like being married to someone and having only one common interest, which is skiing. Either you like the guy or you hate him . I always tried to like my coaches." Steve Podborski
Aspen: From Ghost Town to Boom Town
by Paul King
From sourdoughs to movie stars, from silver mines to mega-condos, the story of how Aspen came to be is as rich as the town's legendary skiing.

Tags: Alec Pytlowany, Aspen, Calgary 88, Dave Irwin, Ian Lennie, Ken Read, Paul King, Silver Star, Steve Podborski, Sunshine Village, Tony Leighton, World Cup Downhill