Me, Jack & Mr. Squinch in Québec
---
A B.C. native, a Kiwi and a Brit fondly recall their days (and nights) spent skiing Québec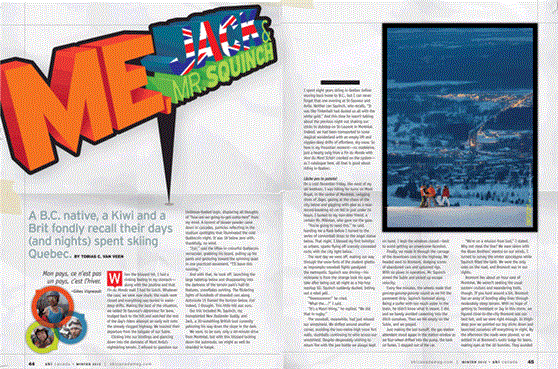 Mon pays, ce n'est pas un pays, c'est l'hiver.
—Gilles Vigneault
When the blizzard hit, I had a sinking feeling in my stomach—along with the poutine and that Fin du Monde malt I had for lunch. Whatever the case, we were now stuck; the roads were closed and everything was buried in waist-deep drifts. Making the best of the situation, we raided St-Sauveur's dépanneur for brew, trudged back to the hill and watched the rest of the day's riders attempt an early exit onto the already clogged highway. We toasted their departure from the tailgate of our Subie.
Clicking into our bindings and glancing down into the darkness of Mont Avila's nightskiing terrain, I refused to question our Unibroue-fuelled logic, displacing all thoughts of "how-are-we-going-to-get-outta-here" from my mind. A torrent of blower powder came down in cascades, particles reflecting in the stadium spotlights that illuminated the cold Québecois night. It was 18 below zero with, thankfully, no wind.
"Esti," said the liftee in colourful Québecois vernacular, grabbing his board, pulling up his pants and gesturing toward the spinning quad in one practiced movement. "I'll leave this running."
And with that, he took off, launching the large tabletop below and disappearing into the darkness of the terrain park's half-lit features, snowflakes swirling. The flickering lights of hundreds of stranded cars along Autoroute 15 framed the horizon below. Esti indeed, I thought. This little hill was ours.
Our trio included Mr. Squinch, my transplanted New Zealander buddy, and Jack, a 30-something British lout currently yahooing his way down the slope in the dark.
We were, to be sure, only a 40-minute drive from Montréal, but with this blizzard locking down the autoroute, we might as well be stranded in Gaspé.
***********************************************************************************************************************
I spent eight years skiing in Québec before moving back home to B.C., but I can never forget that one evening at St-Sauveur and Avila. Neither can Squinch, who recalls, "It was like Tinkerbell had dusted us all with the white gold." And this time he wasn't talking about the previous night out shaking our sticks to dubstep on St-Laurent in Montréal. Indeed, we had been transported to some magical wonderland with an empty lift and nipples-deep drifts of effortless, dry snow. So here is my Proustian moment—no madeleine, just a hearty swig from a Fin du Monde with Vent Du Mont Schärr cranked on the system—
as I catalogue here, all that is good about riding in Québec.
Lâche pas la patate!
On a cold December Friday, like most of my ski brethren, I was hiking for turns on Mont Royal, in the centre of Montréal, swigging shots of Jäger, gazing at the chaos of the city below and giggling with glee as a near-record-breaking 40 cm fell in just under 24 hours. I turned to my non-skier friend, a certain Mr. Milkman, who gave me the gaze.
"You're going to need this," he said, handing me a flask before I turned to the series of cannonball drops to the angel statue below. That night, I blessed my first twintips as urbans, sparks flying off scarcely concealed rocks with the city light below.
The next day we were off, making our way through the snow forts of the student ghetto as impromptu snowball fights paralyzed the metropolis. Squinch was driving—his nickname is from the strange look his eyes take after being out all night as a hip-hop mashup DJ. Squinch suddenly ducked, letting out a rebel yell.
"Yeeeooowww!" he cried.
"What the…?" I said.
"It's a Maori thing," he replied. "We did that in rugby."
The snowball, meanwhile, had just missed our windshield. We drifted around another corner, avoiding the two-metre-high snow fort walls, slushballs continuing to whiz across our windshield. Despite desperately wishing to return fire with the pee bottle we always kept on hand, I kept the windows closed—best to avoid getting an unwelcome faceshot.
Finally, we made it through the carnage of the downtown core to the highway. We headed west to Bromont, dodging scores of abandoned cars and upturned rigs. With no plows in operation, Mr. Squinch aimed the Subie and picked up escape velocity.
Every few minutes, the wheels made that garump-garump-garump sound as we hit the pavement strip. Squinch hummed along. Being a surfer with too much water in the brain, he didn't know what it meant. I did, and we barely avoided careening into the ditch ourselves. Then we hit empty on the Subie, and we prayed.
Just making the last turnoff, the gas station attendant stood agape in the station window as we four-wheel drifted into the pump, the tank on fumes. I stepped out of the car. "We're on a mission from God," I stated. Why not steal the line? We were skiers with the Blues Brothers' mantra on our minds. I turned to survey the winter apocalypse while Squinch filled the tank. We were the only ones on the road, and Bromont was in our sights.
Bromont lies about an hour east of Montréal. We weren't seeking the usual eastern cruisers and meandering trails, though. If you hunt around a bit, Bromont has an array of bowling alley lines through moderately steep terrain. With no hope of getting to Tremblant or Jay in this storm, we figured close-to-the-city Bromont was our best bet, and we were right enough. In thigh-deep pow we pointed our big sticks down and launched ourselves off everything in sight. By the afternoon the roads were plowed, so we settled in at Bromont's rustic lodge for beers, making eyes at the ski bunnies. They avoided us and our stinking boots as we steamed in front of the fire, satiated with the knowledge that we had single-handedly slayed every single stash on the mountain.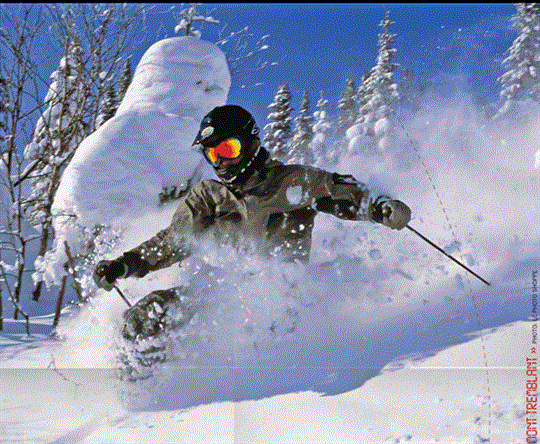 Vive les Laurentides libres!
With Mr. Squinch back at the wheel, loudly playing Québecois avant-rapper Ghislain Poirier at some ungodly dark and early hour, Jack suddenly rolled down the window. He had gone green, and with the bitter wind now swirling inside the car, we were all immediately frozen.
"You fiend!" I yelled. "Aim for the arches," I said to Mr. Squinch. It was time for the magic cure before we hit Tremblant—a casse-croûte. Though Squinch was a raw-foodist vegan, he complied. We pulled into not one, but both homegrown burger-and-poutine joints before the Tremblant turnoff. Jack devoured the usual artery blockers, while I had home-baked pie. Mr. Squinch stayed in the car eating alfalfa. I still don't know how a skier can survive on sprouts.
Jack, looking a tad less green, turned to me in the car, his Brit accent belying his fear. "I hear this is a big mountain," he said.
"Oh, it's big indeed," I said, my face drawn tight. "I hear you can get lost in the Canadian bush here…" Jack's face appeared truly ashen now. "It's deep, thick bush," I added, and proceeded to describe proper bush technique. By the time I got to explaining how unforgiving the bois really was, all the more dangerous thanks to the legend of the Québecoise filles de roi, Squinch had a hard time keeping to the slippery road.
Upon arrival, we skidded corners to Tremblant's north side, with its steeper descents down fall-line skiing. For a transplanted Westerner, it's but a pale shade of the Coast Mountains, but out here, with 40 cm of fresh overnight, it was our manna and Jack's pending doom. Up the Edge chair we went. The week prior I had undertaken my yearly pilgrimage home to Whistler Blackcomb, and I had returned with a new zest. Out East, I found myself trying to catch every small stash of powder anywhere on the hill: around chair pylons, clumps of trees, on either side of netting, off the side of the run in the ditch, right behind the grooming machine and so on, caught in the squirrel mentality of Eastern trailskipping. Out West, I remembered that it's all about near suicidal straightlines into trees when it's storming and big, vast lines. So with Mr. Squinch and his surf-shape snowboard in tow—Jack wasn't quite the one for tight trees, but Squinch owned them with a fish-slap style—I poised myself above the Sensation glades and pointed it.
There's nothing quite like the sensation of playing ping-pong with your own body among thin but iron-hard trees. "Yee-haw," I yelled and made like a monkey.
Unscathed, I emerged out the bottom of the first pitch to realize we had strayed a little too far to our left. What followed was a 30-minute bushwhack through increasingly dense underbrush to the chair. We were ready for round two.
This time, at the top of the Edge chair, a small crowd was heading out along the traverse over to Sensation. But we noticed something odd; the mass was following our previous tracks out into the badlands. Mr.
Squinch and I looked at each other. "Say nothing," I said. Squinch muttered something under his breath.
"Just play real shark now," he said, and I nodded.
Pretending we were clueless anglos from Ontario, we turned off a little "early" into the untouched deep, trading slarves and smears through the proper glade this time and emerging out at the bottom in just under a minute flat. It was a quickie in the bush, but a good tight one.
The day finished over on the South Soleil side. After a few laps down to Refuge, the mid-mountain warming hut (where we opened our flask of schnapps in front of the well-stoked fire), we desired some more untouched communion among thickening underbrush. There are a few, let us say, interesting possibilities for those seeking adventure down to the Le Soleil chair. Just be prepared for a little chasse-galerie. As we discovered, there are cliffs out there—and these cliffs are covered in ice. But even so, there are, in times of deeper snows, passable lines not unlike the drops in Blackcomb's CBC trees. Trust your instincts, ignore the hollers from the chair and aim true.
The rest of the evening was spent dipping into Spa Scandinave's ice river and hot sauna and listening to Jack, who let loose such uncouth epithets to the river that we were afraid we'd never be allowed to return. I had no idea that "bollocks bastard childson of the devil" could be the nicest thing to say about one's shrinking bits. So I taught Jack some Québecois. The next time he dipped in it was like music to our ears. "Colis de cul tabernac!" he yelled. Even with the poor conjugation, it got the point across.
Let it be known that this chilling ritual numbers just above eating poutine and just below taking holy communion to get the vraie expérience Québecois (though eating beaver—un poisson Catholique—comes close). The whole idea is to go from the extremes of hot to cold; the result is a spiking heart rate and ethereal visions of Xanadu. Like skiing, it's one of few legal highs left on the planet, so make good use of it. (If you are winding your way through the Laurentians, keep an eye out for the intimate Spa d'Howard, which has a most tranquil hot tub, desert-hot dry sauna and a scathingly cold river.)
By the end of the night I met up with my femme fatale and we settled into the posh Clagett's Cabin at the Hotel Quintessence, while Squinch had to drive an increasingly green Jack home. Always the cop magnet, Squinch got pulled over without his insurance papers. It was probably the wrong time for Jack to practice his new phrase after telling the constable he'd been "lost in the filles bush" all day.
Back at the Hotel Q, our historic, split-beam cabin was just large enough for a four-poster bed, hidden minibar and a clawfoot bathtub in front of the fireplace. The trapper's privacy guarantees that no one will interrupt the après. ❄
MR. BISHOP'S MONTRÉAL
Doug Bishop is the spiritual founder of newschoolers.com, the online hub of all things park, with central headquarters in Montréal. Over a beer at SAT, the centre of all things electronic culture, we came up with a skier's survival guide for Montréal:
1. Bar hop on a Bixi. Bike stations are everywhere on the Plateau.
2. Skin up Mount Royal. "Backcountry" in the middle of the city.
3. Rails. Everywhere. Be ready—te sauver des coches.
4. Five-dollar breakfast on St-Laurent at Patati Patata.
5. Slow-cooked Portuguese chicken from rue Rachel.
6. IF3. Biggest ski party of the year. Hands down. Fuelled by Fairmont bagels.
7. NS after-hours during IF3. Sleep is for the weak. The strong go to Piknik Electronique.
8. Music scene. Pick your genre—it's here—but anything goes at Casa del Popolo.
9. Mont Avila for the park, Jay Peak, Vermont, for the pow. Best of two nations.
10. Après ski in the city. Begin at Barfly with biker pool, end at Le Parking with village drool.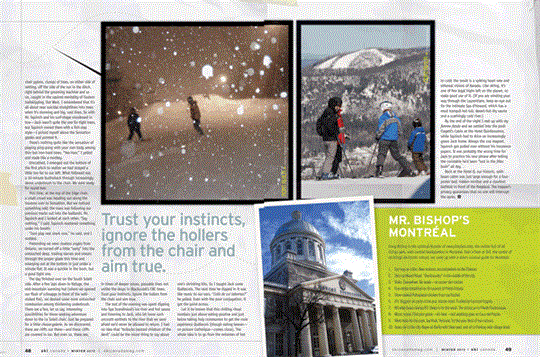 Tags: Bromont, Clagett's Cabin, Featured, Hotel Quintessence, Le Soleil, Mont Avila, Mont Royal, Mont-Tremblant, Montreal, Québec, Refuge, Sensation, South Soleil, Spa d'Howard, Spa Scandinave, St-Sauveur, The Edge, Tremblant