Reading Time:
2
minutes
Wow! Big news from Marmot Basin for experts across the country. The Jasper ski area just announced that after 44 years, the always closed and off-limits, crazy-steep, deliciously north-facing Tres Hombres will be open for skiing this winter.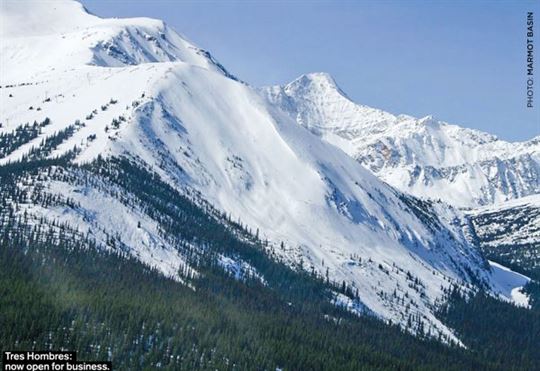 "It's a no bullshit slope," says Marmot's Brian Rode. "There won't be any winch-cat grooming on this one!"
More than 365 vertical metres of uninterrupted fall line on one big open 18-hectare face of 100 per cent skiable, above-alpine terrain has tempted poachers for decades. "Slope angles range up to 45 degrees," says Rode "with a slope average of 32."
Tres Hombres requires no hiking from the top of Paradise Chair, and an access route will return skiers to the bottom. As well, after February 15 backcountry-prepared skiers can lengthen their runs by continuing below the exit ropes to eventually ski out to Parking Lot 4 via the Whistler Creek Trail.
Working closely and collaborating with Parks Canada to mitigate environmental concerns, the new terrain will offer five clear double-diamond runs on slopes that although have been permanently closed, have also been actively managed for avalanche control for decades.
"We already know the slope well," says Rode dreamily. "It's not for the weak-kneed." Although it will "probably be gated," Rode couldn't confirm when opening day would be nor whether Marmot will decide if gates are to be operated by an individual's avalanche beacon.
Local legend has it that three infamous skiers poached it in 1973 just when the ZZ Top album Tres Hombres was spinning on turntables everywhere. Marmot Basin opened in 1964.