Reading Time:
2
minutes
The Canadian members of the ladies' ski team are inspiring role models and a marketer's dream.
Racking up podiums and top-10 results on the World Cup circuit this year, the girls are stepping out of the well-branded Americans' and Europeans' shadows. Alpine Canada's Communications Manager Ashley Shantz said the team is making extra PR efforts to put the spotlight on its stars and connect with more types of media. Always a gutsy, creative bunch, the downhill-suit sorority published its own sassy but classy 2016 calendar to raise funds and awareness.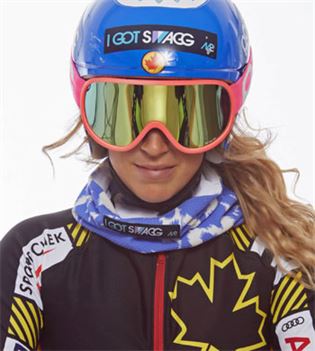 We caught up with Marie-Michele (Mitch) Gagnon for a quick interview after her 7th-place finish in Santa Catarina, Italy, in early January. The 26-year-old Mont Orignal, Quebec, ski hill co-owner is now ranked 12th in slalom in the world.
"Things are going in the right direction, and I am working even harder on the mental aspect at this level," said Gagnon. "When I attack the course, I must give everything I've got and it's paying off."
After seven years on the World Cup circuit, Gagnon is focusing on slalom, GS and combined events this season. When every millisecond counts, the girls get really serious. "We train hard and eat well. We don't really have a lot of cheat days right now," said the 2015 Lange Girl. When asked what Canadian media could do better to provide more exposure, Mitch responds: "Exposure comes from great results. We are getting there and working really hard to win again. But other countries have co-ordinators and media waiting for them right in the finish line, and we rarely do, so it would be great to cover our results better, not just when one wins a medal. TV coverage is still lacking for alpine racing and seems to favour the men's disciplines."
Thanks to social media, a growing fan base and friends back home can stay up-to-date. Mitch loves to take photos, so Instagram suits her best. "When my teammates and I have some down time between races, we make these little video-webisodes to show fans what it's like behind the scenes and what we like to do."
For more info on the team, check out mariemichelegagnon.com and alpinecanada.org.
_MARIE-PIERE BELISLE-KENNEDY    Photo: Perry Thomson  from Winter 2016 issue