Reading Time:
2
minutes
The summer sizzled for national alping ski racer and Instagrammer Marie-Michèle Gagnon, 29, who's fresh from the gym and rarin' to go. Crashes in 2017 at Lake Louise left the Canadian with a torn ACL and a dislocated shoulder, forcing her off the Olympic track. But this summer she spun straw into her own gold with six hours daily in rigorous gym rehab and a passion for travel and the outdoors. Now, alongside California boyfriend Travis Ganong—a speedster on the U.S. Ski Team—"Mitch" is revved up and ready again to chase high-speed medals.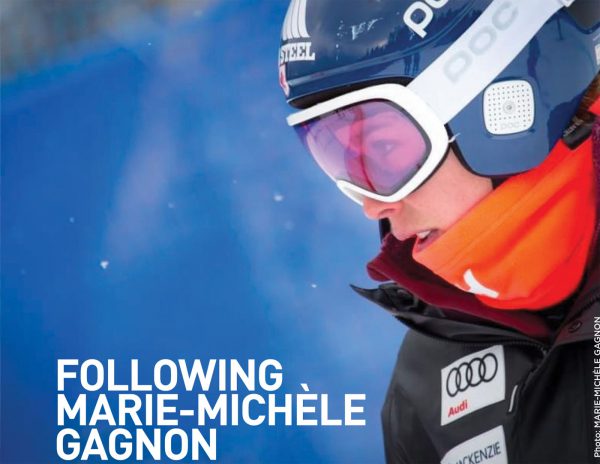 SKI CANADA: Mitch, are you ready to get back on snow?
MARIE-MICHÈLE GAGNON: Yesssss! I feel refreshed and ready to work my butt off. I've trained so hard over the past seven months to get healthy again. It's paid off!
SC: 37K-plus Instagram fans are tracking your recovery. What's your fitness routine?
MMG: The last six months were very heavy, rehabbing both my shoulder and my knee. In the gym I like the ski-specific stuff. I love challenging myself on the slack line and bosu ball. Outside I mountain bike, hike for cardio, paddleboard on a calm lake. Travis and I play tennis…
SC: So, Travis! Gotta ask: Do you ever spell your name Ganong?
MMG: Never! First, can you imagine Marie-Michèle Gagnon-Ganong? I mean, that really doesn't flow. Anyway, it's not an issue. In Quebec we don't change our family names when we get hitched.
SC: What draws you to Instagram?
MMG: I love sharing the places I've discovered and creating a photo book of memories. I'm a huge nature lover. I hope to run my own business in travel adventure and physical training someday.
SC: Got any IG tips for fellow athletes?
MMG: Be yourself. Post good-quality photos. Thrive to inspire people to get out there, be active, lead a healthy lifestyle.