---
by George Koch from Fall 2012 issue
George Koch rediscovers his childhood sweetheart.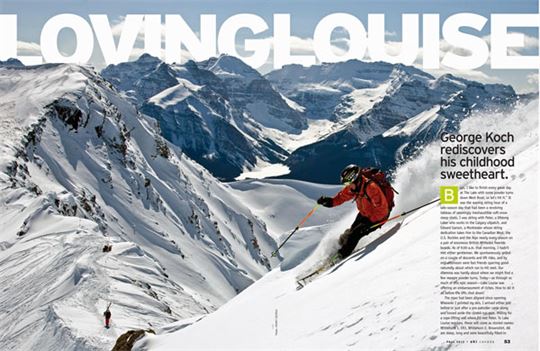 "Boys, I like to finish every great day at The Lake with some powder turns down West Bowl, so let's hit it." It was the waning skiing hour of a late-season day that had been a revolving tableau of seemingly inexhaustible soft-snow steep shots. I was skiing with Peter, a lifelong Laker who works in the Calgary oilpatch, and Edward Garson, a Montrealer whose skiing dedication takes him to the Canadian West, the U.S. Rockies and the Alps nearly every season on a pair of enormous British Whitedot freeride boards. As of 9:00 a.m. that morning, I hadn't met either gentleman. We spontaneously gelled on a couple of descents and lift rides, and by mid-afternoon were fast friends sparring good-naturedly about which run to hit next. Our dilemma was hardly about where we might find a few meagre powder turns. Today—as through so much of this epic season—Lake Louise was offering an embarrassment of riches. How to ski it all before the lifts shut down!
The stars had been aligned since opening. Wherever I pointed my skis, I arrived either just before or just after a pro-patroller came along and tossed aside the closed-run rope. Milling for a rope-lifting was where I'd met Peter. To Lake Louise regulars, these will come as storied names: Whitehorn 1, ER3, Whitehorn 2, Brownshirt. All are steep, long and were beautifully filled-in thanks to an early-arriving winter base and, following a brief Christmas lull, months of snowfalls of a steadiness rare in the Alberta Rockies. Lake Louise would go on to report a season total of 893 cm in the alpine. One can't credit the resort's management with bringing the snow (Lake Louise was recently re-purchased by Calgary rancher, oilman, entrepreneur and former mountain guide Charlie Locke). But one can say a sincere "thanks" that the lifts routinely opened on time and ran all day. That's all it took—but was yet more than some mountains could manage last season.
It had been a simply exhilarating day, with all the runs just mentioned untracked or nearly so. Incredibly, it was probably the season's 10th virtual carbon-copy day. Whitehorn 1 and the "D" gully of Whitehorn 2 had been better than heli-skiing. There'd been no need even to think about venturing past the ski area boundary. But who were we to deny Peter? So after one last descent of the soft open bumps of Outer Limits on the Summit's frontside, 4:05 p.m. found us traversing into West Bowl. It's a well-travelled favourite among experienced locals—still, it remains uncontrolled sidecountry. If you go, take precautions. The wide, open bowl was blanketed in lovely boot-top powder unaffected by the wind. After we passed the first bare larch trees, we traversed back into the ski area. A sublime end to a simply phenomenal day.
Hardly a season has gone by since I was a wee lad of 10, giving my parents near heart attacks as I bounced through the car-sized washboard that formed the old Eagle Poma lift line, that I haven't skied Lake Louise. I came to appreciate the mountain's rugged terrain, the multiple exposures around 360 degrees providing singular variety, with the bonus of a visual feast in stunning views of the Canadian Rockies' spine. With challenging, intriguing or simply fun runs off every lift, a typical day at Lake Louise didn't consist so much of pounding laps or riding succeeding lifts to a single peak, as roaming from zone to zone and back again.
While the mountain is clearly dear to my heart, last season was special—a rediscovery of sorts. Not so much of specific terrain, but of the character of the place. The Lake just seemed to ski better than at any time since the Summit and Paradise lifts were built to access the mountain's best terrain decades ago. At the risk of giving resort marketers the vapours, it seems Lake Louise has been somewhat left out of the buzz that has gripped later arrivals—Kicking Horse, Revelstoke and, a bit farther back, the rebuilt/expanded Fernie. Those are where the great mass of the hard-charging under-30 skiers seems to head. (The bizarre move by The Lake's previous owners to remove all jumps from the terrain park probably didn't help.)
The mountain is hardly bereft of good skiers. The opposite, actually. In addition to destination visitors of usually modest abilities and weekenders of every sort, what you see above all at Lake Louise are solid, committed, experienced skiers of a generally middle-aged—even silver-haired—demographic. Skiers who've been on sticks since their years were in single digits, who came of age on narrow skis, who haven't missed a season and who spend nearly all their time on single- and double-diamond terrain. They know how to carve, they ski in the fall line, they don't destroy entire faces making 90-metre-wide 100 kph turns, and they carve the slopes into generally rounded, more widely separated bumps that are a pleasure to ski through. Yes, there are some snowboarders, but hardly any will even hike Brownshirt Ridge. Lake Louise's geomorphology is innately suited to people who really love to turn, and last season its steeps just seemed less busy than I remember them in the '90s, and far less crowded than similar slopes at Whistler or Fernie today.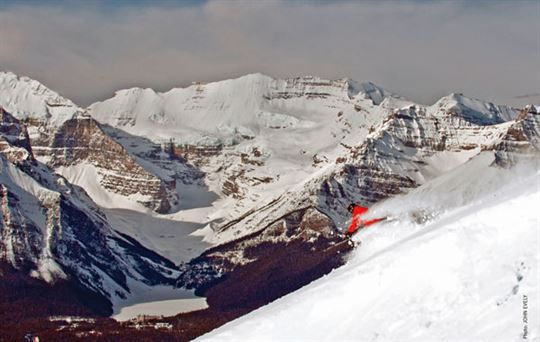 THE LAKE JUST SEEMED TO SKI BETTER THAN AT ANY TIME SINCE THE SUMMIT AND PARADISE LIFTS WERE BUILT TO ACCESS THE MOUNTAIN'S BEST TERRAIN DECADES AGO
By now some readers will be cackling spitefully or stupefied at my lunatic ravings. Admittedly, I skied only mid-week last season, and I did hear that some weekends were busy indeed. There's an infamous online video showing a powder day in early March in Paradise Bowl. The grey light, poor video quality, long distance and music makes the hundreds of skiers lined up at the rope resemble nothing so much as a swarm of ants. As soon as the patrol gives the go-ahead, the huge slope's pristine unmarred powder is tracked and then churned into soft bumps faster than DQ can whip up a sundae. But I witnessed nothing like it all season. Repeatedly, I found myself hiking Brownshirt Ridge at 3:00 p.m. and still finding untracked lines.
Since I've already exposed myself to ridicule, I might as well keep going and say that Lake Louise is now doing a great job of grooming, and its cruising runs are—wait for it—fun to ski! So bestow upon me a double-wuss award, first because real skiers don't go anywhere for the cruising, and second because Lake Louise's cruising runs are perennial rock-strewn and ice-covered base-removal-fests more than actual skiing runs. No longer. The grooming there has become simply excellent. It's combined with extensive snowmaking and an industry-leading job of snow farming by arguably the toughest trail crew in Canadian ski country. Last season, phenomenal 900-vertical-metre carving sessions down near-perfect corduroy—right off the top of Summit, along Skyline, down the steepening convex pitch of Upper Wiwaxy, and then a choice either of the Men's Downhill, Cameron Way or Ladies' Downhill—were almost the rule.
Of course, just as Humphrey Bogart didn't really go to Casablanca for the waters, you don't make Lake Louise your home mountain to slide around on green runs. What keeps its loyal following coming back again and again is its lineup of steeps. Weeks before my Peter-and-Edward day, I happened to ride Paradise Chair with Jay, one of the mountain's senior pro patrollers. I commented that, of all the great runs at Lake Louise, my absolute favourite was Eagle Six. Recently re-named Fallen Angel, it's the mountain's longest unbroken fall line, a pure north face that catches blown-in snow and is never sun crust, and is of an uncompromising steepness that's always challenging and simply too steep ever to become choppy bumps.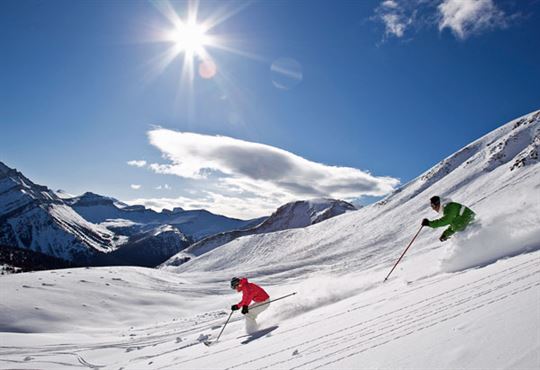 "Well, then we'd better ski it," replied Jay. "We've been doing a lot of control work in there, and it's nearly ready to open." Slack-jawed at my good fortune, I followed Jay in silently. The opening rollaway pillow, often scraped by knee-quivering skiers, was soft and forgiving, and plunging into the concave gully below, the powder came up over my knees, legs and finally right into my face. The main pitch was perfect fall-line powder. Later I walked up Brownshirt Ridge. My skiing day would end with another powder run—but Eagle Six had been the best of all. It shimmered directly across the valley in the waning winter light, looking impossibly steep. Having opened later that day, a dozen or so powder tracks told me that others had found the same pleasure.
contact: Lake Louise * trail map
---
Tags: Alberta, Brownshirt, Charlie Locke, Eagle Six, ER3, Featured, Lake Louise, Outer Limits, Paradise Chair, Rockies, sidecountry, Skyline, Summit, West Bowl, Whitedot, Whitehorn 1, Whitehorn 2