---
George Koch compares two great destinations : What's your choice?
As rivulets of the icing-sugar layer of overnight, blown-in snow sluffed softly beneath my skis, I swooped another vertical-devouring arc on a broad and seemingly endless pitch. I felt almost guilty at the sheer amount of terrain disappearing with each turn. The feeling was fleeting, however, since I was alone on the immense expanse. The whole slope was "my line," and as I pulled up at the bottom the only sound was the murmur of the grains of snow rolling to a stop. Seriously steep; at the top I'd experienced one of those dizzying valley-bottom-between-my-ski-tips moments. In the old narrow-ski days, one would have been hop-turning. Today with rockered 185s, it was smooth skid-carving the whole way.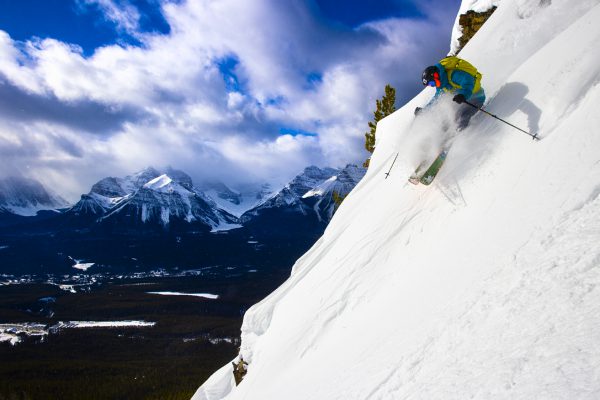 I was into my fifth lap of what I consider the ski area's finest terrain, a large zone that had remained permanently closed (though occasionally poached) for the previous 40+ years, that had at last been opened. A pure north face, significant, for it remains unmarred winter snow well after other exposures are largely slushy or refrozen. Like right now, on my post-Easter visit here with my sweetheart Cindy.
But where was I? Without a name, so hard to tell. I'd had almost the identical experience the day before, 250 km down the highway, on a similarly steep, long and empty piece of terrain. Reveal time: The run just described is Tres Hombres at Marmot Basin. Yesterday, it had been Eagle 6 (aka Fallen Angel) at Lake Louise, one of my all-time favourite runs in the world. Two great ski areas in two days: The Lake and Marmot. One named for a Victorian British princess, the other for a cute furry rodent. But which to choose? Released from the COVID Craziness of the past 18 months, you are no doubt eagerly planning the coming season's ski trips and are wondering which resort is better. Here are a few points to consider before booking your trip.
TERRAIN
Loved by marketing types, Louise can crush Marmot with a numbers comparison. With a much larger domain (Louise has 1,700 hectares vs. almost 700 at Marmot), Louise's skiing is on all four exposures, she has more vertical (990m lift-serviced vs. 762) and more lifts to get you up there. The self-deprecating people at Marmot sometimes even half-apologize for their "small" resort.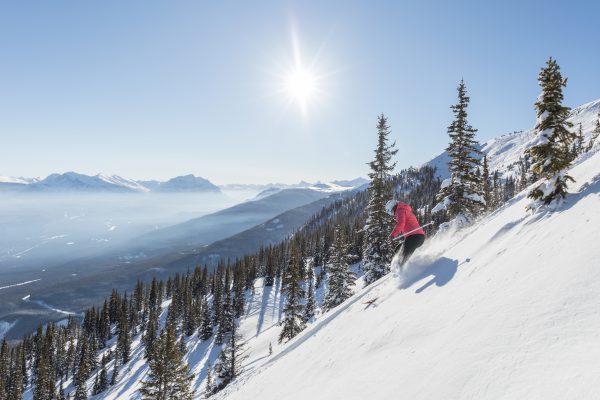 To regular visitors, Marmot might feel small; you can see much of it at a glance, and most runs end at the same two spots: the base area or the mid-mountain lodge and its two nearby lifts. More important, however, Marmot skis big—and has plenty of hidden areas that make it feel bigger still. Plus fewer skiers mean more elbow room.

The "run" known as Tres Hombres is actually a broad 367-vertical-metre zone with at least four flanking separately named lines dropping at up to 45 degrees. The Eagle East area is complex, largely hidden and, in my brief sojourn through the intriguing area with Marmot employee Kirsten LeBlanc, proved to be huge. There are now three hikable zones in the alpine, including the incredible Alps-like lines ringing the Marmot 1-2 cirque. During last April's visit, I started to think Marmot's terrain might even be better.

Then I reminded myself I was rediscovering Marmot after a long absence, and exploration is always exciting, whereas I ski at The Lake regularly. I've been skiing there for close on 50 years, and I love Lake Louise dearly. Its immensely varied terrain never fails to excite and delight. When I started to tote up all the great lines at Lake Louise, I realized it's not even possible to ski them all in two or even three days—the length of our visit to Marmot, where we were beginning to repeat runs.

The Lake's new West Bowl area, a former past-the-rope zone that I skied for decades and now in-bounds with a proper exit trail, alone sprawls across more than 180 hectares. The name "Eagle 6" mentioned earlier should make you wonder—what are the other five like? (There are seven, actually.) Meanwhile, Whitehorn 2 alone has seven separate gullies. The Larch and Ptarmigan chairs have semi-hidden gladed areas that each require multiple laps to figure out. And on and on it goes.

As for the cruising, the grooming seems equally good at both resorts. With its easterly/northerly exposure and generally less skier-traffic, Marmot has the edge in snow quality on its groomers. The Lake's primarily machine-made groomers, most of them exposed to sun and wind, are heavily skied (one hiding-in-plain-sight area that's almost always great snow is Upper Wiwaxy). Marmot's School House zone, served by its own chairlift, also has the edge for family-friendly beginner and novice terrain, and its lower groomed runs off the Eagle Express high-speed quad add in plenty of lower intermediate terrain. Lake Louise is focusing on these aspects in its long-range development plan, with big improvements coming soon.

Although Lake Louise is bigger, the gap is smaller than you might think going only by the terrain map or the sheer stats.

LIFTS

While the plain statistics—seven major lifts that include a gondola and six chairs, plus three Magic Carpets vs. six chairs and one Magic Carpet—are again on Lake Louise's side, qualitatively I'm giving this one to smaller Marmot.

It's about efficiency, access and (anecdotally) typical reported waiting times. Marmot's Canadian Rockies Express Quad rises from the base all the way to the alpine, within minutes accessing a huge portion of the resort's terrain, from easy cruisers to Tres Hombres. One other high-speed and two fixed-grip quads, plus the Knob double chair, access everything else. The only "lineups" Cindy and I had on our three-day visit were the five minutes before nine o'clock spent waiting for the lifts to open.

Lake Louise's new Summit Chair, with its barely four-minute ride, is a welcome addition for the majority of skiers unused to a long, steep drag lift (although the old Platter was the favourite of many Lake lifers). Good or bad, it enables far more of the skiing public to access Whitehorn's peak and take the mellow Boomerang run passing above or beneath much of the Lake's best double-black-diamond terrain, including the infamous Whitehorn 2 chutes. I'm not so sure that the new chairlift has added traffic to the steeper terrain—a good thing, I might add.

Three high-speed chairs, including a six-pack, plus the Eagle gondola certainly give Lake Louise the advantage in sheer muscle. Still, the Ptarmigan fixed-grip quad and the old Paradise triple form bottlenecks on busy days, and the gondola is, shall we say, as vintage as it is crammed with casual skiers. That and much more is being addressed in Lake Louise's long-term development plan—of which the Summit Chair is one component. As resort staff often point out, The Lake will roll out one or more major improvements every year for the next 10 years at least.

LODGING

With a population of 4,600, the enduringly charming and very walkable town of Jasper has more variety and volume than the small village of Lake Louise. Jasper offers everything from a wide choice of affordable hotels and motels with in-house dining to Airbnb accomms to the sumptuous lakeside Jasper Park Lodge. We were staying at the Jasper Inn & Suites, a large midscale establishment slightly outside Jasper's lovely little downtown. With enormous rooms and sparkling cleanliness, the Inn provided all we needed. It also has the well-known Inn Grill, featuring what the name implies.

Lake Louise's small village, on the other hand, offers a bare handful of establishments and online accommodation options are 30-40 km away or at more distant Banff and Canmore. Two of these, however, are truly grand: the Chateau Lake Louise, set outside the village on its namesake lake, and the singularly lovely Post Hotel.

Nestled among trees beside the little Pipestone River, the Post was built in the early 1940s and soon became part of the vision of Sir Norman Watson to build a string of backcountry mountain huts, inspired by the Alps, in the Rockies backcountry. (At one time one could actually do such things in national parks.) Set beside the railway, the Post Hotel became the base station (Lake Louise's old Temple Lodge was stop one, and the still-operating Skoki Lodge was as far as Sir Norman's network ever got). The Post's original log structure wasn't large or especially fancy, but over the decades it was enlarged, upgraded and eventually purchased by Swiss expats and Banff restaurateurs André, Barb and George Schwarz, who then lifted the Post to the rarefied circle of the international Relais & Châteaux brand.

It had been a criminally long 20 years since I'd last stayed at the Post, and it was Cindy's first visit. It is something special to stroll into an establishment where every detail is as close to perfect as it gets—yet still friendly, welcoming and eminently comfortable. The warmly and individually decorated rooms are like walking into one's own luxury home. The Post is the kind of place where you want to actually spend your holiday and not just dash in and out, especially when you allocate some time for its sybaritic saltwater pool spa. In the mornings, as we lingered over an incredible room-service breakfast, it was even a bit hard to depart for actual skiing.

Although skiing at either Lake Louise or Jasper/Marmot Basin involves a morning or afternoon drive, Louise has the advantage in proximity, being a five-minute drive from the village (or 10 from the Chateau) to the lifts vs. about 20-25 from Jasper to Marmot.

DINING

"Forty years ago Jasper had 28 restaurants—and 27 of them were owned by Greeks," chuckles Astoria Hotel owner George Andrew over a few pints in his D'Ed Dog Bar & Grill after a fine day's skiing following the 70-year-old around the mountain. "Today we have nearly 80 restaurants."

Funnily enough, Cindy and I had begun our visit to Jasper with dinner in a Greek establishment, the L&W. It was a trip down memory lane for me since this was where my pimple-faced mates and I on Grade 10 school bus trips from Edmonton would head for cheap pizza—sometimes even going all-out for souvlaki—while trying to pass for 18 and order a pitcher of beer. This time, neither ID nor budget was an issue. While the décor was comical early-'80s Earls, the food from the huge menu was excellent and plentiful. The clientele was local working folk, and the owners were the same as 40 years ago.

The next night we checked out Syrahs of Jasper, a small bistro-style restaurant downtown on Patricia Street. Syrahs is an excellent example of modern mountain dining. Up on the mountain, Marmot has two main options: the base area Caribou Bar & Grill has a more modern international lineup, while Charlie's Bar in the old day lodge at mid-mountain offers satisfying traditional fare.

At Lake Louise, since we usually day-trip from our homes around Calgary, our dining experience generally consists of a quick pass-through stop at the Laggan's café in the village mall and a sumptuous sit-down mountain lunch in the Whitehorn Bistro. Down in the base lodge, the Kuma Yama serves tasty and reasonably priced Japanese fare fast.

Being a small village, Lake Louise has only a handful of restaurants and smaller cafés along with its high proportion of fine to ultra-chic dining in the Chateau Lake Louise, Deer Lodge and Post Hotel. Since we were staying at the Post Hotel this time, our dinners were the very opposite of pass-through pickups.

Long ago I described the Schwarz family's incredible Swiss-Italian Euro-fusion cuisine as the finest kitchen in Alberta. The province's subsequent proliferating restaurant scene means I'd be hard-pressed to prove that objectively today—but I still feel it in my bones. Our four-course evening: Atlantic lobster with Marie-Rose sauce, homemade Morel mushroom strudel, Zurich-style veal tenderloin with rösti potatoes and a cherry tarte tatin. All complemented by the Post's remarkable wine cellar with its mind-boggling 1,700 selections. We were utterly dependent on the Post's encyclopaedic and ever-patient sommelier.

SCENERY

Lying in the heart of the Canadian Rockies, both resorts provide visual feasts in all directions. No rounded hilltops here, the alpine feel is the real deal: craggy peaks, giant cliff-walls and blue glaciers disgorging giant seracs. Lake Louise's stunning views across the Bow River Valley are more expansive, while the sharp ridge ringing Marmot's basin is a bit more in-your-face, and on a clear day one can see B.C.'s iconic Mount Robson. Arguably even more spectacular is the drive between the resorts. The Banff-Jasper Parkway surely ranks among the loveliest 225 km of road on the planet. I've been driving it my whole life, yet on the after-ski cruise from The Lake up to Jasper in April it again felt like seeing it for the first time.

DEVELOPMENT

Lake Louise will be doing much more than Marmot over the next 10 years in the way of development—but Marmot has done far more over the previous 10.

Marmot has completed the most thorough lift infrastructure replacement of any Canadian ski area I know of, building four modern lifts while retiring old ones, adding the new Eagle Ridge area with its own quad chairlift, revamping its base area, improving its kids' and beginner areas, and opening Tres Hombres plus other terrain pockets. Virtually the only reminders of Old Marmot are the upper lodge (itself renovated and improved), and the ancient Knob double chair accessing some of Marmot's alpine, including the roughly 35-minute hike to Marmot Peak. Other than replacing the Knob Chair at some point, there isn't much left on Marmot's to-do list but ski.

Lake Louise, by contrast, is just getting started. Its federally approved long-range development plan (see "Look What's Coming to Louise," Ski Canada, December 2019) includes multiple lift replacements, a revamped beginner area, better novice and intermediate runs, sheltered new backside terrain on lower Richardson Ridge and many other changes.

from the archives Marmot Basin

Tags: Alberta, Lake Louise, Marmot Basin