Lotschental – Hidden Valley
---
Switzerland's Lötschental is the quintessential off-the-beaten-track destination for curious skiers.
 Tschäggättä — you know the party is going to be good if the name starts with four consonants and includes three umlauts.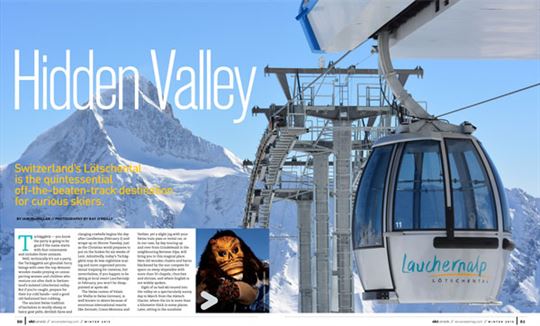 Well, technically it's not a party, the Tschäggättä are ghoulish furry beings with over-the-top demonic wooden masks preying on unsuspecting women and children who venture out after dark in Switzerland's isolated Lötschental valley. But if you're caught, prepare for their icy-cold hands—and a good old-fashioned face-rubbing.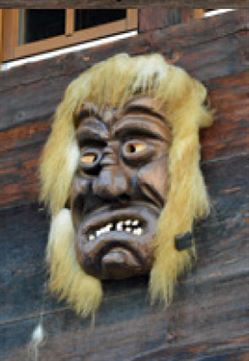 The ancient Swiss tradition of bachelors in woolly-sheep or hairy-goat pelts, devilish faces and clanging cowbells begins the day after Candlemas (February 2) and wraps up on Shrove Tuesday, just as the Christian world prepares to put on the brakes for six weeks of Lent. Admittedly, today's Tschäggättä may do less nighttime scaring and more organized processional traipsing for cameras, but nevertheless, if you happen to be skiing at local resort Lauchernalp in February, you won't be disappointed at après ski.
The Swiss canton of Valais (or Wallis in Swiss German), is well known to skiers because of enormous international resorts like Zermatt, Crans-Montana and Verbier, yet a slight jog with your Swiss train pass or rental car, or in our case, by day touring up and over from Grindelwald in the neighbouring Bernese Alps, will bring you to this magical place. Here old wooden chalets and barns  blackened by the sun compete for space on steep slopesides with more than 50 chapels, churches and shrines, and where English is not widely spoken.
Eight of us had ski-toured into the valley on a spectacularly sunny day in March from the Aletsch Glacier, where the ice is more than a kilometre thick in some places. Later, sitting in the sunshine quaffing our well-deserved après-ski beers outside a perfect little chalet called Hotel Breithorn in the village of Blatten after skinning and skiing for six hours, my wife, Ray, asked me in frustration, "What's Bruno trying to tell me? What's a Bürgermeister?"
Although Bruno, our Bernese mountain guide, could speak virtually no English, he had little problem teasing those in the group from Toronto. "Bürgermeister means mayor," I said reluctantly "He's talking about Rob Ford."
From the end of the table, like he'd just won a game of charades, came the gleeful scream, "RUB FOOORD! RUB FOOORD!" This was followed by a drugged-looking face and an equally comic attempt by the lithe climber's body to look corpulent. When things finally calmed down, we all decided Bürger-meister was actually apropos.
Our day to ski Lauchernalp dawned calm, sunny and blue, and the jagged alpine scenery on both sides of the tight valley was so spectacular our eyes didn't know where to rest. In the village of Wiler, a five-minute bus ride down the valley from Blatten, our group of five parents and four teenagers seemed to be the only ones in the resort's cable car without luggage, groceries, even dogs. As we rose above the high valley walls of the Lötschental ("tal" meaning valley), the sudden brightness of the above-treeline alpine village was striking—and already warm. It felt very Lonely Planetish with the obvious lack of British or American accents, not a single Gap-year Brit, no French, no Russians, no tour buses at the base—indeed, we were surrounded by…Swiss. We felt honoured to be in with the locals.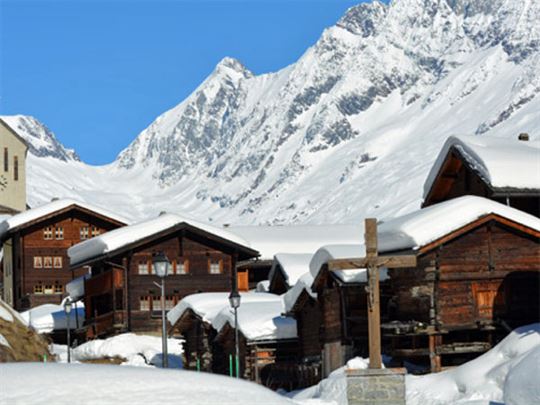 It was Saturday "changeover day," when those renting chalets for a week's holiday were moving in. After disembarking the valley-access cable car, generations of families were hoofing their food and belongings the final few hundred metres uphill in this car-free slopeside village—while I thought of my kids complaining about carrying their own bags in from our garage back home.
In the Alps where a ski pass can give you access to hundreds of lifts, the five of Lauchernalp wouldn't impress, but the big-alpine, freeride terrain they access certainly does. This tough "little" resort has a 1,143m lift-serviced vertical that can be pushed to 1,735m if you convince your ski instructor to take you the long way down after lunch. And that's exactly what we convinced Ricki to do.
The slush-bumps and steep groomers on-piste were for exploring all morning, while we saved the afternoon for a little hiking and a lot of skiing. Colder, drier conditions higher up left plenty of wintry snow, and we made tracks through enormous rock gardens with the kids scattering and squealing but still staying within a safe distance of Ricki. All particularly rewarding when there were no others in sight.
Lauchernalp's imposing terrain and therefore its rep with the freeride crowd is understandable and growing. Only 10 or 20 years ago it seemed most Euros kept to the pistes, but a new generation has learned why old guys like me cross the Atlantic to ski the Alps. Tracks in the now-sun-spoiled snow ripped in every direction and I could only imagine what this place would be like in colder temperatures after a dump.
Ricki eventually led us to the inspiring Lötschenpass Hut, with its array of solar panels soaking in the stunning setting and where we drank early après-ski beers in the sunshine, and counted and pointed at the impressive peaks surrounding us. Tracks that looked a couple of hours away from the hut headed up and over a saddle, evidently to another resort I'd like to ski one day, Leukerbad; we all took note about a return trip. The fully off-grid hut provided Swiss-clean accommodation in private or dorm rooms, breakfast and dinner, and no doubt great memories.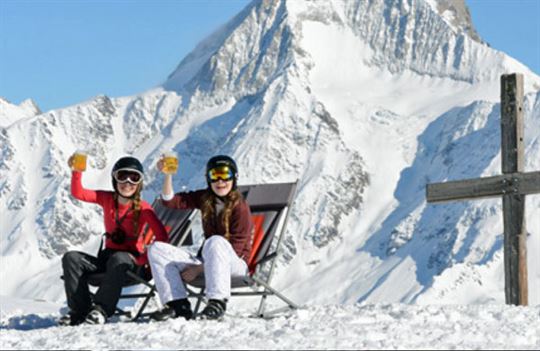 But our continued day-journey was down only, and as the afternoon went on and our group descended into alpine shadow, we realized just how long a trek we were making. Eventually we skied into knee-wrenching spring slop and our style became survival mode while we took turns entertaining each other with tired, slovenly wipeouts.
From open bowls and glaciers, to trees and narrow trails, we hadn't appreciated how late it was until we finally arrived in the village of Kippel. The tight little twisty streets and crooked wooden houses were straight off the pages of a darkening storybook when the five o'clock bells began. As if on queue, and with Swiss timing, the seminal sounds of a single steeple quickly grew as competing bells from churches and chapels joined in, and before long a full-on, 10-minute gong show enveloped the entire village.
We caught the 5:15 postbus back upvalley, and as the 90-minute eerie alpenglow settled in, some of us wished we had visited earlier to encounter a Tschäggättä, while others were quite happy to have bought the postcards.
Skiing/mask-carving: Loetschental.ch/en
Instructor guiding: coolschool.ch
Best food and sleeps: HotelBreithorn.ch
Mountain hut stays: Loetschenpass.ch
More CH: valais.ch or myswitzerland.com
Published in Winter 2015 issue
---
Tags: Europe, Lotschental, Switzerland