Reading Time:
3
minutes
I never met "Frippe" in person. Fredrik Ericsson, a 35-year-old Chamonix-based Swede, and I only exchanged e-mails in the spring while he was planning another enormous ski mountaineering feat – this time on K2.
The closest I come to mountaineering is at my indoor rock-climbing gym, so an adventure like Ericsson's was enthralling to follow when you're in communication with one of the world's leading high-altitude skiers. (He's had ski descents on some of the highest mountains on earth, including Peak Somoni, Shisha Pangma, Gasherbrum 2, Laila Peak and Dhaulagiri.) It was also a splendid distraction in the summer as I was staring at my computer screens working on all the material, numbers, photos and so on for this 2011 Buyer's Guide.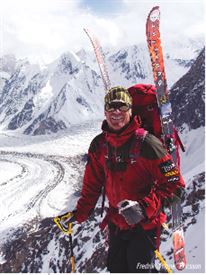 Ericsson's attempt to climb -but more fantastically, ski – K2 this summer was part of a mountaineering hat trick that included Nepal's Kangchenjunga (8,585 metres) last year and Everest (8,850 metres) this autumn. With three done in previous years, his ultimate goal was to ski all 14 mountains that peak higher than 8,000. Skiable vertical this trip? 3,600.
The world's second-highest mountain, a.k.a. The Savage Mountain, ends in a startlingly steep pyramid – a much more difficult climb than Everest. There's no easy route. No bottled oxygen. With no similar-sized peaks in the neighbourhood, the resulting exposure often turns weather deadly. And in touring boots with skis on your back, the climb is bizarrely more gruelling. On Kashmir's border with China, the 8,612-metre K2 has been summited by fewer than 300 climbers, whereas Everest has been "conquered" by more than 4,000.
As easy as it was to live vicariously through our few e-mails and reading blogs by Ericsson, his freelance writer, climbing mate Trey Cook, made it riveting. On July 24, Cook wrote about some warm-up runs starting from just below where the dead zone begins in mountaineering, around 8,000 metres, and for Ericsson and company, Base Camp 4.
"With the summit of K2 rising above us so close, we feel like we could have touched it, Frippe locked into his skis and dropped into the massive 45-degree face that stretches from The Shoulder at 8,000m to below Camp 3 at 7,100m. This big, beautiful face radiates down upon base camp and all the way to Concordia making every skier in the area fantasize about arcing fast steep turns across it. Of course, if it were that easy we'd have all seen it in the latest TGR film, but simply putting your boots on at this altitude makes you gasp for air and making two or three turns with a heavy pack would bring most hardcores to tears. I'm here to tell you that after three long, hard days of climbing Fredrik Ericsson earned every one of those awe-inspiring turns."
Polite and friendly, Ericsson made it easy for me to feel as though I knew him by following his adventure through e-mails and website updates. When I told him I would hold space in Ski Canada, hoping his success up – and skiing down – K2 would happen by this issue's deadline in early August, he told me, "We've booked our return tickets on 8 August, then the expedition will be over." It wasn't Ericsson's first attempt on K2.
So it was initially with denial and disbelief on the morning of August 6 when I read, and re-read several times, a short subject line in my inbox from a ski blogger friend in Russia: "Fredrik Ericsson killed on K2."
While on a summit attempt with Austrian climber Gerlinde Kaltenbrunner, Ericsson was fixing rope to the rock in the infamous bottleneck, a 100-metre, 80- to 90-degree couloir around 8,300 metres, when he lost purchase and was unable to arrest his fall.
He dropped more than 1,000 vertical metres. Ericsson's body is resting at about 7,000 where his parents have requested it remain since retrieval would be exceptionally dangerous.
I was surprised how much I felt for a person I didn't know, and can't imagine being the parent, spouse, child or friend of someone like Ericsson. A few days later, Lockwood, a climber-friend of mine, and I discussed the recurring key issue of responsibility vs. the desire to attain personal goals and how much more regularly the subject comes into alpine skiing now with increased backcountry use. For every four who have reached K2's summit, one has died trying. So why do we (or some of us, anyway) idolize risk-takers? To some, anger is the dominant feeling after reading about Ericsson – to me, only sadness.