---
by Tobias c van Veen from Spring 2012 issue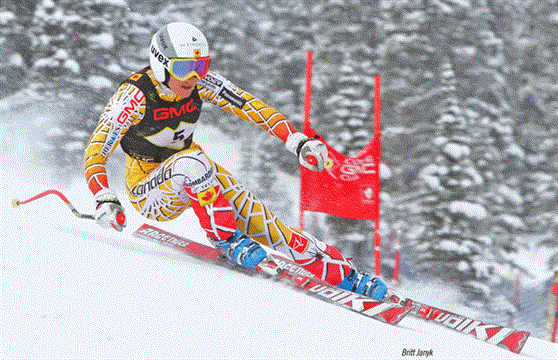 What happens to racers after they've hung up their skis? It's a question that a lot of athletes either avoid or don't even consider. As recently retired Canadian cyclone-on-skis Britt Janyk points out, planning an exit strategy from the World Cup never really occurred to her. "I found it really difficult to think about what to do outside of skiing because I just loved the skiing," she says. "I didn't want to think about anything else."
Indeed, such dedication and focus is precisely what drives an athlete like Whistler's Janyk to the podium; she crowned her 2010 retirement with 25 career top-10 finishes. Stepping away from 14 years on Alpine Canada's national team must be quite a comedown. Imagine a decade-and-a-half adrenaline bender and you might come close to the clinical level of derangement and addiction it takes to travel week after week through strange time zones, sleep deprived and mostly solo in the sack, meeting each morning with a hundred million squats, day after day, to finally stuff sore feet into cold boots, pull on a tightie-spandex suit and hurtle your battle-weary body downhill at speeds that would gamer an excessive ticket. It's fun and dangerous and a little crazy all at the same time, but it doesn't lend itself to planning an investment portfolio, undertaking higher education or managing RRSP payments.
Quitting cold turkey is not so easy, Janyk cautions. "It's important to give yourself the chance to kind of go through the process of asking yourself 'What now?'  and allowing yourself to absorb everything, the emotions you're going through, and feelings, because you have lot of them," she says. Then laughs. Indeed, her laugh punctuates her easy-flowing words; this is no surprise when you consider she's almost as much a writer as a racer. Throughout her career on the circuit, she filed fortnightly reports for Whistler's Pique Newsmagazine . Now she continues to blog for Alpine Canada, with some reportage for the CBC. Perhaps interested in becoming a sports commentator— "I would really enjoy calling the races," she says —Janyk has also turned to coaching Whistler Mountain Ski Club's K1 racers during summer training camps on Blackcomb Glacier.
"They're so keen at that age. It's an age where you can catch them and really get their attention," says Janyk, with another singsong chuckle. "They're just like sponges —they'll learn and are so open to soaking in everything."
In particular, Janyk has a few words for guiding young women through the pitfalls and perils of the sport. "I think guys have a natural belief in themselves, macho attitude. For girls, it's important to remember to believe in yourself. It's easily forgotten; I definitely did it throughout my career. But you need to come back to that place, because that's where your strength and confidence comes from —from within . For girls, if you have that internal belief in yourself, it's so powerful."
On that note, 30-year-old Janyk and her partner, Mark Tilston, are excited about the birth of their baby in February. "It will be a really nice transition," says Janyk of motherhood, "because I can think about what's to come next, either career-wise or what I want to work at, but I also know that right away I'll be a mum and that will take up a lot of my time. So it allows me to relax a little bit. One thing that's definitely very clear for me is that skiing is a number-one passion for me, and always will be."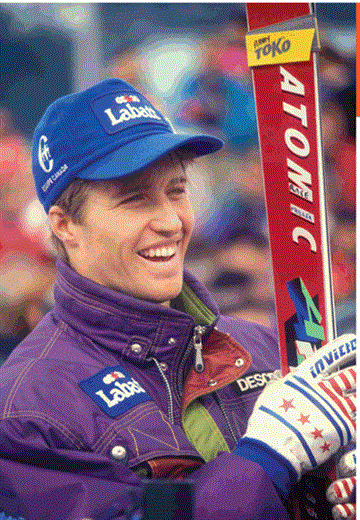 Skiing is still the passion —if not the brainchild—for Cary Mullen. After his third concussion racing downhill on the World Cup circuit, he hung up is boards in 2000. Mullen, who  "lived life like a 90-year-old man" with double vision and memory loss after his near-fatal series of crashes, went from being a two- time Olympian and World Cup champion to translating his training tactics into success stories for motivational speaking after studying the strategies of sports psychology. "I was drawn to share those experiences with others, as inspirational strategies, to help people succeed. I was inspired by some of my crashes, but I felt I had a calling for speaking even before that," he says.
Mullen is used to skiing fast—very, very fast—and to this day holds the world downhill speed record of 156 kph on Austria's infamous course of icy death, the Hahnenkamm at Kitzbühel. Needless to say, it took a dose of daring to retrain both mind and body to not only recover from his injuries, but to return to the World Cup. That he has managed to become both a successful speaker and a resort property developer attests to how skiing, as a monk-like discipline, can provide the sacred stuff for other careers. "I went and got analytical about what I can draw from racing to apply to business, to apply to life, so I wrote a book called How to Win ," says Mullen, before launching into his five-plank strategy for achieving success, which includes such concepts as "Pick Your Line" and "Lunging Forward."
As for me, I particularly like "Pick Your Line." Riding the alpine chairs, I often cringe while watching skiers and snowboarders alike do nothing but traverse the hill, as if the plumb line—the profile and pull of the mountain's gravity—is something to be avoided rather than embraced. Like racing, shifting from skiing as a passion and a profession to other callings requires balancing the same level of headstrong, athletic confidence with the thoughtful movements and inspired choices of the imaginative mind.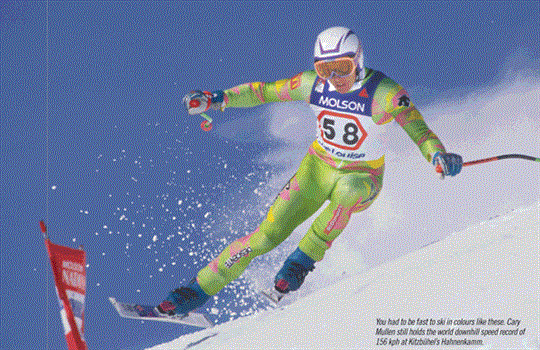 ---
Tags: Alpine Canada, Blackcomb Glacier, Britt Janyk, Cary Mullen, Hahnenkamm, How to Win, K1, Kitzbühel, Lunging Forward, Pick Your Line, Pique Magazine, Pique Newsmagazine, Whistler, Whistler Mountain Ski Club, World Cup