7 Reasons to Love Le Massif de Charlevoix
---
Perhaps the magic of Le Massif de Charlevoix is its relatively recent association with developer and Cirque du Soleil co-creator Daniel Gauthier. Or maybe it's the mystery created by the meteor that sculpted the region 350 million years ago. More than likely, it's about everything in between.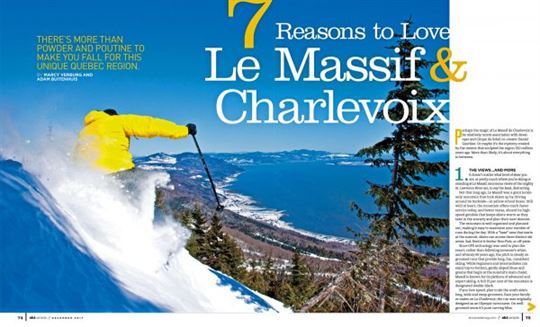 by MARCY VERBURG and ADAM BUITENHUIS in the December 2017 issue
1. THE VIEWS…AND MORE
It doesn't matter what level of skier you are, or pretty much where you're skiing or standing at Le Massif, enormous views of the mighty St. Lawrence River are, to say the least, distracting.
Not that long ago, Le Massif was a giant locals-only mountain that took skiers up by driving around its backside—in yellow school buses. Still wild at heart, the mountain offers much faster service today, and better vistas, aboard its high-speed gondola that keeps skiers warm as they take in the scenery and plan their next descent.
The mountain is well organized and planned out, making it easy to maximize your number of runs during the day. With a "base" area that starts at the summit, skiers can access three distinct ski areas: Sud, Nord et le Secteur Hors-Piste, or off-piste.
Since GPS technology was used to plan the resort, rather than following someone's whim and whimsy 60 years ago, the pitch is steady on groomed runs that provide long, fun, consistent skiing. While beginners and intermediates can enjoy top-to-bottom, gently sloped blues and greens that begin at the summit's main chalet, Massif is known for its plethora of advanced and expert skiing. A full 35 per cent of the mountain is designated double-black.
If you love speed, plan to ski the south side's long, wide and steep groomers. Race your family or mates on La Charlevoix; the run was originally designed as an Olympic racecourse. On well-groomed snow it's pure carving bliss.
''The snow isn't just plentiful here, it's also the light, dry and fluffy quality of it that draws skiers. ''
2. THE POWDER
Le Massif's share of the elusive stuff is legendary. With 650 cm a year on average (the most of any resort east of the Rockies), Le Massif can deservedly brag. The snow isn't just plentiful here, it's also the light, dry and fluffy quality of it that draws skiers. Snowbanks tower above roads as you make the pilgrimage; even in April, it's possible to arrive in a storm dumping 30 cm or more. Once you've made it to Le Massif, take advantage of the free mountain guides to seek out the best hidden stashes after a snowfall. Our favourite run in the deep: La Fénomène.
3. LES BOIS
Le Massif's glades are numerous, deep and easily accessible by lift or a little exploring. If your group is divided on the idea of spending time in the trees, it's easy to split up each run with some ducking into les bois while others stick close by on the groomed. Some glades are steep and tight, while others are roomier and lend themselves more to family-friendly adventures when the kids are young. After a dump, believers can ski trees the whole day. Personal favourites: La Chaudière and La Dominique Maltais.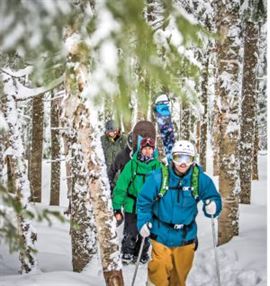 4. THE TOURING

Like the snow, Western skiers don't have dibs on the uphill direction of our sport. For those who like to get off-the-beaten path and want both a workout and a deeper sense of adventure, Le Massif offers those with skins and touring gear several dedicated uptrack routes and a yummy reward of 40 hectares designated for backcountry-only skiers. Getting away from the madding crowd will leave you with lovely memories. And if you're curious about randonnée but not confident enough to go it alone, hire an expert guide for the day and free your heels (uphill anyway) by exploring this pristine area located right at the resort.

5. THE GASTRONOMY, THE APRÈS…

Nearby, in the delightful maritime town of Baie-Saint-Paul, the dining choices are plentiful with enough places to please every palate and budget. Le Saint-Pub, one of the original microbreweries in Charlevoix, features its own Vache Folle brew and many eats such as smoked mussels and chicken marinated in beer. For a casual meal or drinks, visit Le Bercail and try one of its cocktails featuring local maple and birch syrup. If in the mood for finer cuisine, dine at Les Labours to eat responsibly sourced meals such as Macreuse de boeuf from Quebec or all-time favourite local dessert Pouding chômeur (literally, unemployment pudding, but sounds better in French) made with maple syrup from the region. Start your day with a gourmet breakfast at Auberge L'Estampilles where Chef Regis creates light and delicate egg creations. And finish the night with a Quebec maple whisky, Coureur des Bois.

The Charlevoix region is home to a self-guided Epicurean tour la Route des Saveurs, or the Flavour Trail. While most people visit local villages and farms in the summer months, winter tourists might be lucky enough to attend the Gala Des Grands Chefs, a fundraising event that features the best that Quebec chefs have to offer. To create one's own flavour experience, enjoy microbreweries, cheeses, and exquisite chocolate, maple products, organic meats and other products from local farms.

The après-ski scene, both at the hill and in town, is lively with Québécois life. For an authentic ski party, hit Le Grand Duc Pub located at the mountain summit with its raucous DJs and take part in the Sleeman Show-Z-après-ski series. After some big powder days, local boy Daniel Gauthier, of Cirque du Soleil fame, can be found carousing with guests. As well there is always a worthy ski town ambience between the art shops and fromageries along Rue Saint-Jean-Baptiste in Baie-Saint-Paul.

6. THE NON-SKI DISTRACTIONS

Le Massif offers an exhilarating opportunity to slide down a 7.5-km cut trail on a Euro-style, easy-to-manoeuvre sled on runners as part of a group tour that runs several times each day. Far off the ski runs, the experience is adrenaline-pumping, competitive—and addictive. It starts with a trip in a snowcat to the summit. After a quick lesson, guests participate in a two-hour sliding adventure complete with warming breaks. The fee includes sled rental, helmet, lesson, tour and a gondola ride back to the top.

In Charlevoix, nature and dog lovers will find more than one dogsled operation exuding a rustic Québécois feel. With a guide, Le Chenil du Sportif lets you take control of your own team for a thrilling ride through the unique UNESCO biosphere reserve that resembles a Krieghoff painting. Challenging tight and winding wooded trails open onto scenic powdery vistas within the remote backcountry. For motorized sled-heads who prefer the smell and noise of snowmobiles, there are several touring options.

7. THE UNIQUE ACCOMMODATIONS

The region offers many inviting options for accommodation far from the sterile beige-carpet and gas-fireplace condo of North American ski country, with travellers staying in one of many charming local auberges. These lodges are scattered around the region, some with views of the St. Lawrence River. Expect to wake up to a gourmet breakfast and delicious coffee before heading out for the day. Situated 10 minutes from Baie-Saint-Paul, Auberge L'Estampilles offers an outdoor spa, bar and lounge. The grandest accommodation remains the still relatively new four-star Hôtel & Spa Le Germain about 20 minutes from Le Massif in Baie-Saint-Paul. Urban and hip yet bucolic, it combines country charm with award-winning refined design and features unique luxurious rooms including family-sized suites.

Tags: Charlevoix, Le Massif, Québec