Reading Time:
7
minutes
Ex-Cirque du Soleil co-owner DANIEL GAUTHIER has taken his high-wire act up a notch to include chairlifts and gondolas at a new business venture, Le Massif.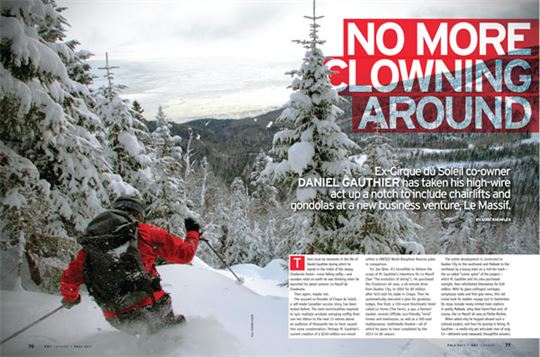 There must be moments in the life of Daniel Gauthier during which he stands in the midst of the sleepy Charlevoix forest—snow falling softly—and wonders what on earth he was thinking when he launched his latest venture: Le Massif de Charlevoix.
Then again, maybe not.
The assured co-founder of Cirque du Soleil, a self-made Canadian success story, has been tested before. The mere technicalities required to sync multiple acrobats swinging swiftly from one red ribbon to the next 15 metres above an audience of thousands has to have caused him some consternation. Perhaps M. Gauthier's current creation of a $230-million eco-resort within a UNESCO World Biosphere Reserve pales in comparison.
For Joe Skier, it's incredible to fathom the scope of M. Gauthier's intentions for Le Massif (See "The evolution of skiing"). He purchased the Charlevoix ski area, a 40-minute drive from Quebec City, in 2002 for $9 million after he'd sold his stake in Cirque. Then he systematically executed a plan for gondolas, lodges, fine food, a 150-room bioclimatic hotel called La Ferme (The Farm), a spa, a farmers' market, several cliffside, eco-friendly "wind" homes and treehouses, as well as a 500-seat multipurpose, multimedia theatre—all of which he plans to have completed by the 2013-14 ski season.
The entire development is connected to Quebec City to the southwest and Malbaie to the northeast by a luxury train on a 140-km track— the so-called "scenic spine" of the project— which M. Gauthier and his crew purchased outright, then refurbished themselves for $18 million. With its glass-ceilinged carriages, sumptuous seats and foie gras menu, this rail cruise took its maiden voyage just in September. Its stops include newly minted train stations in pretty Malbaie, artsy Baie-Saint-Paul and, of course, the Le Massif ski area at Petite-Rivière.
When asked why he hopped aboard such a colossal project, and how his journey is faring, M. Gauthier—a media-shy yet articulate man of only 53—delivered some measured, thoughtful answers.
In Quebec, if you don't like to play in the snow, time hangs heavy in your hands!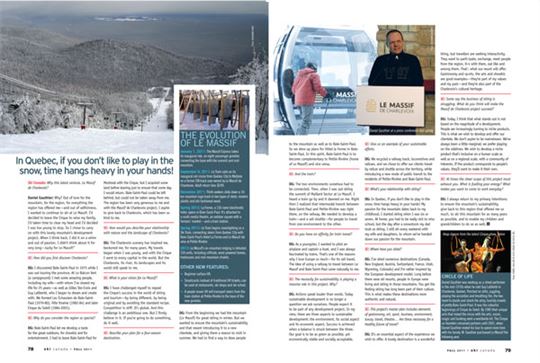 Ski Canada: Why this latest venture, Le Massif de Charlevoix?
Daniel Gauthier: Why? Out of love for the
mountain, for the region, for everything the
region has offered me—and out of selfishness.
I wanted to continue to ski at Le Massif. I'd
decided to leave the Cirque to raise my family.
I'd taken time to clear my head and I'd decided
I was too young to stop. So I chose to carry
on with this lovely mountain's development
project. When I think back, I did it on a whim
and out of passion. I didn't think about it for
very long—lucky for Le Massif!"
SC: How did you first discover Charlevoix?
DG: I discovered Baie-Saint-Paul in 1975 while I
was out touring the province. At Le Balcon Vert
(a campground) I met some amazing people,
including my wife—with whom I've shared my
life for 25 years—as well as Gilles Ste-Croix and
Guy Laliberté, who I began to dream and create
with. We formed Les Échassiers de Baie-Saint-Paul
(1979-80), Fête foraine (1982-84) and later
Cirque du Soleil (1984-2001).
SC: Why do you consider the region so special?
DG: Baie-Saint-Paul let me develop a taste
for the great outdoors, for showbiz and for
entertainment. I had to leave Baie-Saint-Paul for
Montreal with the Cirque, but I acquired some
land before leaving just to ensure that some day
I would return. Baie-Saint-Paul could be left
behind, but could not be taken away from me.
The region has been very generous to me and
with the Massif de Charlevoix project, I aspire
to give back to Charlevoix, which has been so
kind to me.
SC: How would you describe your relationship with nature and the landscape of Charlevoix?
DG: The Charlevoix scenery has inspired me,
beckoned me, for many years. My travels
began when I was young, and with the Cirque
I went to every capital in the world. But the
Charlevoix, its river, its landscapes and its
world still speak to me.
SC: What is your vision for Le Massif?
DG: I have challenged myself to repeat
the Cirque's success in the world of skiing
and tourism—by being different, by being
original and by avoiding the standard recipe.
Competition is stiff. It's global. And this
challenge is an ambitious one. But I firmly
believe in it. If you're going to do something,
do it well.
SC: Describe your plan for a four-season destination.
DG: From the beginning we had the mountain
(Le Massif) for great skiing in winter. But we
wanted to ensure the mountain's sustainability
and that meant introducing it to a new
clientele, and giving them a reason to visit in
summer. We had to find a way to draw people
to the mountain as well as to Baie-Saint-Paul.
So we drew up plans for Hôtel la Ferme in Baie-Saint-
Paul. In this spirit, Baie-Saint-Paul is to
become complementary to Petite-Rivière (home
of Le Massif) and vice versa.
SC: And the train?
DG: The two environments somehow had to
be connected. Then, when I was out skiing
the summit of Maillard Sector at Le Massif, I
heard a train go by and it dawned on me. Right
then I realized that intermodal transit between
Baie-Saint-Paul and Petite-Rivière was right
there, on the railway. We needed to develop a
train—and a rail shuttle—for people to travel
from one environment to the other.
SC: Do you have an affinity for train travel?
DG: As a youngster, I wanted to pilot an
airplane and captain a boat, and I was always
fascinated by trains. That's one of the reasons
why I love Europe so much—for its rail travel.
The idea of using a railway to travel between Le
Massif and Baie-Saint-Paul came naturally to me.
SC: The necessity for sustainability is playing a massive role in this project. Why?
DG: Actions speak louder than words. Today
sustainable development is no longer a
question we ask ourselves. People expect it
to be part of any development project. In my
view, there are three aspects to sustainable
development: the environment, its social aspect
and its economic aspect. Success is achieved
when a balance is struck between the three.
Our goal is to be as green as possible, yet
economically viable and socially acceptable.
SC: Give us an example of your sustainable efforts.
DG: We recycled a railway track, locomotives and
railcars, and we chose to offer our clients travel
by railcar and shuttle across the territory, while
introducing a new mode of public transit to the
residents of Petite-Rivière and Baie-Saint-Paul.
SC: What's your relationship with skiing?
DG: In Quebec, if you don't like to play in the
snow, time hangs heavy in your hands! My
passion for the mountain dates back to my
childhood. I started skiing when I was six or
seven. At home, you had to be really sick to miss
school, but the day after a snowstorm my dad
took us skiing. I still ski every weekend with
my wife and daughters, to whom we've handed
down our passion for the mountain.
SC: Where have you skied?
DG: I've skied numerous destinations (Canada,
New England, Austria, Switzerland, France, Utah,
Wyoming, Colorado) and I'm rather inspired by
the European development model. Long before
there were ski resorts, people in Europe were
living and skiing in those mountains. You get the
feeling skiing has long been part of their culture.
This is what makes these destinations more
authentic and natural.
SC: This project's master plan includes elements of gastronomy, art, sport, business, environment, luxury, travel, theatre… Are these necessary for a healthy future of travel?
DG: It's an essential aspect of the experience we
wish to offer. A lovely destination is a wonderful
thing, but travellers are seeking interactivity.
They want to participate, exchange, meet people
from the region, live with them, eat like and
among them. That's what our resort will offer.
Gastronomy and sports, the arts and showbiz
are good examples—they're part of my values
and my past—and they're also part of the
Charlevoix's cultural heritage.
SC: Some say the business of skiing is struggling. What do you think will make the Massif de Charlevoix project succeed?
DG: Today, I think that what stands out is not
based on the magnitude of a development.
People are increasingly turning to niche products.
This is what we wish to develop and offer our
clientele. We don't aspire to be mainstream. We've
always been a little marginal; we prefer playing
on the sidelines. We wish to develop a niche
product that's inclusive on a human scale as
well as on a regional scale, with a community of
interests. If the product corresponds to people's
values, they'll want to make it their own.
SC: At times the sheer scope of this project must exhaust you. What is fuelling your energy? What makes you want to come to work everyday?
DG: I always return to my primary intentions:
to ensure the mountain's sustainability,
give back to this region that offered me so
much, to ski this mountain for as many years
as possible, and to enable my children and
grandchildren to do so as well. ❄
CIRCLE OF LIFE
Daniel Gauthier was working as a street performer in the mid-1970s when he met Guy Laliberté in Charlevoix, Quebec. Perched on stilts, juggling, playing the accordion and breathing fire, the two
loved to dazzle and shock the artsy, touristy crowds of pretty Baie-Saint-Paul. It was the colourful beginnings of Cirque du Soleil. By 1985 their unique acts that mixed the circus with the arts, music, magic and busking were a worldwide hit. The Cirque co-founders remained partners until 2001, when Daniel Gauthier ended his tour to spend more time with his family. M. Gauthier purchased Le Massif the following year.
THE EVOLUTION OF LE MASSIF
January 1, 2011: The Massif Express takes its inaugural ride, an eight-passenger gondola connecting the base with the summit and mid-mountain.
September 9, 2011: Le Train sails on its inaugural rail cruise from Quebec City to Malbaie on a former CN track now owned by Le Massif de Charlevoix. Adult return fare: $249.
December 2011: Thrill-seekers slide down a 10- km mountain luge track in two types of sleds: modern plastic and old-fashioned wood.
Spring 2012: La Ferme, a 150-room bioclimatic hotel, opens in Baie-Saint-Paul. It's attached to a multi-media theatre, an outdoor square with a farmers' market—and a train station.
Spring 2012: Le Train begins moonlighting as a Ski Train, connecting skiers from Quebec City with Baie-Saint-Paul's Hotel La Ferme and Le Massif ski area at Petite-Rivière.
2013: Le Massif's on-mountain lodging is debuted: 250 units, including cliffside, wind-powered homes, treehouses and mid-mountain chalets.
OTHER NEW FEATURES:
» Beginner surface lift.
» Smartcards instead of traditional lift tickets; can be used at restaurants, ski shops and ski school.
» A people mover lift will transport skiers from the train station at Petite-Rivière to the base of the new gondola.