Reading Time:
2
minutes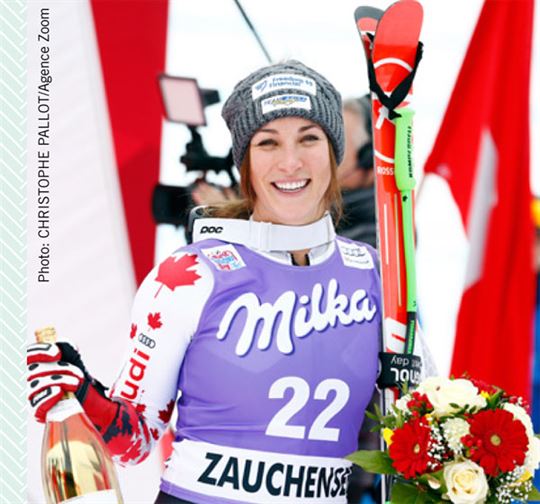 [edit. note: On May 11, 2016 Larisa Yurkiw announced her retirement from ski racing due to concerns about her surgically repaired knee.]
  Any World Cup podium result is impressive, but for Canadian skier Larisa Yurkiw, two podium finishes so far this season have particular significance given her decision to ski as an independent athlete.
Before Christmas, the 27-year-old downhiller from Owen Sound, Ontario, finished 3rd at Val d'Isère. And she started the new year with a silver medal at Altenmarkt-Zauchensee, just behind Lindsey Vonn. We're all watching a little closer now.
A chain of events that began prior to the 2010 Vancouver Olympics resulted in Yurkiw deciding in April 2013 to drop Alpine Canada and go it alone.
In December 2009 Yurkiw suffered a knee injury that took two years to recover from, then had to battle her way back onto the World Cup circuit. Following the 2013 season, she received an email that prompted her to write on her website: "With a lack of funding, a constant challenge for amateur sport, the women's speed team was ceased. After two years of rehab and one year trying to find my race gear, I wondered if maybe this was a sign that it was time to hang up the skis. I'm not great at hanging up my coat when I walk in my house, so hanging up skis was a wild idea."
Unwilling to walk away from her dream, Yurkiw instead formed Team Larisa. She hired a coach and raised enough money to train as an independent. She qualified for the 2014 Sochi Games, finishing 20th, then earned her first World Cup podium with a 2nd at Cortina d'Ampezzo in January 2015. Yurkiw estimates it costs an average of $250,000 a year to compete on the World Cup.
A self-described "introvert at heart," Yurkiw said the experience of running her own program has been rewarding on and off the snow. "I'm happy to say that I think the desperation in the beginning was the oomph I needed to launch Team Larisa. I'm grateful because today I have a huge network and my skill set is growing daily. My results are a direct reflection of the positive environment I work in, and the supportive and patient sponsors I have on board. It's been the most important and amazing experience of my life."