Ladies only frontside skis
---
LADIES ONLY
With women-specific board sales up 20 per cent south of the border last season, the ladies can expect a little extra attention. More than beautiful-looking skis, these come with performance in mind.

An Affinity for easy going
Atomic makes going Frontside easier for ladies with its Affinity lineup. The Air, Pure and Storm are easy to initiate, and come with rockered tips over a V-shape body, making drifting or smearing turns a cinch. The skis come in 74, 79 and 84 underfoot, respectively.

Exclusive-ly for ladies
Dynastar has it dialed in for expert women with this year's Exclusive Pro. As much a system as a ski, it boasts gender-specific sidewall and balance systems that feature a forward mounting point, raised heel, and lighter weight wood and fi breglass hybrid core for lightness and stability. Made with the expert in mind, this ski comes in a vivacious 119/67/102 sidecut.

Beauty and the Beast
Style and performance combine in Head's women-specific, six-ski MYA series. Developed by BMW Designworks USA, the line takes a modern fashion approach, revealing colourful and patterned layers from the bases through what it calls "seductively sliced cutouts" on the topsheets. Fashion-forward ladies can complete the look with matching brand clothing. More than just looking good, Head has powered these skis with its top-end technology, like the patented electronic KERS microchip stiffener in the MYA N°7 (115/68/99) for aggressive Frontsiders, and the company's patented Flow Ride and stiffening Intelligence Technology in the MYA N° 6 (123/77/109) All-Mountain ski.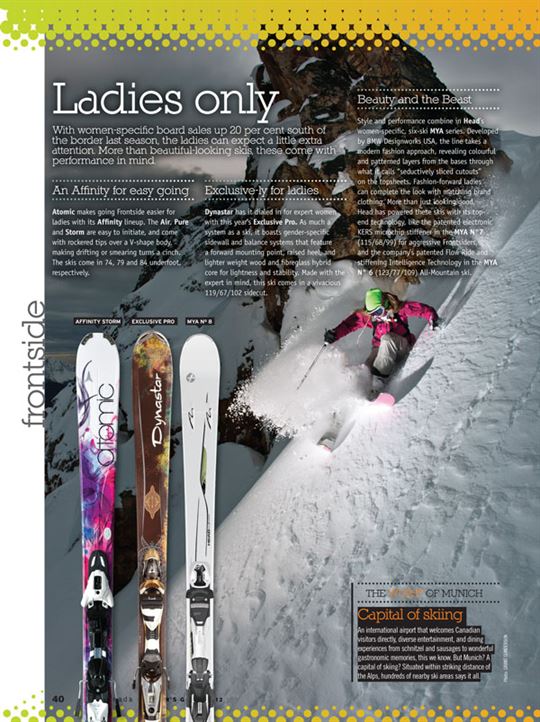 Tags: Atomic Affinity, Dynastar Exclusive Pro NX, frontside, Grant Gunderson, Head MYA, Head MYA No8, ladies