Reading Time:
2
minutes
Knee Deep in Research
It's never a good idea to end up in the back seat, but especially on skis. Add a bit of a twist, arms behind you, weight on the inside edge of your downhill ski and you've just created the prescription for tearing the anterior cruciate ligament, ACL, aka the most common serious ski injury.
While the release mechanisms on most downhill DIN bindings do a good job of preventing many injuries, knees are hard to protect. Except with KneeBinding, says the small Vermont manufacturer with a proprietary "lateral heel release," or third DIN mechanism specifically designed to protect the knee. Two independent 2019 studies concur by finding skiing on KneeBinding reduced the risk of all knee injuries by about 70 per cent and ACL injuries by 82 per cent.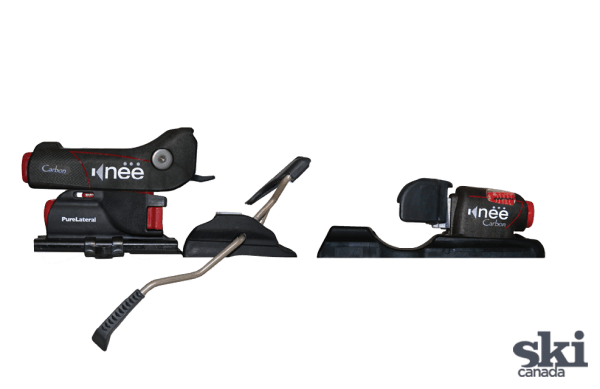 The first study was conducted by the University of Denver Biometrics Lab at three Colorado ski resorts owned by Vail Resort. One hundred ski instructors skied on KneeBinding at work for the 2017 and 2018 seasons, and another 200 acted as controls and skied on regular bindings. The Vail study found KneeBinding reduced the risk of all knee injuries by 75 per cent.
The National Ski Areas Association conducted the other study over three winters at 10 resorts across the U.S. and one in Canada. Of the 1,600 patrollers, instructors and other employees involved, about a third used KneeBinding. In 59,102 skier-days the KneeBinding skiers reported one ACL injury and nine other knee injuries. During the 105,923 skier-days, the control group reported 10 ACL injuries and 47 other knee injuries.
"People skiing on any other ski binding were 5.7 times as likely to have an ACL injury as people who skied on KneeBinding," the NSAA study reported.
from the archives – more on ACL injuries