Reading Time:
3
minutes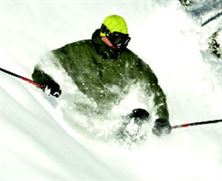 It had been more than a decade since I'd last cruised around Kimberley and been charmed by the oddball characters hanging out in the infamous off-the-trail-map "sun pit," but all the legendary Kootenay skiing first appeared to require backcountry touring gear and skins. Now, lured by the quiet murmurings of friends from Canmore, Banff and Lake Louise who'd relocated there, I realized why they'd been so quiet.
"We've been up there when it's like a $1,000-heli-ski experience because all you're getting is fresh tracks all day long," says Jeff Chlopan, a 42-year-old sports supplement distributor who was born and raised in Kimberley. "It's a huge hill. I'll bet you could ski it for four full days straight and still have lots of terrain to cover."
A few years ago a little triple chair named Easter rocked this world. It opened up mile upon mile of long fall-line runs all fanning down from Ridgeway. It's an irritating traverse for snowboarders so the snow doesn't get pushed around, but there's more than enough for the truly dedicated.
"It's some of the best skiing I've done anywhere in the world," says Darren Thorburn, a former Canadian Alpine Ski Team member and World Cup competitor who operates Solace on the Mountain B&B.
On an early Saturday morning Andrea Wallace stops halfway down to appreciate the mountain views on her favourite run, Tramway, and can't hear a sound "except for the whoops from the folks on the next run." A professional nurse and mother to two boys, Sam, 8, and 11-year-old Jesse, Wallace feels comfortable letting the kids roam on their own, which often surprises friends visiting from her Toronto hometown. "It's a real secure village ski hill, where you can walkietalkie your kids from home," Wallace says with a giggle.
On the lifts you'll meet weekend skiers from Cranbrook, Lethbridge, Saskatoon and Calgary. There's the odd sprinkling of aromatic sofa-surfing would-be hippies with the latest fat skis, Oakley shades and North Face jackets, along with regular locals—active outdoor families and older retired miners.
"The fabric of the community is a lot of really adventurous mountain people who are passionate about sports but there's no hype about them, they don't flaunt it," says Matt Mosteller, a former resident and Resorts of the Canadian Rockies director of business development. "They don't have the high-tech rack system on their cars, but they are the ones who actually do the sport and really do it in an incredible way."
Bring your lunch and pull up a picnic table at the Kootenay Haus, where a donation coffee service is run by volunteers. There's a warm and welcoming vibe from the locals, who realize they need to share the ski hill for the health of local tourism.
"But shhh!" says newcomer Stacey Dunsby on the lift when I start asking questions and flirt with the idea of a permanent move. "Don't tell anybody."
KIMBERLEY FACTS & STATS
First off, there's dry snow—motherlodes of it—close to 400 cm in an average four-month season. It doesn't blow off, thanks to the high treeline. Winter rain? Virtually unheard of. Runs are long and languorous and the fall lines consistent, but the biggest bonus is there are so few skiers you can cross your tracks again and again until your thighs give out. Do laps of backside burners through gladed trees in kneedeep bliss, then a few lifts later—back up Tamarack and Easter chairs—do it all over again.
GETTING THERE
You can be at the ski hill in 20 minutes from the Cranbrook International Airport. Connect on Air Canada or Paci?c Coastal out of Calgary and Vancouver. Starting December 17, Cranbrook welcomes U.S. skiers on direct ?ights from Salt Lake City on Delta.
OUT ON THE TOWN
Eating: There are a dozen restaurants in town, including two of note: Chef Bernard's (French) and The Old Baureren House in an original 350-year-old reconstructed Bavarian farmhouse. There are two excellent grocery stores for stocking up the condo's larder.
Après ski: Locals end the day at the Stemwinder, which features live bands on weekends at the resort base. Hearty pub grub and pool tables can be found downtown at the Sullivan Pub.
Families: Movie theatre, bowling, swimming at public pools or skating on two covered rinks. Guided snowshoe trips can be booked through the activities desk at the base. As well, nightskiing is under the high-speed quad, the North Star Express.
COMING SOON
Look for more glading at the resort in all areas to access steeper slopes and create even longer fall lines. Mountain Spirit Lodge & Spa is slated to open in 2009 and will feature a slopeside outdoor swimming pool and 6,000 square feet of health and wellness amenities.
THE NUMBERS
Lifts: 5, including a high-speed
Named runs: 80
Vertical: 751 metres
Longest run: 6.4 km
Summit elevation: 1,982 metres
Town elevation: 1,100 metres
Accommodation: slopeside and in town, contact: Resorts of the Canadian Rockies
More info: 1-800-258-7669; Ski Kimberley