---
Whether it's part of a powdery road trip or the chosen destination, this beloved Kootenay resort knows how to keep families happy.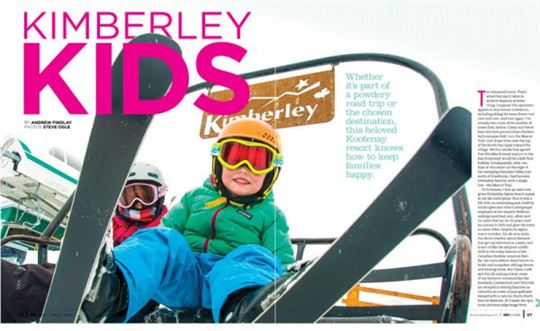 by ANDREW FINDLAY * photos: STEVE OGLE * from Fall 2017 issue
Ten thousand hours. That's what they say it takes to achieve mastery at something. I suppose this aphorism applies to any human endeavour, including skiing the same forest trail over and over…and over again. I've already lost count of the number of times Zola, Sabine, Casey and Fletch have led their parents down Kimberley's marquee kids' run, the Mascot Trail, that drops from near the top of the North Star Quad toward the village. We four adults had agreed that this March break sojourn to the East Kootenays would be a kids-first holiday. Consequently, after two days at this resort on the edge of the sweeping Columbia Valley just north of Cranbrook, I had become intimately familiar with a single run—the Mascot Trail.
I'll be honest, I had up until now given Kimberley Alpine Resort a pass in my ski travel plans. Sure it was a hill with an interesting past, built by millwrights and other tradespeople employed at the massive Sullivan underground lead, zinc, silver and tin mine that ran for 92 years until its closure in 2001 and gave the town its raison d'être. Despite its alpine resort moniker, the ski area lacks the above-treeline alpine features that get my attention as a skier, and is sort of like the adopted middle child in the noisy Resorts of the Canadian Rockies corporate family—its voice seldom heard above its brash and outspoken siblings Fernie and Kicking Horse. But I have a soft spot for old mining towns; some of my favourite communities like Rossland, Cumberland and Telluride are steeped in mining histories as colourful as a vein of pure gold and blessed with a natural charm that's hard to fabricate. So I made the epic, cross-province pilgrimage from
Vancouver Island with open eyes and an open mind, family in tow. In Nelson we formed a caravan with the Ogles, and continued on to Kimberley where we met Californians Andrew and his wife, Lynn, and their year-old son Max.
What Kimberley lacks in bowls, chutes and alpine faces, it makes up for with a respectable vertical drop of 750 metres, long runs (like the 6.4-km-long Ridgeway), steep fall-line groomers, bump runs and glades that have produced its fair share of national-level skiers and athletes. I realize this one afternoon when we park our entourage of eight at Kootenay House, the antithesis of the cash-grabbing ski resort eatery. This bring-your-own-bag-lunch chalet, with a self-serve, pay-by-donation coffee pot, is tucked on a knoll between a pair of blue runs and sports a deck with a jaw-
dropping view of the Columbia Valley. I meet Karen Paynter here, mother of local legend Monte Paynter, who years ago, wearing a pair of jeans, destroyed the competition on the World Cup telemark circuit..
"I've been patrolling here for 35 years. I guess for life," Karen tells me as we scope the wall of fame, where her son's mug is displayed along with other Kimberley characters who have left their marks on the racecourses and mountains of the world: Gerry Sorensen, Stan Hayer, Paralympian Josh Dueck and Seven Summiteer Pat Morrow, to name a few.
Later in the afternoon, Ogle and I settle into deck chairs outside Montana's BBQ and Bar in the sunshine, order some cold pints and watch six-year-old Casey and seven-year-old Zola happily lapping the Owl T-bar without direct parental support. The timeless ski resort classic-rock soundtrack that seems perpetually trapped in the '80s—Joe Jackson, Talking Heads, Men at Work and so on—sets the après-ski mood. I'll speak for the kids and say that both generations are enjoying this newfound, mutually enjoyable liberty.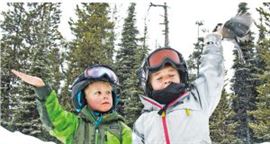 Post-skiing, our three families commandeer the outdoor hot tub back at the Mountain Spirit Lodge, bringing an abrupt end to a Calgary couple's serene slopeside Jacuzzi experience. (I've given up apologizing for such interruptions.)
Another reason that Kimberley piqued my curiosity was the fact that it has cachet among some respected media types: people like author, adventurer and professional guest speaker Bruce Kirkby. "I was looking for a small town close to a ski hill and an airport with international connections," Kirkby tells me about his decision to plunk down roots in Kimberley, as we ride up the North Star the following day to explore some of Kirkby's local stashes.
I had negotiated a morning window for some adult skiing with Kirkby. A warm-up high-speed ripper down Runt—a black diamond so buff this morning that you'd think it was groomed by an army of hairdressers—leads us to the bottom of the Easter fixed-grip triple. Minutes later we're traversing along the cat track above the precipitous Black Forest Glades, delivering us to some off-piste turning in a recent clear-cut that's covered in 10 cm of buttery sun-warmed powder, well-preserved from a storm a few days earlier. We ride up the Easter for another lap, gazing at slopes so devoid of people that I wonder if we missed an emergency evacuation order.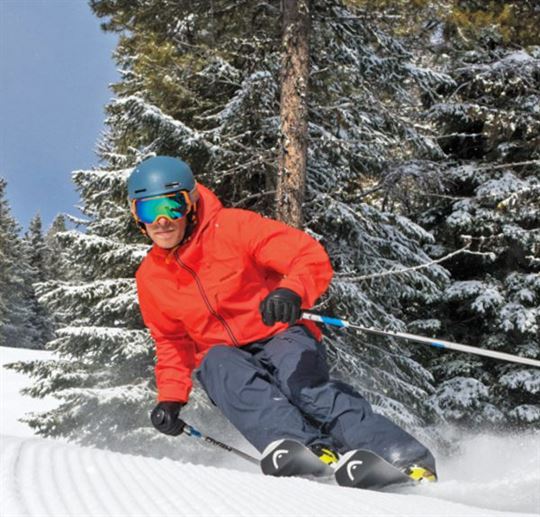 ''Kimberley is a curious place. Locals are immensely proud of their town, which is endearing… ''
Kimberley is a curious place. Locals are immensely proud of their town, which is endearing, but I can't think of any another community that touts a local gas station as a must-visit for tourists.
"You have to go to the Centec," Heidi Korven, of Kootenay-Rockies Tourism, had told me earlier when we ran into her and her family on the Mascot Trail. And she wasn't the only one who had made this recommendation. So we decide to find out for ourselves. After a five-minute drive, we're piling out at Centec, at first glance like any barren gas station asphalt lot. However, inside is a world of wonders: organic nuts, smoothies, Kambucha growlers and no end of other tasty distractions. If you could bundle up the Kootenays and stuff it into a filling station, it would look like Kimberley's Centec gas station.
That evening we colonize one of the long wooden tables at Stonefire Pizzeria on Kimberley's main street. The kids grab stools to watch the chef spin dough and load the wood-fired oven with pizzas. With families fed, the wives head back to Mountain Spirit and Steve and I stroll a few doors down to The Pedal and Tap to meet Kirkby, photographer Pat Bates and Dave Quinn, inimitable champion of all things Kimberley as well as environmentalist, writer, photographer, wilderness guide and East Kootenay-to-the-core character.
Downtown Kimberley is experiencing somewhat of an urban cultural renaissance. Decades ago the city fathers, concerned about the fate of their town following the eventual closure of the Sullivan Mine, decided Kimberley needed a theme. Someone had the bright idea of importing a Bavarian motif, and so the mining town recast itself as a German alpine village, complete with a cuckoo clock, gingerbread architecture, assorted Hansel and Gretel kitsch and oompahpah music piped onto the sidewalks.
"There was no authentic German culture here. It was totally fabricated," Bates tells me with a laugh.
Kimberley remained locked in this Bavarian time warp for years. Every July its streets were commandeered for a few days by RV-driving squeeze box musicians visiting town for the massive Kimberley International Old Time Accordion Championships, one of the largest in the world. In 2005, the festival broke a Guinness record with 644 accordionists playing simultaneously. Sadly (for some), the festival was squeezed off the calendar in 2013, after nearly 40 years, and along with it most of Kimberley's infamous Bavarian theme, which has been ditched more or less in favour of something a little more hip and contemporary, though the beloved cuckoo clock remains.
Okay, so its motto, "A Good Place to Be," is perhaps a little less than inspiring, but what's happening in the quaint three-block-square town centre certainly is. New businesses and cafés, like Stonefire and Pedal and Tap, have been joined by The Shed, a tap house with a tasty menu; Over Time Beer Works brewery; and the awesome post-skiing Spirit Rock Climbing Centre, one of the best small-town climbing gyms I've experienced.
Later in the evening we catch the second half of the legendary Dirt Bag Film Festival at the slopeside Kimberley Conference and Athlete Training Centre, an event launched by Bruce Kirkby that was meant as a fun event to showcase local photographic, filmmaking and storytelling talent, but under different owners has since morphed into a mini-Banff Film Fest complete with frequent sponsor plugs.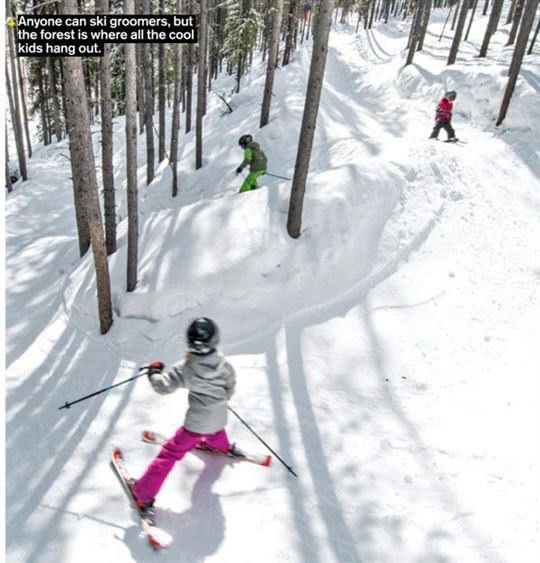 As planned, the next morning we meet Heidi Korven and her family at the base of the North Star. Of course, we warm up on Mascot Trail before following Korven, husband Kent, and their daughters Sawyer (7) and Noa (4) over to one of their favourite runs in the Black Forest Glades, the ominously named Vortex that slices steeply through the trees before funnelling into a halfpipe feature that the Korven family shreds en masse.

"My girls have skied 60 days this year," Korven tells me. It shows. There are tears in the Ogle and Findlay clans, as Steve and I portage our youngest children, Sabine and Fletch, down the steeps. However, Casey and Zola deploy their survival skiing skills to get down the run independently. It's a definite notch on their ski poles. A cool experience, but it's no Mascot Trail, which is where we end up in the afternoon, lapping the forest trail that has become so fused into my memory that I feel I could ski it blindfolded and backwards. But as I said, this was meant to be a kids-first trip, and I have to admit, after three days, I'm falling for the charms of Kimberley.

Tags: BC, British Columbia, Featured, Kimberley Alpine Resort, Resorts of the Canadian Rockies