Reading Time:
< 1
minute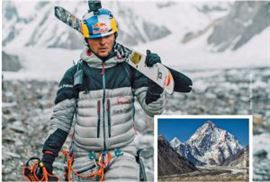 With a one-in-four death rate, successfully climbing K2 on the Pakistan-China border, the world's second-highest mountain, is a truly awe-inspiring feat. To ski down it, well, that's never been done—until July 22 when Polish mountaineer Andrzej Bargiel successfully skied into the record books.
Bargiel's 3,000-vertical-metre solo run from the Savage Mountain's 8,611m peak to Base Camp took more than seven hours, which included an hour of sitting out weather at Camp IV at 8,000m. Swede Fredrik Ericsson died in 2010 attempting the same coup.
The 30-year-old Salomon skier, who never climbs with supplemental oxygen, began the project in the summer of 2017 but dangerous weather postponed the dream by a year. Bargiel also holds a five-year speed record up Russia's Mt. Elbrus.
Bargiel had started his uptrack three days before clicking into his bindings with an all-Polish mountaineering crew, whom he left at Camp III at 7,000m, for the final push to the summit—a drone and POV cam not far behind. Now that's a run to remember. More at: andrzejbargiel.com