Just Watch Me – Apple Fitness
---
Get fit for ski season with the Apple Fitness+ program.
Okay, I'm game. Ted Ligety and Apple have convinced me to shape up before ski season. Or at least stand up.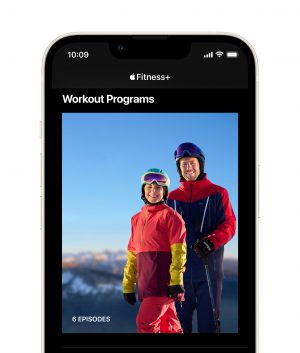 After a pandemic's worth of couch-sitting, a lot of us want to be ready for the slopes as the season starts. I've realized that my regular pre-season routine of watching ski and workout videos (often from the couch), and following along with my dad (to his Jane Fonda workout tapes), might need some updating.
One of the avenues I found myself exploring was the dozens of workouts (new ones every week) on Apple Fitness+, more specifically, the Get Ready for Snow Season program.
The snow program is developed and led by double Olympic gold medallist and five-time World Cup champ Ted Ligety. Currently there are six curated videos that include all critical physical components to skiing: HIIT, Strength, Core and Yoga.
Jay Blahnik, senior director of Fitness Technologies at Apple, described the key point of the program is to "take Ted's advanced training techniques and modify it for programs that people can actually do." Without proper coaching it can be difficult to appreciate the intricacies of training for a sport like skiing, which makes having a veteran-designed program great to follow.
"All the moves are inspired by the things you need to get ready for the mountain. The strength isn't just strength, it's strength with stability, and the stamina and cardio isn't just stamina, it's stamina with co-ordination and agility."
For Ligety, the success of the program is defined as "something to allow people to boost their confidence for when they get out there on the snow, and feel like they're a little more prepared to be able to enjoy the mountains at a higher level." I'll be interested to see what differences I notice on my first day back.
I found the sessions easy to integrate into my day-to-day routine since the videos range from five to 20 minutes. Working from home, I can book a work meeting but still get my ready-for-ski-season workout in by noon. The workouts are playful and designed for all levels of activity and skill, which make them approachable while still providing opportunities for progression. I appreciated the accessibility of the beginner workouts since my pre-winter schedule hasn't included much programming. That said, if your off-season is an active one, you may be ready to give the advanced workouts a go straight out of the gate.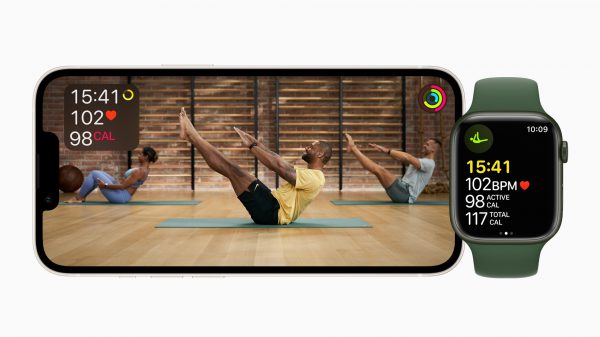 Another interesting Fitness+ feature worth exploring, for those still wary of sharing gym air with others, is SharePlay, which allows Apple Watch users to work out with friends—or in my case, father—over a FaceTime call. I find working out with a partner or group more motivating and social and easier to establish a routine.
Along with Apple's entry into the fitness-programming world, the company recently released its 7th generation Apple Watch. With a bigger screen, more advanced always-on display and durability, as well as faster charging, it's designed for a variety of uses including many that intersect with the ski world. Although no official ski tracker has been released by Apple, there are a variety of third-party apps which can report some pretty cool stats, like your vertical, average and top speed, elevation, number of runs and calories burnt. So much so that you'd be hard-pressed to have nerdy conversations run dry at après.
Just make sure you're ready to know how your top speed compares to that of your friends, or worse, least-favourite person at the bar. The one stat you may want to keep private is your heart rate recovery, or at least for the first couple of days back.
In addition to its interesting ski stats, I find the watch great for everyday health and life. Whether you've been skinning up to a mountain hut for three hours or sitting in another work Zoom meeting, who doesn't want to know their blood oxygen level and heart rate? I, for one, like taking an ECG while I'm in the gondola.
And although it seems trivial to have to be reminded to stand up every hour and take a moment to evaluate one's breathing, I find myself more often than not needing those reminders throughout the day.
BY MAEVE BUCHAN
from Dec/Jan 2022 issue