Reading Time:
4
minutes
Notes from my last visit to Jasper:
Tough terrain? Tres Hombres, Charlie's Bowl, Cornice, Eagle Ridge and all that touring to be done down the Icefields Parkway…CHECK!
Town life? Genuine unpretentious people, no splitting energy between town and a slopeside village, few chain stores, huge choice of restaurants, walkable surroundings (including home from après ski), busy community bulletin boards…CHECK!
Scenery? Do I need to bother comparing these dramatic views of the Rockies with the Monashees or Selkirks or Okanagan…? Even the positioning of the town's wide valley that maximizes afternoon sunshine couldn't have been planned better…CHECK!
Reputation: Unassuming, suspiciously quiet. Hmmm….
Conclusion: Jasperites and regular visitors want to keep it all to themselves!
PLAN: Visit again soon, find a job here, create a "need to reside" for a Parks Canada permit, retire here one day…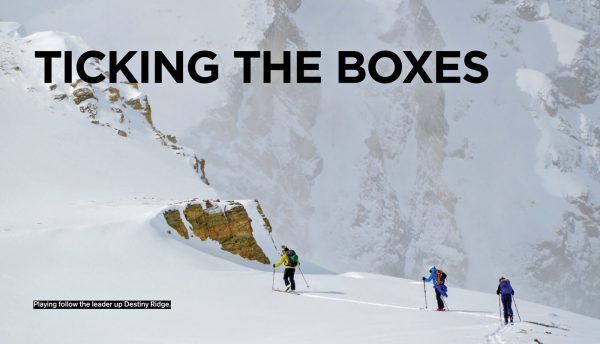 "CAR!" Sophie yelled in jest when she noticed a vehicle enter the staggering vista of the Icefields Parkway south of Jasper—a scene that included part of the Mt. Athabasca massif Mt. Hilda and Parker's Ridge. Following in the skin tracks of our guide Matt Stelmaschuk from Rockaboo Mountain Adventures, we slowly made our way up Destiny Ridge; it had been nearly 40 minutes since the last vehicle had come into view and even for a teenager, the splendid isolation in this stunning alpine setting was noticeable.
I was so curious to check out Tres Hombres, Marmot Basin's new inbounds expert terrain, that I convinced my wife, Ray, to pull Sophie, our youngest, from school for a couple of days in mid-April. Having already received her university acceptances and now participating in the "Grade 12 slide," Sophie's absence was barely noticed, indeed it was reminiscent of making excuses to head west when she and her sisters were yanked from grade school for a few days each winter.
The original plan was to lay first tracks down Tres Hombres, but we were instead making the uptrack our trip's "warm-up run." Just around the corner from the Columbia Icefield, "an iconic centre of Canadian mountaineering history" as Matt rightly described it, we were immediately jealous of those who live closer to this overwhelming alpine playground. Every turn or bend we took became another neck-craning view shared only by our little group.
April provides longer days but still wintry powder conditions here, which can mean the best of both worlds. With the right knowledge (like hiring a guide from Rockaboo) and avalanche safety equipment, it's an easy hour-drive south of Jasper toward Louise and then, just "park and fly," with unlimited touring potential right from your car. Several overnight options are quietly available with Hostelling International, such as the nearby Hilda Creek Wilderness Hostel, a five-minute hike in from the highway.
As rewarding as our AT day with Matt was, the premise of our trip remained Tres Hombres, the permanently closed out-of-bounds area I'd first heard about as a kid—and as of last winter, now part of Marmot Basin's arsenal of expert terrain. With Ski Canada tester, Marmot instructor and friend Jeremy Badcock planning to be hungover Saturday morning following the annual end-of-season staff party, we hooked up with fellow British instructor (well, Scottish anyway) Mike Ractliffe Saturday morning.
Mike is one of those smiley Scots, not the dour kind, and within a few minutes we were bantering like we'd known him since birth. Fearing (needlessly) the sudden appearance of mobs of Saturday skiers, I decided our warm-up run would be the one-minute slide to Tres Hombres's top gate. Soon we were admiring what lay below us from the rim of this white amphitheatre—and very impressed.
Big, open, sparsely treed (if at all), steep, perfectly consistent slope…this is a place experts, or those practicing to become, could play all day. Despite no recent storms, the snow was lovely, dry and lots of untouched sections of powder still lay about. Several named routes down are now included on Marmot's expanded trail map, but there's a very Alps quality to it. "Ski where you like, it's a bit steeper right here, slightly gentler over there," Mike pointed out casually. And away we went.
With easy return lift access, lap after lap continued as we took off like puppies released from their box. Ski school director Colin Borrow rounded us up at one point and then took off in one of several fun gullies. It wasn't long before charismatic Jasper bon vivant Charlie Finley caught up with us in full hot-dog regalia, making me feel like I'd come home after being away too long.
I've often wondered why Marmot doesn't get more respect from the freeriding crowd. I've never had a visit where I wasn't impressed. Yes, Tres Hombres is a significant expansion to double-diamond skiing in Canada, but what's forgotten is it's in a ski area that already offers loads of expert and advanced skiing. After a quick lunch we turned on our transceivers, strapped our skis to our packs and booted up Cornice to find knee-deep and sometimes almost thigh-deep turns in heli-ski powder. Meeting up with Jeremy the next day, we repeated it all over just to make sure we hadn't been dreaming.
When TH and Cornice were roped off Sunday afternoon, Jeremy suggested we bolt for Charlie's Bowl off the Knob Chair where Patrol hadn't yet closed. Given our timing, we decided to hoof it up to the top and make it, at least for Ray and Sophie, a memorable end-of-season last run. Marmot didn't disappoint: full-on, deep winter powder awaited. Should we have been surprised it was untracked?