---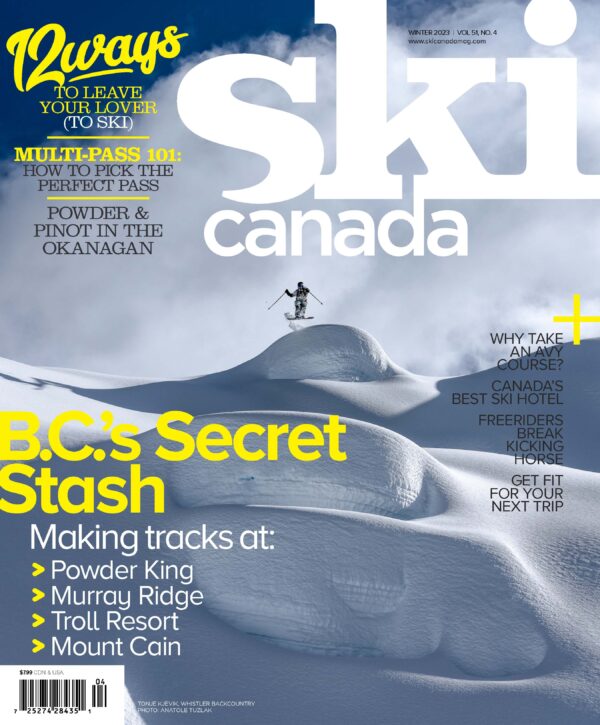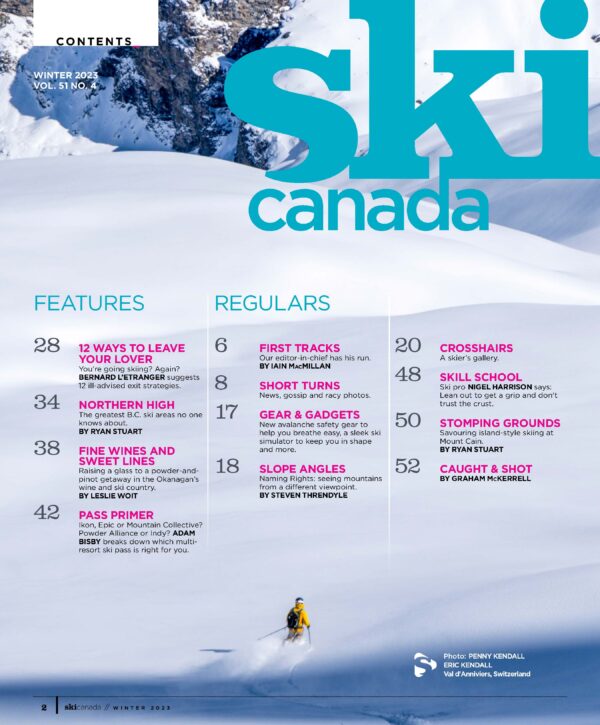 FEATURES
WAYS TO LEAVE YOUR LOVER
You're going skiing? Again? BERNARD L'ETRANGER suggests 12 ill-advised exit strategies.
NORTHERN HIGH
The greatest B.C. ski areas no one knows about.
BY RYAN STUART
FINE WINES AND SWEET LINES
Raising a glass to a powder-and-pinot getaway in the Okanagan's wine and ski country.
BY LESLIE WOIT
PASS PRIMER
Ikon, Epic or Mountain Collective? Powder Alliance or Indy? ADAM BISBY breaks down which multi-resort ski pass is right for you.
REGULARS
FIRST TRACKS
Our editor-in-chief has his run.
BY IAIN MacMILLAN
SHORT TURNS
News, gossip and racy photos.
GEAR & GADGETS
New avalanche safety gear to help you breathe easy, a sleek ski simulator to keep you in shape and more.
SLOPE ANGLES
Naming Rights: seeing mountains from a different viewpoint.
BY STEVEN THRENDYLE
CROSSHAIRS
A skier's gallery.
SKILL SCHOOL
Ski pro NIGEL HARRISON says: Lean out to get a grip and don't trust the crust.
STOMPING GROUNDS
Savouring island-style skiing at Mount Cain.
BY RYAN STUART
CAUGHT & SHOT
BY Graham McKerrell