---
Vol 44 #4
published week of February 1, 2016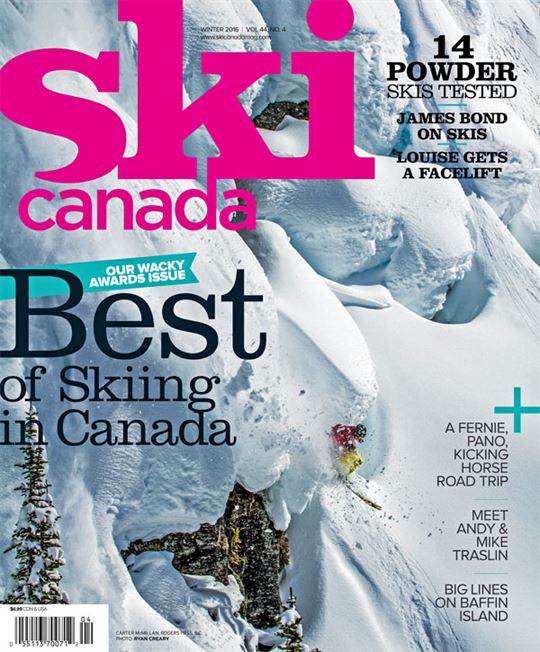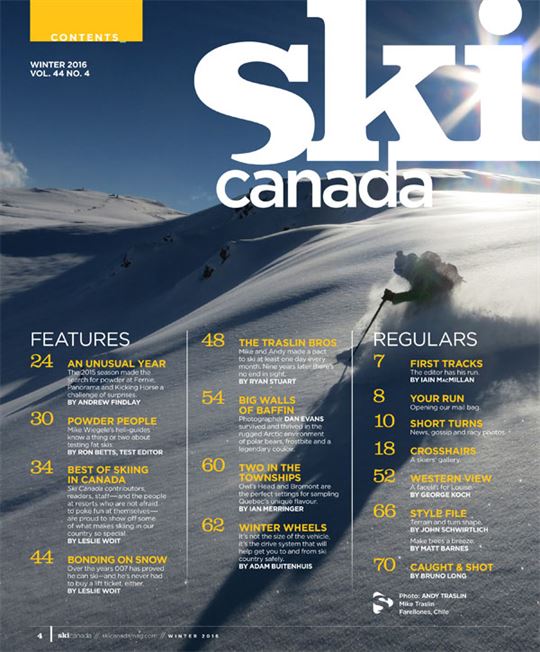 FEATURES
 AN UNUSUAL YEAR
The 2015 season made the search for powder at Fernie, Panorama and Kicking Horse a challenge of surprises.
BY ANDREW FINDLAY
POWDER PEOPLE
Mike Wiegele's heli-guides know a thing or two about testing fat skis.
BY RON BETTS, TEST EDITOR 
BEST OF SKIING IN CANADA                    
Ski Canada contributors, readers, staff—and the people at resorts who are not afraid to poke fun at themselves—are proud to show off some of what makes skiing in our country so special.
BY LESLIE WOIT 
BONDING ON SNOW
Over the years 007 has proved he can ski—and he's never had to buy a lift ticket, either.
BY LESLIE WOIT 

THE TRASLIN BROS                    
Mike and Andy made a pact to ski at least one day every month. Nine years later there's no end in sight.
BY RYAN STUART
BIG WALLS OF BAFFIN
Photographer DAN EVANS survived and thrived in the rugged Arctic environment of polar bears, frostbite and a legendary couloir.
TWO IN THE TOWNSHIPS
Owl's Head and Bromont are the perfect settings for sampling Quebec's unique flavour.
BY IAN MERRINGER 
WINTER WHEELS
It's not the size of the vehicle, it's the drive system that will help get you to and from ski country safely.
BY ADAM BUITENHUIS
REGULARS
FIRST TRACKS
A celebration of groomers   BY IAIN MacMILLAN
YOUR RUN   Opening our mail bag.
SHORT TURNS
* Marie-Michèle Gagnon by Marie-Piere Belisle-Kennedy
* Hucking for Gold .. Logan Pehota & Swatch Freeride World Tour
CROSSHAIRS     A skiers' gallery. 
WESTERN VIEW
A facelift for Louise. BY GEORGE KOCH
STYLE FILE
Terrain and turn shape.  BY JOHN SCHWIRTLICH
Make trees a breeze.   BY MATT BARNES
 CAUGHT & SHOT    BY Bruno Long