---
Vol. 43 #4
published week of January 26, 2015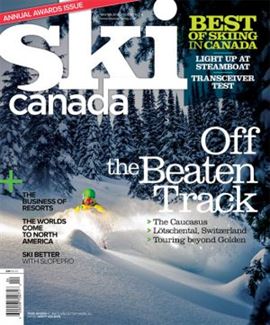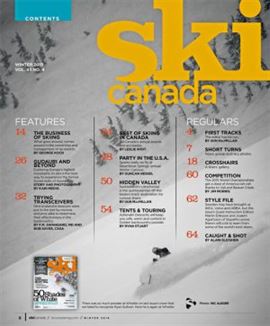 FEATURES

THE BUSINESS OF SKIING What goes around, comes around in the ownership and management of ski resorts. BY GEORGE KOCH  
GUDAURI AND BEYOND  Exploring Europe's highest mountains on skis is the best way to experience the former Soviet state of Georgia.  STORY AND PHOTOGRAPHY BY KARI MEDIG  
TRYING TRANSCEIVERS  Nine avalanche beacons were put to the test by novices and pros alike to determine their effectiveness in the backcountry.  BY F.M. SWANGARD, MD AND BOB SAYER, csga       
BEST OF SKIING IN CANADA  Ski Canada's annual awards and accolades.  BY LESLIE WOIT
PARTY IN THE U.S.A.  Sparks really do fly at Steamboat Springs' annual Winter Carnival.  BY DUNCAN HESSEL
HIDDEN VALLEY  Switzerland's Lötschental is the quintessential off-the-beaten-track destination for curious skiers.  BY IAIN MacMILLAN
TENTS & TOURING  Adrenalin Descents will keep you safe, warm and content in Golden backcountry powder.  BY RYAN STUART
REGULARS
FIRST TRACKS  What's in your pack?  BY IAIN MacMILLAN
SHORT TURNS  News, gossip and racy photos.
CROSSHAIRS  A skiers' gallery.
COMPETITION  The 2015 World Championships get a dose of America rah-rah thanks to Vail and Beaver Creek.  BY JIM MORRIS
STYLE FILE  Sweden may have brought us IKEA, Volvo and ABBA, but this issue's Guest Instruction Editors Martin Eriksson and Joakim Agartsson of SlopePro prove there's still a lot to learn from some of the world's best skiers.
CAUGHT & SHOT  photo by ALAIN SLEIGHER
There was so much powder at Whistler on last issue's cover that we failed to recognize skier Ryan Sullivan. Here he is again at Whistler.