---
Vol. 41  #4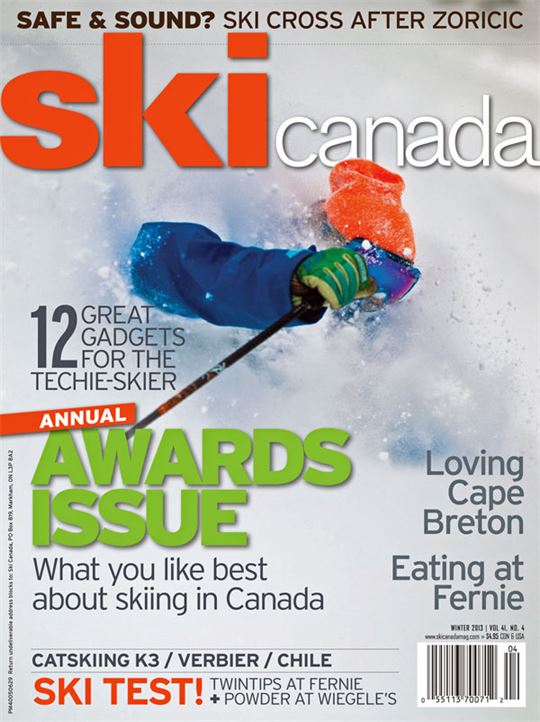 Published week of January 21, 2013.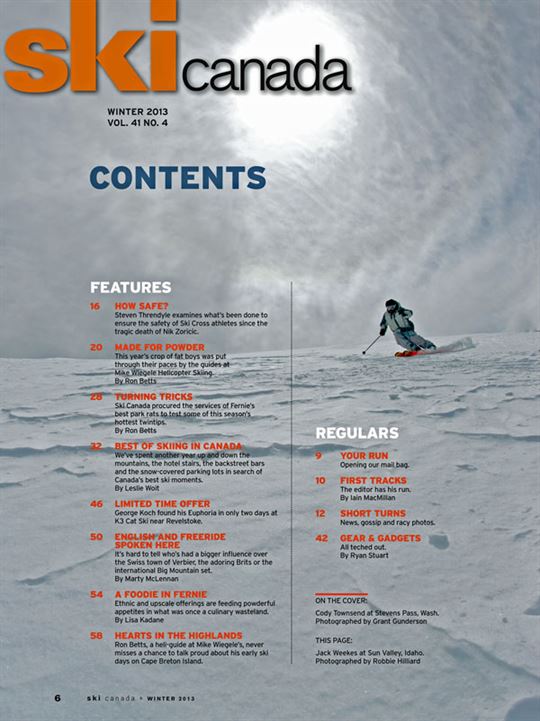 FEATURES
HOW SAFE?
Steven Threndyle examines what's been done to ensure the safety of Ski Cross athletes since the tragic death of Nik Zoricic.
MADE FOR POWDER
This year's crop of fat boys was put through their paces by the guides at Mike Wiegele Helicopter Skiing.
By Ron Betts
TURNING TRICKS
Ski Canada procured the services of Fernie's best park rats to test some of this season's hottest twintips.
By Ron Betts
BEST OF SKIING IN CANADA
We've spent another year up and down the mountains, the hotel stairs, the backstreet bars and the snow-covered parking lots in search of Canada's best ski moments.
By Leslie Woit
LIMITED TIME OFFER
George Koch found his Euphoria in only two days at K3 Cat Ski near Revelstoke.
ENGLISH AND FREERIDE SPOKEN HERE
It's hard to tell who's had a bigger influence over the Swiss town of Verbier, the adoring Brits or the international Big Mountain set.
By Marty McLennan
A FOODIE IN FERNIE
Ethnic and upscale offerings are feeding powderful appetites in what was once a culinary wasteland.
By Lisa Kadane
HEARTS IN THE HIGHLANDS
Ron Betts, a heli-guide at Mike Wiegele's, never misses a chance to talk proud about his early ski days on Cape Breton Island.
REGULARS
YOUR RUN
Opening our mail bag.
FIRST TRACKS
The editor has his run.
By Iain MacMillan
SHORT TURNS
News, gossip and racy photos.
GEAR & GADGETS
All teched out.
By Ryan Stuart