---
Vol 40 #5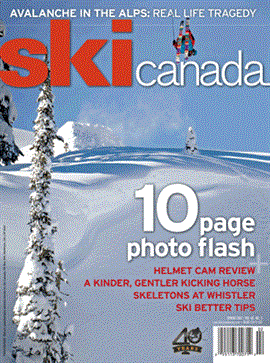 published week of February 6, 2012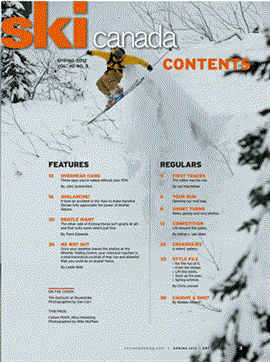 FEATURES
10 page photo flash
These days you're naked without your POV.
By John Schwirtlich
It took an accident in the Alps to make Karolina Ekman fully appreciate the power of Mother Nature.
The other side of Kicking Horse isn't gnarly at all— and that suits some skiers just fine.
By Trent Edwards
NO WAY OUT
Once your skeleton leaves the station at the Whistler Sliding Centre, your chemical reaction is a pharmaceutical cocktail of fear, fun and disbelief that you could be so stupid—twice.
By Leslie Woit
REGULARS
The editor has his run.
By Iain MacMillan
Opening our mail bag.
News, gossip and racy photos.
Life beyond the gates.
By tobias c. van Veen
STYLE FILE
› For the fun of it.
› Knee the steeps.
› Lift-line joints.
› Suck up the pow.
› Spring schmoo.
By Chris Lennon
CAUGHT & SHOT
By Robbie Hilliard