---
Vol. 42 #2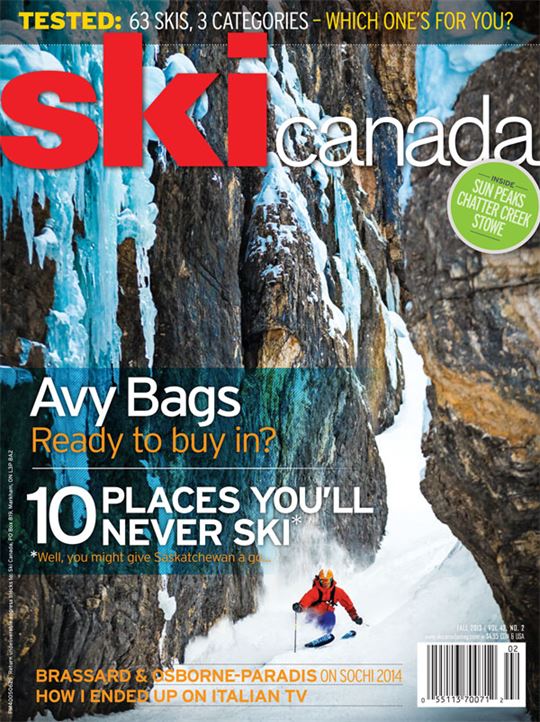 PUBLISHED WEEK OF OCTOBER 21, 2013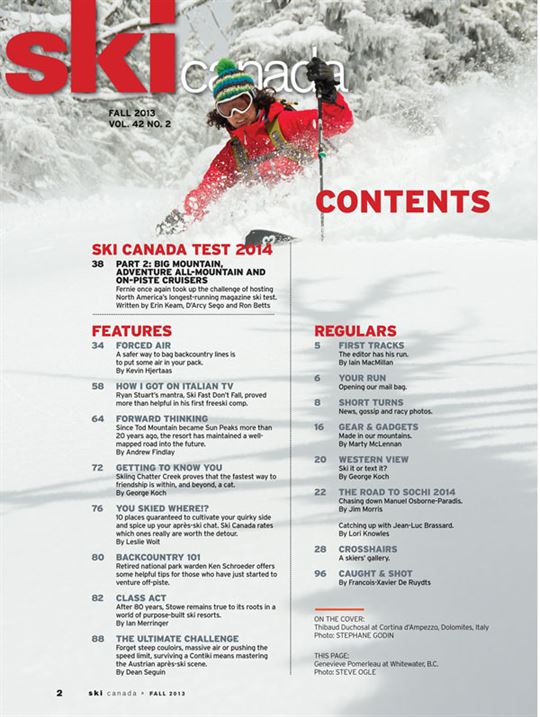 CONTENTS
SKI CANADA TEST 2014
PART 2: BIG MOUNTAIN, ADVENTURE ALL-MOUNTAIN AND ON-PISTE CRUISERS
Fernie once again took up the challenge of hosting North America's longest-running magazine ski test.
Written by Erin Keam, D'Arcy Sego and Ron Betts
FEATURES
FORCED AIR
A safer way to bag backcountry lines is to put some air in your pack.
By Kevin Hjertaas
HOW I GOT ON ITALIAN TV
Ryan Stuart's mantra, Ski Fast Don't Fall, proved more than helpful in his first freeski comp.
FORWARD THINKING
Since Tod Mountain became Sun Peaks more than 20 years ago, the resort has maintained a well-mapped road into the future.
By Andrew Findlay
GETTING TO KNOW YOU
Skiing Chatter Creek proves that the fastest way to friendship is within, and beyond, a cat.
By George Koch
YOU SKIED WHERE!?
10 places guaranteed to cultivate your quirky side and spice up your après-ski chat. Ski Canada rates which ones really are worth the detour.
By Leslie Woit
BACKCOUNTRY 101
Retired national park warden Ken Schroeder offers some helpful tips for those who have just started to venture off-piste.
CLASS ACT
After 80 years, Stowe remains true to its roots in a world of purpose-built ski resorts.
By Ian Merringer
THE ULTIMATE CHALLENGE
Forget steep couloirs, massive air or pushing the speed limit, surviving a Contiki means mastering the Austrian après-ski scene.
By Dean Seguin
REGULARS
FIRST TRACKS
The editor has his run.
By Iain MacMillan
YOUR RUN
Opening our mail bag.
SHORT TURNS
News, gossip and racy photos.
GEAR & GADGETS
Made in our mountains.
By Marty McLennan
WESTERN VIEW
Ski it or text it?
By George Koch
THE ROAD TO SOCHI 2014
Chasing down Manuel Osborne-Paradis
By Jim Morris
Catching up with Jean-Luc Brassard
By Lori Knowles
CROSSHAIRS
A skiers' gallery.
CAUGHT & SHOT
By Francois-Xavier De Ruydts