---
Vol. 41 #2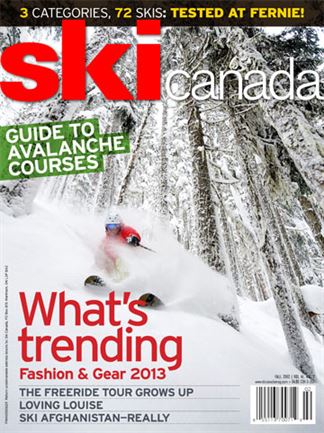 Published week of October 15, 2012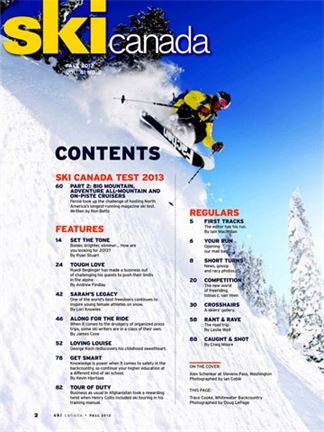 SKI CANADA TEST 2013
PART 2 : BIG MOUNTAIN, ADVENTURE ALL-MOUNTAIN AND ON-PISTE CRUISERS
Fernie took up the challenge of hosting North America's longest-running magazine ski test.
Written by Ron Betts
FEATURES
SET THE TONE
Bolder, brighter, slimmer… How are  you looking for 2013?
By Ryan Stuart
TOUGH LOVE
Ruedi Beglinger has made a business out of challenging his guests to push their limits in the alpine.
By Andrew Findlay
SARAH'S LEGACY
One of the world's best freeskiers continues to inspire young female athletes on snow.
By Lori Knowles
ALONG FOR THE RIDE
When it comes to the drudgery of organized press trips, some ski writers are in a class of their own.
By James Cove
LOVING LOUISE
George Koch rediscovers his childhood sweetheart.
GET SMART
Knowledge is power when it comes to safety in the backcountry, so continue your higher education at a different kind of ski school.
By Kevin Hjertaas
TOUR OF DUTY
Business as usual in Afghanistan took a rewarding twist when Henry Collis included ski touring in his training manual.
REGULARS
FIRST TRACKS
The editor has his run.
By Iain MacMillan
YOUR RUN
Opening our mail bag.
SHORT TURNS
News, gossip and racy photos.
COMPETITION
The new world of freeriding.
tobias c. van Veen
CROSSHAIRS
A skiers' gallery.
RANT & RAVE
The road trip.
By Leslie Woit
CAUGHT & SHOT
By Craig Moore