Reading Time:
2
minutes
Vol 40 #2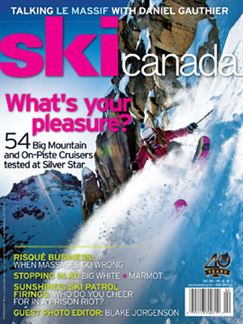 Published week of October 10, 2011
Subscriber copies deliver October 14 – 24
Newsstand copies display starting October 14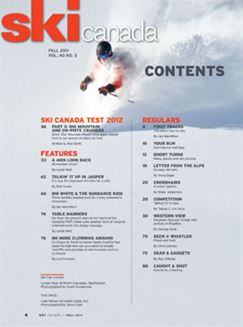 photo: Steve Ogle | skier: Luke Nelson | snow: Icefall Lodge BC
SKI CANADA TEST 2012
PART 2 BIG MOUNTAIN AND ON-PISTE CRUISERS
Silver Star Mountain Resort once again played host to our annual on-slope ski test.
Written by  Ron Betts
FEATURES
A 40th LOOK BACK
Remember when?
By  Leslie Woit
TALKIN' IT UP IN JASPER
It's new, it's improved—it's time for a visit.
By  Bob Covey
BIG WHITE & THE SUNDANCE KIDS
Three families headed west for a long weekend to remember.
By  Iain MacMillan
TABLE MANNERS
Far from the present and correct world of the Canadian RMT, there lurks another form of corporal
entertainment: the dodge  massage.
By  Leslie Woit
NO MORE CLOWNING AROUND
Ex-Cirque du Soleil co-owner Daniel Gauthier has taken his high-wire act up a notch to include
chairlifts and gondolas at new business venture – Le Massif.
By  Lori Knowles
REGULARS
FIRST TRACKS
The editor has his run.
By  Iain MacMillan
YOUR RUN
Opening our mail bag.
SHORT TURNS
News, gossip and rac photos.
LETTER FROM THE ALPS
Grumpy  old men.
By  Doug Sager
CROSSHAIRS
A skiers' gallery.
Guest Photo Editor:  Blake Jorgenson
COMPETITION
Taking FIS to task.
By  Tobias C. van Veen
WESTERN VIEW
Mountain forecast: firings with periods of litigation.
By  George Koch
SEEN @ WHISTLER
Proud and loud.
By  Chris Lennon
GEAR & GADGETS
By  Ray  O'Reilly
CAUGHT & SHOT
How to do a Harkley .
Ski Canada's western sales manager, Dave Harkley, on a trip to Red Mountain.