---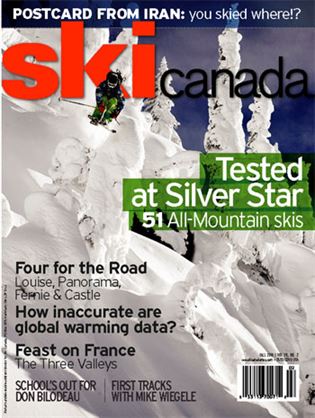 Published week of October 18, 2010
On the cover – Photo: Mikael Pilstrand – Skier: Riley Leboe – Where: Revelstoke, BC
FALL 2010 VOL. 39 NO. 2
FEATURES
SKI CANADA TEST 2011
PART 2: EXPERT ALL-MOUNTAIN AND ADVENTURE ALL-MOUNTAIN
READY FOR IRAN?
Leslie Woit has skied around the world but until now has only covered her earlobes because of the cold.
THE BILODEAU REIGN
It's the end of an era for the only privately run ski school at a major resort in Canada. by George Koch
FOUR FOR THE ROAD
Lake Louise, Panorama, Fernie and Castle Mountain proved to be the perfect picks for a good 'ol ski safari. by Ryan Stuart
MENAGE A TROIS VALLEES
Eat, drink and be merry, for tomorrow you will ski. by Marty McLennan
REGULARS
FIRST TRACKS
Heli-skiing in BC surely is the most exciting thing you can do on skis, and Wiegele World is the one that's compared with all others. by Iain MacMillan
YOUR RUN
Our readers write. * Oh Yeah, Prince What's-His-Face * Thong You Very Much * The Road From Toronto * Keeping Tabs on Everyone *
SHORT TURNS
News, gossip and racy photos.
CROSSHAIRS
Guest Photo Editor Martin Soderqvist picks his favourites for our skier's gallery.
STYLE FILE
Chris Lennon demonstrates the strong arm of the pow.
WESTERN VIEW
The global warming fiasco – politicization of science. by George Koch
SEEN@WHISTLER
The other way around on the road to Whistler. by Chris Lennon
RACELINE
Inside the Canadian ski teams. by James Christie
TECH TALK
Ski Geometry 101. Sidecut, radius, camber & rocker. by Marty McLennan
GEAR & GADGETS
Columbia Bugathermo Techlite, Helly Hansen Norse Chunky Knit jacket, Swatch Mister Twin with Snowpass, Giro The Manifest goggle, Swany RC-25 i-Finger glove
CAUGHT AND SHOT
Bobby hadn't really been listening to his coach but he thought he heard him say "Go hard through the gates." photo by Steve Harri