Reading Time:
2
minutes
Vol. 41  #3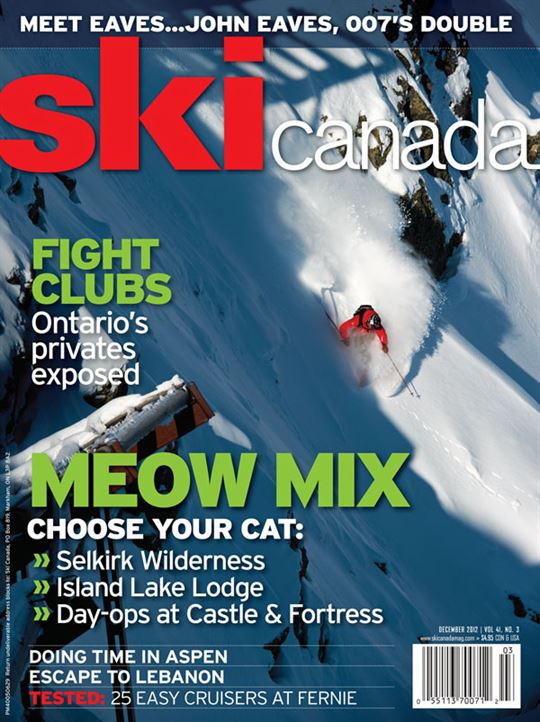 Published week of November 19, 2012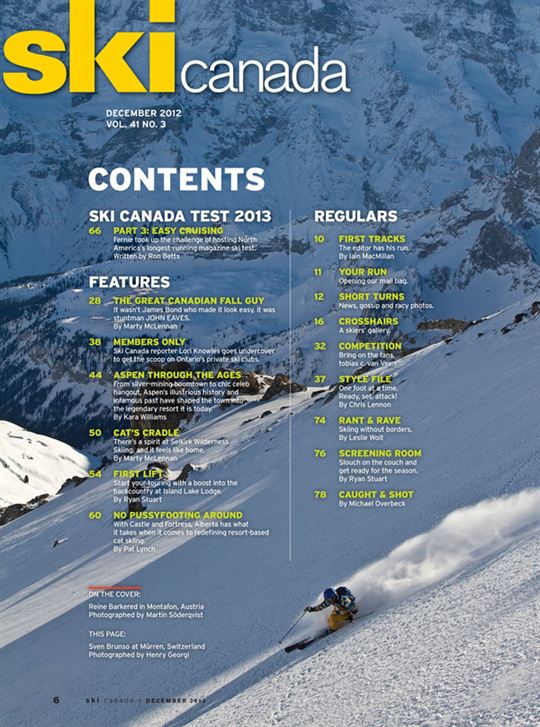 Fernie took up the challenge of hosting North America's longest-running magazine ski test.
Written by Ron Betts
FEATURES
THE GREAT CANADIAN FALL GUY
It wasn't James Bond who made it look easy, it was stuntman JOHN EAVES.
By Marty McLennan
MEMBERS ONLY
Ski Canada reporter Lori Knowles goes undercover to get the scoop on Ontario's private ski clubs.
ASPEN THROUGH THE AGES
From silver-mining boomtown to chic celeb hangout, Aspen's illustrious history and infamous past have shaped the town into the legendary resort it is today.
By Kara Williams
CAT'S CRADLE
There's a spirit at Selkirk Wilderness Skiing, and it feels like home.
By Marty McLennan
FIRST LIFT
Start your touring with a boost into the backcountry at Island Lake Lodge.
By Ryan Stuart
NO PUSSYFOOTING AROUND
With Castle and Fortress, Alberta has what it takes when it comes to redefining resort-based cat skiing.
By Pat Lynch
REGULARS
FIRST TRACKS
The editor has his run.
By Iain MacMillan
YOUR RUN
Opening our mail bag.
SHORT TURNS
News, gossip and racy photos.
CROSSHAIRS
A skiers' gallery.
COMPETITION
Bring on the fans.
tobias c. van Veen
STYLE FILE
One foot at a time. Ready, set, attack!
By Chris Lennon
RANT & RAVE
Skiing without borders.
By Leslie Woit
SCREENING ROOM
Slouch on the couch and get ready for the season.
By Ryan Stuart
CAUGHT & SHOT
By Michael Overbeck