Reading Time:
2
minutes
Vol 40 #3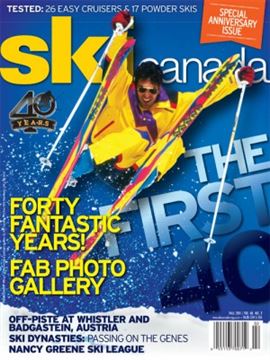 published week of November 14
subscriber copies deliver November 23 – 30
on newsstands November 28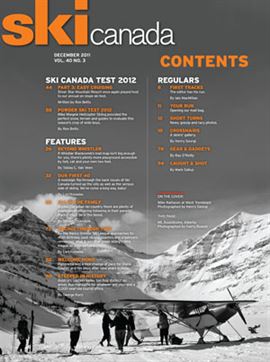 SKI CANADA TEST 2012
PART 3 EASY CRUISING
Silver Star Mountain Resort once again played host
to our annual on-slope ski test.
Written by Ron Betts
POWDER SKI TEST 2012
Mike Wiegele Helicopter Skiing provided the
perfect snow, terrain and guides to evaluate this
season's crop of wide boys.
By Ron Betts
FEATURES
BEYOND WHISTLER
If Whistler Blackcomb's trail map isn't big enough
for you, there's plenty more playground accessible
by heli, cat and our own two feet.
By Tobias C. Van Veen
OUR FIRST 40
A nostalgic flip through the back issues of Ski
Canada turned up the silly as well as the serious
side of skiing. We've come a long way , baby!
By Lori Knowles
ALL IN THE FAMILY
Across Canadian ski country there are plenty of
examples of offspring following in their parents'
tracks—must be in the blood.
By Steven Threndyle
RACING THROUGH TIME
As the Nancy Greene Ski League approaches its
45th birthday, past racers, coaches and organizers
remember what it was that made skiing's little
league so unforgettable.
By Lori Knowles
WELCOME HOME
Panorama was a nice change of pace for Diana
Coulter and her boys after nine ears in India.
STEEPED IN HISTORY
Austria's Gastein Valle has four distinct ski
areas, thermal baths for whatever ails ou—and a
2,000- ear-old tourist office.
By George Koch
REGULARS
FIRST TRACKS
The Way We Were
The editor has his run.
By Iain MacMillan
YOUR RUN
Opening our mail bag.
SHORT TURNS
News, gossip and racy photos.
CROSSHAIRS
A skiers' gallery.
By Henry Georgi
GEAR & GADGETS
By Ray O'Reilly
CAUGHT & SHOT
By Mark Gallup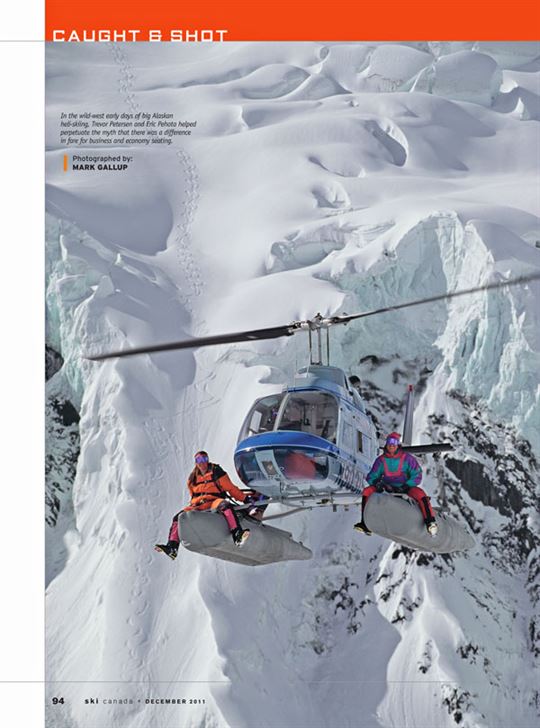 In the wild-west early days of big Alaskan heli-skiing, Trevor Petersen and Eric Pehota helped perpetuate the myth that there was a difference in fare for business and economy seating.
photo: Mark Gallup