Reading Time:
3
minutes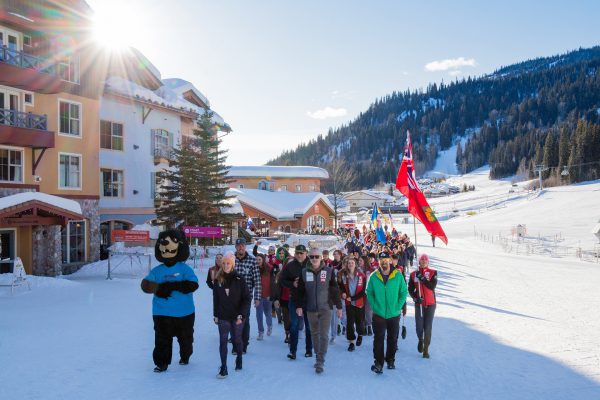 After a too-long hiatus, a ski-starved Brit beached in Portugal was finally able to pack her bags for a long-awaited season in Sun Peaks. Last winter was her only missed ski season since 1973, so plans had to be pandemic-proof. First into the carry-on: vaccination certificate, Canadian passport, masks, sanitizer and kilos of COVID-aptability. Using year-old credit vouchers, her flight was rescheduled by KLM three times. The first four-month cabin rental fell through when the owner sold during Sun Peaks's pandemic property boom. The second rental was more expensive but doable given last winter's ski fund was still intact and the new digs came with a slopeside hot tub.
Hundreds of Americans, Aussies, Kiwis and Euros, who were denied their 2021 Sun Peaks powder, had to brainstorm their "long-stay" return to their second home. These winter residents had been missed in the bars, hotels and on the slopes, especially in low season when their joie de vivre keeps Sun Peaks smiling.
Commuting from Queensland, Australia, Peta Lawlor and Jenny Webber usually winter in Sun Peaks; they even tied the knot at the mid-mountain Bavarian chapel in early 2021. Lawlor and Webber are members of the Polar Bear Club, a hub for ski-mad female retirees. The male equivalent is, of course, the Grizzly Bear Club. Attracting "members" from South Africa, U.K., U.S., New Zealand and beyond, organizer Donna Stalker says it's a weekly way for winter residents to connect.
Sun Peaks's population doubles each winter, with roughly 400 winter residents and 800 workers filling condos, chalets, basement suites and hotel rooms. "Some 17 per cent of all properties are owned by foreigners, the highest per cent in Canada," says Mayor Al Raine.
Owner of Three Bears Chalet, American Rebeccajo Andrews, missed out last season. "This year we extended our stay up in Canada," she said while booking into the Winter Kick Off ski clinic. "It always amazes me how you can strike up a conversation with someone on the chairlift and end up skiing with them all day." Condo owner Tennille Southcombe scheduled her return from Australia for this February, when her company Snowlife Tours resumed its Sun Peaks ski instruction packages.
Expats, locals and international tourists are united by snowsports and ardent après. From kids' clubs to the octogenarians of Sun Peaks Antiques, there are groups for every interest: books, coffee, wine, games, photography, fibre arts, music, performing arts and painting—many under the auspices of ArtZone, the local arts society. Facebook groups, such as Sun Peaks Survivors and Unofficial Sun Peaks, further link the community in providing news, advice, ride-sharing, second-hand sales, events and volunteer opportunities.
With so many young, active retirees and digital "snomads," volunteerism is thriving and, even for new arrivals, there's an unspoken expectation of giving back and accepting every invitation. This bonding bonhomie nurtures vested interest and loyalty. Each nationality is a different but vital thread in the Sun Peaks Tartan. Literally. Designed and woven by ArtZone's organizer Marj Knive, this colourful cloth is sported around Sun Peaks in the form of thermals, toques, scarves, masks and backpacks.
And of the beleaguered Brit who was busy plotting in Portugal back in the autumn? My plans for another winter in Sun Peaks panned out. Family reunions with two sons from Vancouver, seen only on a screen since the pandemic began, couldn't have been sweeter—with the slopes of Sun Peaks for a backdrop.
Splitting her time between Sun Peaks and Algarve, Portugal, Louise Hudson is co-author of A Worldwide Guide to Retirement Destinations.