Reading Time:
9
minutes
Wolf Creek, Durango, Silverton & Telluride Connect the Dots on a southern Colorado Road Trip
BY GEORGE KOCH    PHOTOS SCOTT D.W. SMITH
"Step on it, we're running late! Slow down, you're tailgating! Watch out, it's slippery. Oh, see that art gallery, can we stop?"
Pre-skiing excitement manifests itself in varying ways, especially when one misses a connecting flight and has to spend seven hours traversing vast semi-deserts beneath ominously bare mountains before even seeing a ski run. In the case of race coach Claire Challen, it came out as a torrent of entertaining if somewhat contradictory chatter, along with a volcanic energy seemingly set to burst from the rental car and leap into bindings at the sight of snow.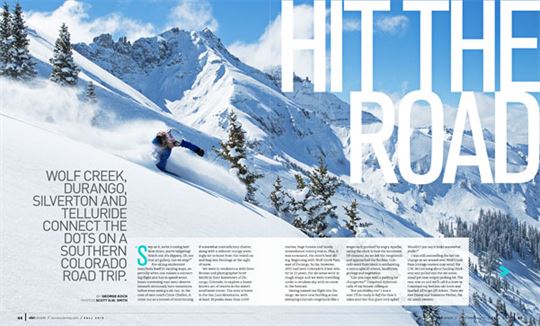 We were to rendezvous with Sven Brunso and photographer Scott Smith in their hometown of Durango, Colorado, to explore a lesser-known arc of resorts in the state's southwest corner. The area is home to the San Juan Mountains, with at least 18 peaks more than 4,000 metres, huge forests and barely remembered mining towns. Plus, it was rumoured, the state's best skiing. Beginning with Wolf Creek Pass, east of Durango. So far, however, 2015 had been Colorado's driest winter in 22 years, the ski areas were in rough shape and we were travelling under a cerulean sky with no snow in the forecast.
Having missed our flight into Durango, we were now hurtling across sweeping Colorado rangelands like a stagecoach pursued by angry Apache, racing the clock to beat the imminent lift closures. As we left the rangelands and approached the Rockies, Colorado went from bleak to enchanting, a cornucopia of colours, landforms, geology and vegetation.
"Can you cope with a parking lot changeover?" I inquired diplomatically of my female colleague.
"Are you kidding me? I was a racer. I'll be ready in half the time it takes you! See that giant rock spire? Wouldn't you say it looks somewhat phallic?"
I was still unravelling the last exchange as we wound over Wolf Creek Pass (vintage readers may recall the C.W. McCall song about hauling chickens) and pulled into the ski area's small yet near-empty parking lot. The race was on and we'll call it a draw as I rammed my feet into ski boots and hustled off to get lift tickets. There we met Davey and Roseanne Pitcher, the ski area's owners.
Friendly, warm and slow-talking, Davey and Roseanne proved quintessentially American do-it-yourselfers: they operate the mountain, install their own lifts, construct their own buildings, and Davey has even invented a new form of avalanche control device, the AvyBlaster. Both were on tele skis, he in old work clothes. Where it counts, however—in the lift department—the Pitchers have been upgrading the once-rickety resort.
As we zoomed up one of the ski area's two recently installed high-speed chairlifts, the cloudless sky provided a great view of the ski area's two broad basins, crowned by a ridgeline and a rounded mountain, Alberta Peak. Wolf Creek has a few groomed cruising runs and mogul slopes, but above all, it has trees and more trees. On a powder day, it would be simply paradise.
At the top of the Alberta Chair the Pitchers led us up a fixed metal stairway and walkway spanning some rock pillars, then far along the ridgetop. In good snow, one could drop in virtually anywhere. As we strolled along, breathing a little hard in the thin 3,600-metre-high air, Davey expounded on their plans. The most dramatic idea is for a European-style cable car into a cirque dropping nearly 800 vertical metres into a remote valley.
As we stood on the forested ridgetop and looked down into the new terrain, Davey explained, "It doesn't look like much from up here, but that's because the mountains on the horizon are so gigantic, that you think this valley will be just a few turns. I've toured in there many times and believe me, it's huge." Called Matchless, this new zone could become some of North America's most impressive freeride terrain in a couple of years. Just days after our visit, Wolf Creek was beset by one of its legendary metre-sized storms.
That night we stayed in Pagosa Springs, 40 km down the road. The small town revolves around the mineral springs that burble out of the ground along the upper San Juan River, some of the state's finest. Locals have built small rock pools where springs trickle into the stream. Others have been transformed into developed baths. Scott, Claire and I decided we had to see the Springs Resort's 23 outdoor pools. They're fed by 62º C natural sulphur water that's mixed with cold water to achieve precise temperatures. We had a great time trying out the different pools, sipping cocktails and watching a few brave guests jump into the river to cool off as the sun set over the valley and the sky turned tangerine.
****************************************************************
Next stop was Durango Mountain Resort (DMR), at the edge of the San Juans north of Durango itself. Also known as Purgatory, DMR is a mid-sized ski area of rolling forested slopes reminiscent of Quebec's Laurentians. Cruising the pistes provided magnificent views of the high San Juans' immense rock walls. The resort has two (this season, three) high-speed chairlifts plus older lifts accessing an array of enjoyable cruising and bump runs, and big gladed areas of thinned-out aspens. This character makes DMR best suited for becoming acclimated to Colorado's very high elevations.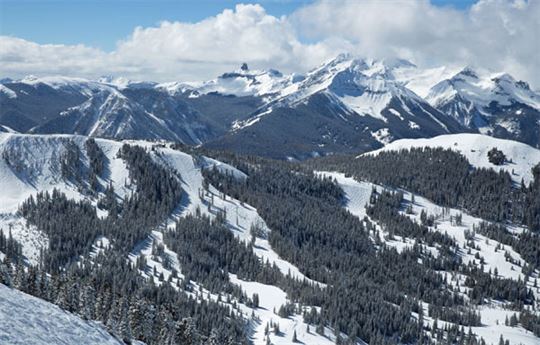 "DMR does get quite a bit of powder," explained Sven as we rode a lift. "In those beautiful well-spaced aspens between the cruising runs on the frontside, you can find untracked snow for two to three days after a storm, all from a high-speed lift. After that, you can find powder for many more days on the north-facing runs of the far backside here. Because the lift was slow, hardly anyone came here." This season, the 16-minute ride time has been slashed to four minutes.
As Canadian skiers, we know all about snowcat skiing. There are snowcat operations in the U.S., too, and arguably the country's most impressive is at DMR: San Juan Untracked. The next morning, following an eight o'clock safety briefing in the company's office at the DMR base area, our group of 12 skiers, two guides and one driver rode up the resort's main chairlift, skied a short run, then were loaded into a 12-passenger van equipped with rubber Mattracks. We rode about 15 km up a snow-covered forestry road, then transferred into the cat. Among the guests were Brenden and Maureen, a super-friendly couple from upstate New York who were on a similar road trip to ours.
At the top, mountain wilderness stretched across San Juan Untracked's incredible 14,000-hectare skiing domain. The terrain was excellent and there was virtually zero waiting for the snowcat after each descent. Just as in Wolf Creek, soon after our departure San Juan Untracked was revived by a multi-day storm that brought 140 cm of legendary Colorado powder. Sigh.
****************************************************************
That afternoon we headed north into the San Juans proper, to the historical mining town of Silverton. The San Juans are simply stunning in their grandeur and variety, the few ski resorts but microdots on a vast canvas of terrain. After four days on the road, we had yet to encounter good snow and our anxiety was palpable as we pulled into Silverton. Accessible solely via some of Colorado's highest passes and ringed by towering mountains, the village sits at more than 2,800 metres. The region holds rich gold seams that in the 1880s triggered a wild gold rush. Silverton swelled to 14,000 people and boasted a multi-block red-light district of bars and brothels. Americans truly think big.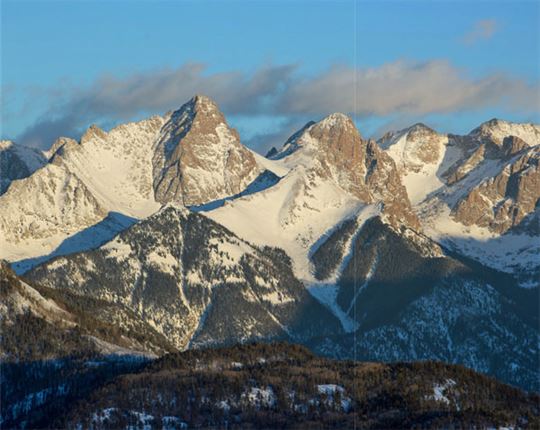 We strolled into the funky Montanya bar to find a menu of dozens of rum-based drinks and a wall mural depicting the nearby ski area's signature alpine cathedral. And we also found Brenden and Maureen, who had just bagged an incredible day of helicopter-accessed powder at Silverton. Outside, wisps of snow began to fall. Anxiety gradually transmogrified into excitement. It strengthened in the Pickle Barrel, a small restaurant where we met Jen Brill who, along with her husband, Aaron, owns Silverton Mountain. Like Davey and Roseanne at Wolf Creek, Jen and Aaron are unique characters with the vision to launch a ski area out of nothing. As we ate and Jen spoke, things outside were going our way as what looked like a serious snowfall settled in.
The good 15 cm of new snow the next morning had our rental vehicle skidding along the gravel road to the ski area. We found a "base area" comprising a gravel parking lot wallowing in new snow, a large yurt, a buried bus serving as rental hut, wooden outdoor latrines and an ancient safety-barless double chairlift.
What unfolded during the lift ride, however, was world-class: vast areas of steep, burly expert terrain looming amid the swirling snow. Jen and Aaron cleverly placed their chairlift onto the nose of a long ridgeline, thereby accessing a 270-degree arc of couloirs, bowls, steep treed slopes and avalanche slide paths dropping 700 vertical metres. Hiking up the ridge opens much more terrain and adds vertical, while separate drainages can be accessed via very short heli-flights for those with fatter wallets. There's no grooming, the mountain only opens four days per week and just 80 lift tickets are sold daily, with guests travelling in guided groups. Remarkably, the cost of Silverton privacy is just US$139 per day.
With the blizzard intensifying, there would be no heli-drops today, and Silverton's signature terrain was invisible. Calvin, our young guide, suggested we simply ski from the top of the chairlift; no hiking today. "This is going to be one of those days where every lap is deeper than the one before and the best turns will come at day's end," he predicted. Sweet words.
Calvin arced away into a high bowl narrowing into a U-shaped gully framed by skiable shoulders, choking into a tight couloir beneath towering ramparts. Race coach Claire made a point of looking particularly technical, smiling joyfully, Scott and I grimacing as we hacked our way through. The broad slide path forming the route's run-out was plain delight. Running down the valley's floor was an open creek spanned by a narrow footbridge to gain the exit trail. At the main valley's access road, an old school bus shuttled us back to the lift.
A strong skiing group typically manages five such laps per day. With Scott and Claire shooting photos intensively, we were proud to make that number, lunch hour comprising hastily munched sandwiches riding the chairlift. All of us were tiring on the final boot-hike to 3,800 metres to get atop the broad, beautiful Tiger Bowl. As Calvin had predicted, the new snow was almost double the depth of the morning. Pushing off the shoulder I soared weightless, down a perfectly pitched slope in now-bottomless powder, receiving not merely faceshots but an entire face-pitch of powder immersion, breathing through my Avalung the whole run.
*************************************************************
When Claire's good humour progresses from her standard smile and chuckle to a bent-over, body-racking laugh terminated by a lung-filling snort, it's less likely anybody's jokes improved than that the snow depth doubled or the mountain's best terrain re-opened after an avalanche closure. That's how our skiing at Telluride began, the morning after but a world away from our day at Silverton. Telluride's a large, wealthy town filling a tight valley, the approaching open hillsides dappled with enormous second (or fifth?) homes. Like most visitors, we stayed in a separate resort area, the ski-in/out Mountain Village, lying in a basin behind a ridgeline and connected to the historic town by a late-running gondola.
We strolled just metres from the opulent Mountain Lodge to a gentle, freshly groomed piste while the boom of alpine avalanche control was reverberating. Copious new snow lay everywhere, right to valley bottom.
Telluride offers steep fall-line terrain everywhere, particularly off chairlifts 6, 9 and 14, but also directly above the town. Diving into the woods with another Scott, a good friend from Calgary, the snow was chest-deep in places, with some of Scott Smith's shots that evening showing no more than a hand amid billowing snow. Down in the lineup for Chair 6, clothes and faces plastered in snow, we had a joyful chance reunion with Brenden and Maureen.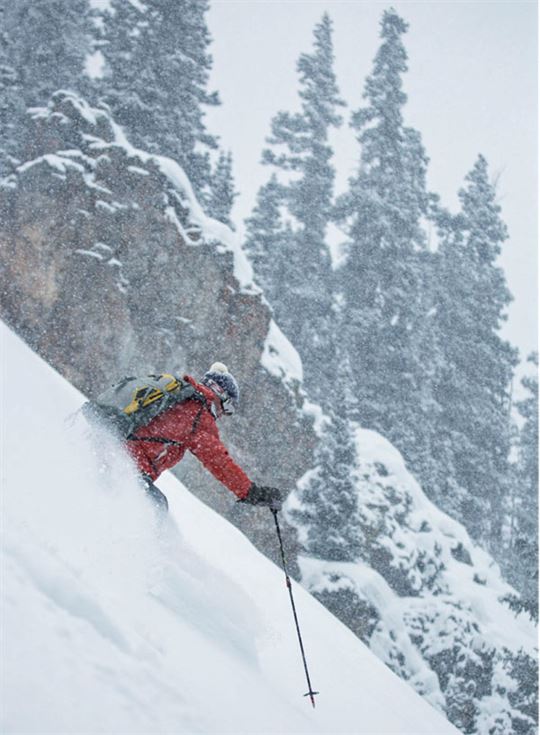 The storm broke and the weather cleared with stunning abruptness. Behind us, across the Bear Creek drainage, rose a simply staggering, gunmetal-grey rock wall flanked by gleaming white snowfields. In the other direction we could see Telluride's showcase terrain dropping from the incredible, 4,060-metre-high Palmyra Peak. A steep slog from the highest lift, Palmyra's skiing is like a chunk of Val d'Isère or Verbier. Alas, there would be days of further avalanche control. We were able to put first tracks into some very nice though far gentler alpine terrain off Chair 14, with Palmyra as our backdrop.
At day's end we skied down into Telluride, perhaps the funkiest ski town I've ever seen. Its mining heritage blends with modern wealth and rigorous taste that has preserved authenticity by favouring local businesses. Strolling into the Old West-style Sheridan bar, the following two hours were filled with laughter as we fell into conversation with various strangers, including a dapper little local bearded gentleman in round spectacles, corduroy trousers, red shirt and yellow cardigan.
Telluride offers enough interesting dining to fill a magazine, so I'll limit myself to one description: Allred's, I think the finest mountaintop restaurant in America. Allred's sits on the ridgetop between Telluride and the Mountain Village. Built into the town-village gondola station is a grotto-like area of arched stonework giving way to a sweeping timber-framed cocktail bar whose giant windows overlook Telluride's lights twinkling below—or in our case a swirl of giant snowflakes. A satisfying Syrah-Grenache blend from the Rhone accompanied a magnificent medium-rare elk loin. With nowhere to drive that night, our after-ski glow lasted all evening.
The next day, after a morning spent in still more fresh snow, we drove down yet another stunning valley back toward Durango and reflected that an eight-day road trip provides a dazzling feast of impressions and experiences, but leaves a feeling of having just scratched the surface. Every resort we touched is worth days or weeks of exploration—plus a lifetime of touring throughout the San Juans.