Reading Time:
2
minutes
Over four days at the end of January the ski industry unveiled the future of skiing. I checked it all out at the annual retail buying show in Denver, previewing winter 2018-2019 skis, boots, jackets, layers, and accessories from dozens of brands. Once the note taking hand cramps wore off a few wicked looking products rose to the top. Here are the three I'm most excited about trying.
Put too much stretch into a waterproof-breathable fabric and the membrane pores open up, letting in moisture. To get around this problem, but still include stretch, OR stitched panels of Gore-Tex's latest fabric, Stretch Technology. It's essential crimped fabric, so when you bend over the fabric is just pulled flat, not actually stretched. Panels of the stretchy fabric are placed in strategic areas of the jacket and pants to allow the most unrestricted mobility.
A couple brands introduced goggles with electric tint adjust, but Oakley's is the slickest. The battery is built into the lens, so there's no battery pack. Press the button on the side of the goggle frame and the tint gets darker or lighter immediately. The battery will last up to a month of weekend warrior use before it needs to be recharged via a micro USB port.
Elan Ripstick Black Edition
Already a stellar all mountain performer, Elan is turning its popular all mountain ski into a high speed stealth fighter. Two sheets of carbon fibre will sandwich the wood core, adding edge bite and power to the already versatile 96 mm ski. On the women side the Delight Supreme gets the same treatment, with the added bling of crystals imbedded in the top sheet.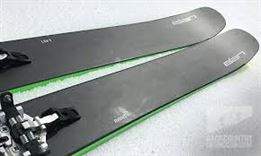 RYAN REPORT is a frequent web post by Ski Canada magazine's technical editor, Ryan Stuart.