---
There's no better place than Germany to check out today's highest performance
technology. The industry show ISPO exceeded expectations, featuring a High-Performance
revival. And the message was as clear as schnapps: the industry
knows you're a carving, frontside ripper; they've identified you as a connoisseur; and
they've broken all the rules to please you: deconstructing geometry, reengineering
light and redefining absorption. Gentlemen (and ladies), start your engines.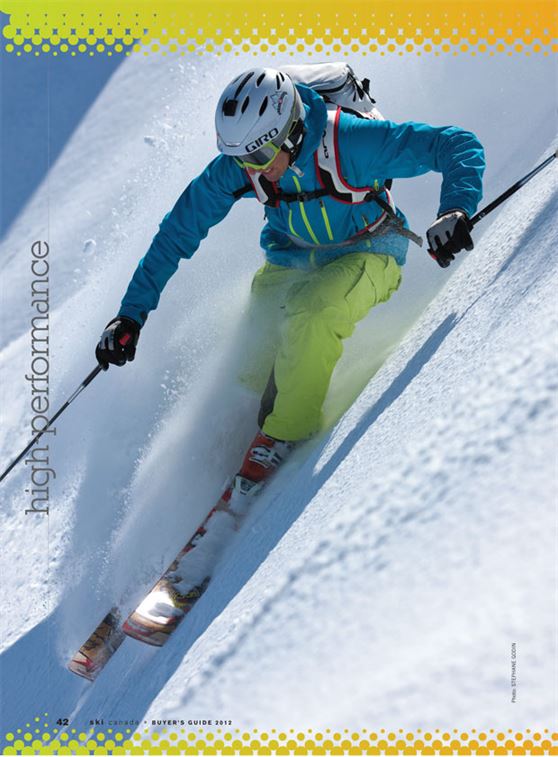 Left and right, right?
Elan has revolutionized skiing by uniting the two buzzwords of the industry: rocker and camber. Unlike the competition, Elan combines the best of both worlds over the length, putting camber where it needs to be—on the inside edge; and rockering the outside profile for better turnability. Add on its tried-and-true Waveflex technology and you get effortless carving on asymmetric skis (these have dedicated left and right skis). The name of the game is Amphibio, and there are three to choose from (plus a beefier, All-Mountain version). At the top of the heap, Amphibio Waveflex 14 comes in with a shapely 125/74/104 profile, with vertical sidewall construction for maximum grip and edge control. The on-piste speed machine comes with a laminated wood core for power transmission and is souped-up with a lightweight titanium two-pack for an explosive carving experience. The Amphibio Waveflex 12 offers the same dimensions, but with a more forgiving single Ti layer. Ditto with the ladies' Amphibio Insomnia, which comes with a feather-light wood core. Add on Porsche Design Studio touches to the architecture and you've got one of the sharpest tools in this season's shed.

Going…going…hexagon
Stöckli has been tweaking its specs from its recent Olympic and World Cup medal hauls. This year's innovation comes in the form of a robust hexagonal surface, which also gives its skis a completely new optic. Called Torsiotech, the technology features the cavities lasered directly into the titanal layer, which function uniformly for smooth and precise turns. Those wanting to ski like pros Tina Maze, Fabienne Suter and Tobias Grünenfelder, can step into the Laser FIS Racing, the original World Cup model. Stöckli also makes both a kid and junior version of its award-winning Laser model for those looking for precise and radical frontside turning.
Friendly Shark
Looking for on-piste perfection? Try Völkl's TigerShark 10'. At a curvaceous 121/73/102, this fully cambered blade cuts like a knife and comes powered by titanium over a full XTD wood core with a stylin' chrome hybrid top. Völkl pairs it with its iPT SpeedRide binding for optimal energy, elegance and handling.
Electric-ski
Short for Kinetic Energy Recovery System, Head's KERS microchip technology works like a turbocharger that specifically stiffens the ski's tail at the end of a turn for a catapulting effect, releasing energy when the ski is bent to the max. It's worked for the likes of Ligety, Svindal, Riesch and Vonn. And the result comes to you: noticeably more edge pressure, more speed and less effort in every turn. In 2011-12, expert skiers can look forward to riding the new fast-turning Worldcup i.SL RD, equipped with both KERS and HEAD Intelligence and a 12.5m-radius-turning, 117/66/100 sidecut. You'll also find KERS technology throughout the World Cup and in Supershape lines. Want the full World Cup package? Try Head's matching Raptor boot.
Atomic Race
Doubledeck is the next generation of the World Cup secret weapon. Atomic's D2 Race series offers ambitious skiers the same construction that Carlo Janka, the overall World Cup winner in 2010, rides. Now in its fourth generation, the technology combines unparalleled smoothness with maximum effective edge, the result of a unique two-level construction. The lower deck absorbs terrain and delivers edge grip, while the top deck distributes power. Look for six race models headed by the D2 Race GS plus a trio of Performer models in Atomic's speed arsenal.
Ski like a champ
Ivica Kostelic rode Fischer all the way to becoming last season's overall World Cup winner. Trickle-down technologies can land under your feet with the Austrian brand's Progressor 900. The 121/75/104-sidecut, High-Performance ski comes amped up with a pair of three-dimensional Dual Radius Amplifiers (DRA), which sit atop the deck adding rigidity for better energy transfer to the edges. The sandwich-constructed ski also comes with a pair of titanium layers and sidewalls over a wood core, and pairs nicely with the Soma Progressor 130 boot and Progressorcarbon pole.

World Cup inspired
Dynastar's Speed Course Ti, which comes with a World Cup-inspired sandwich construction and oversize, fast-edging 121/72/105 sidecut promises to be an easy-initiating, edge-to- edge fall-line ripper. Two sheets of titanium, dual-density vertical sidewalls and wood core make it snappy on the hardpack.
Hollowtech promises
With the goal to improve model ranges and expand its niche offerings, Kästle has expanded its Race Cross (RX) line with the RX10 (118/70/100). The ski combines the hallmarks of the race-inspired brand: smooth, powerful on-piste precision with high-speed stability, and dynamic turning with its patented and unmistakable Hollowtech tip technology.
Full suspension slalom
Blizzard expands its Power Full Suspension technology into the slalom market with the S-Power Full Suspension IQ, an uncompromising racer with the advantages of this technology coming straight from the automobile industry—it uses a stop-vibrations- dead oil piston shock absorber on the deck. Additionally, Carbon Power Boost struts provide balanced power absorption along the entire length of the board, guaranteeing a lively rebound for short-turn specialists. The ski comes in 160, 167 and 174 cm lengths at a fast-edging 68mm
underfoot.

Japanese artistry
In celebration of a century of
skimaking, Ogasaka created the
TC-ME. Hold on for a fast-turning
109/69/96-sidecut ski with a
steel beam system underfoot for
better grip and stability, with a
touch of front rocker. The folks at
the home office say it best: TC-ME
likes to go fast, grip the earth
and ignite impulse. Yet you can
ski and enjoy cruising in crud. In
other words, a versatile technical
ski with the spirit of Ogasaka ski
artisans. Grammar aside, they
stand by their word: Ogasaka
offers a two-year warranty. The ski
comes in 167, 172 and 177
cm lengths.

Tags: Atomic, Atomic Performer, Atomic's D2 Race, Blizzard, Carlo Janka, D2 Race GS, Dual Radius Amplifiers (DRA), Dynastar, Elan, Elan Amphibio, Fischer, Head, Head KERS, high performance, Hollowtech, iPT SpeedRide, ISPO, Ivica Kostelic, Kästle, Kastle Speed Course Ti, Kinetic Energy Recovery System, Ogasaka, Ogasaka TC-ME, Power Full Suspension, Progressor 900, Raptor, Soma Progressor 130, Speed Course Ti, Stockli, Stockli Laser FIS Racing, Torsiotech, Volkl, Volkl Tigershark, Worldcup i.SL RD