---
High-Performance means the best Frontside skis. Period. These shredders with high-octane
pedigrees urge their owners' best performances. Hear the noise – these come with all the
World Cup and Olympic circuit bells and vuvuzelas. More than experts only, this category
is for connoisseurs. Can you tell the difference between shaken and stirred? If yes, shop here.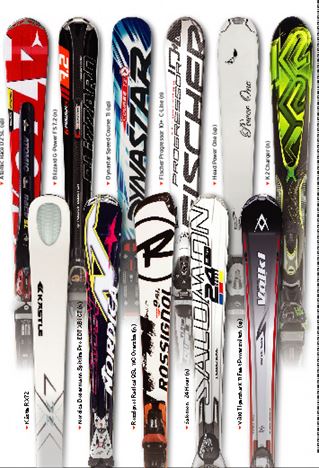 top row, left to right: Atomic Race D2 SL, Blizzard G-Power FS 7.2, Dynastar Speed Course Ti, Fischer Progessor 10+, Head Power One, K2 Charger
bottom row, left to right: Kastle RX72, Nordica Doberman Spitfire Pro EDT XBI CT, Rossignol Radical 9SL WC Oversize, Salomon 24 Hour, Volkl Tigershark 11 Feet Powerswitch
24 Hour winter
A performance carver with a racy feel,
Salomon's 24 Hour combines a full wood
core with the company's high-performance
Powerline titanium active dampening system.
Sandwich sidewalls reinforce the race frame
for excellent terrain absorption, while P-tex
4000 bases make sure you're speeding
downhill optimally.
Updated
Atomic's continued World Cup success
trickles down to the commercial market
in the Race D2 SL. The robust 67-mm-waisted
ski provides the proven Doubledeck
Powercore Cap, which combines Atomic's
Doubledeck technology and cap design over
titanium laminates and a high-grade wood
core. Expect a quick-turning ski that loves to
live on the edge.

Ready, set, Fischer!
The Progressor 10+ C-Line features Fischer's Dual-Radius sidecut (121/73/102) – SL
upfront for quick turn initiation,
with a stable GS finish. It's
built with a wood core, sidewall
sandwich construction, two layers
of Ti and Fischer's stiffening
Carbon Fibre Jacket. It's paired
with the C-Line Z13 Flowflex 2.0 binding with Tune-It system,
enabling one to control ski flex.
On the women's side, new is My
Style Zephyr C-Line, a narrow-waisted,
on-piste carving ski. A
stiffening carbon jacket works
together with the Flowflex
binding plate, also with the
Tune-It system, to keep things
light and powerful.
?
Make it snappy
Dynastar touts its newest on-piste
performer, the Speed Course Ti, as one of the
strongest, easiest-to-ski, hard-snow performers
in the sport. The energetic, wood-core ski
comes 72 mm underfoot with a race plate, is
part slalom (up front) and part GS (behind),
and lodges snappy 15-metre radii on demand.
Electric ski
It helped speed Lindsey Vonn, Didier Cuche
and Bode Miller to record seasons, so chances are
it'll work for you. Head says its KERS Technology comes from a mighty microchip capable of
both storing and releasing power. Piezoelectric
fibres transform kinetic energy – loaded when
the ski flexes within the turn – stores it into
electric energy and then releases it when you
need it most. The fully integrated system works
similar to a car's turbo charger, stiffening the
ski longitudinally at the end of the turn and
accelerating the rider into the next carve. You'll
find it in Head's top-end frontside performance
skis under the i.Supershape series. Its Chip series offers the technology slightly modifi ed.
Forget solar, nuclear and wind, and think of the
possibilities: one day we might be able to power
the world by going for a couple of runs.
Elevated tips
Completely new this year from K2, the
Charger (122/74/106) features a slightly
elevated tip and increased tip length, enabling
effortless initiation. The ski features a solid
metal laminate construction underfoot, which is
light at the extremes for laying down arcs. K2's
Men's Specific Mod Monic dampeners—vibration-reducing
solid zinc inserts—seal the deal.
Speedy sidewalls
Volkl's World Cup technology trickles into the
high-performance segment with its speedwall
series. These racing powerhouses come with full
sensor wood cores and titanium plates in both
slalom and GS cuts to make a speedy pro-level
ski. The company says that skiing on edge has
never been faster. The innovation: Volkl has
transplanted race bases to the sidewalls (and
you wax 'em too!) for superior speed and sliding throughout your turn. The technology finds itself on the Racetiger GS and Slalom Speedwall.
IQ: brains and brawn
The G-Power Full Suspension 7.2 upgrades Blizzard and
Marker's revolutionary IQ binding-to-ski system with an oil
piston dampener underfoot. Blizzard promises energetic,
edge-to-edge quickness and stability. The wood-core,
sidewall ski boasts a 123/72/105 sidecut, nails
a 15.5-metre radius, and comes in 167-, 174-
and 181-cm lengths. Blizzard's Power Frame technology, touted as producing a snappy
response with a perfectly arched flex,
rounds out the offerings.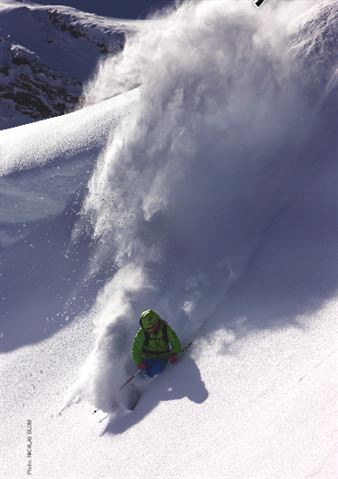 Tags: alpine skis, Buyer's Guide 2011, high performance 2011