---
The frontside of the mountain at its very best. Racecourse technology trickles down to the consumer with the ski industry's most powerful boards. Backed by decades of R&D on the World Cup circuit and this year's most innovative technologies, expect impeccable power transfer, solid carving, and all the bells and whistles for solid performance on hardpack.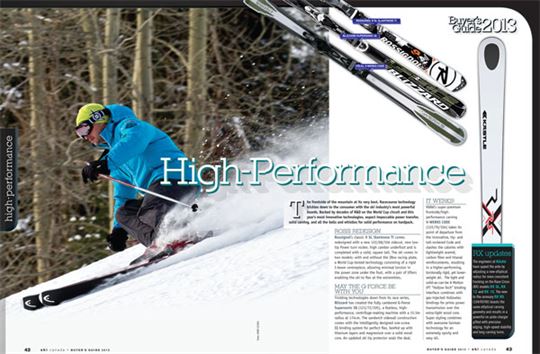 ROSSI REDESIGN
Rossignol's classic 9 SL Slantnose Ti comes redesigned with a new 122/68/104 sidecut, new lowtip Power turn rocker, high camber underfoot and is completed with a solid, square tail. The ski comes in two models: with and without the IBox racing plate, a World Cup-tested technology consisting of a rigid I-beam centrepiece, allowing minimal torsion in the power zone under the foot, with a pair of lifters enabling the ski to flex at the extremities.
MAY THE G-FORCE BE WITH YOU
Trickling technologies down from its race series, Blizzard has created the fully cambered G-Force Supersonic IQ (123/72/105), a fearless, high performance, centrifuge-making machine with a 15.5m radius at 174cm. The sandwich sidewall construction comes with the intelligently designed one-screw IQ binding system for perfect flex, beefed up with titanium layers and magnesium over a solid wood core. An updated ski tip protector seals the deal.
IT WERKS!
Völkl's super-premium frontside/highperformance carving V-WERKS CODE (122/76/104) takes its point of departure from the innovative, tip- and tail-rockered Code and slashes the calories with lightweight aramid, carbon fibre and titanal reinforcements, resulting in a higher-performing, torsionally rigid, yet lowerweight ski. The light and solid-as-can-be A Motion iPT "Hollow-Tech" binding interface combines with gas-injected Hollowtec bindings for primo power transmission over the extra-light wood core. Super styling combines with awesome German technology for an extremely sporty and sexy ski.
RX updates
The engineers at Kästle have upped the ante by adjusting a new elliptical radius for more consistent tracking on the Race Cross (RX) models RX SL, RX 12 and RX 10. The new-to- the-armoury RX RS (104/69/90) boasts the same elliptical carving geometry and results in a powerful on-piste charger gifted with precision edging, high-speed stability and long carving turns.
---
Tags: A Motion iPT "Hollow-Tech", Blizzard G-Force Supersonic IQ, Featured, frontside, high performance, Hollowtech, iBox, Kastle Race Cross RX, Rossignol 9 SL Slantnose Ti, Volkl V-WERKS CODE