Reading Time:
10
minutes
Skiers of all ages enjoy being overwhelmed by the legendary Swiss resort
From Blackcomb to Zermatt, lots of people have skied on a glacier, but how many can say they've skied under one? Okay, so technically we didn't actually "ski" so much as "slide our bums uncontrollably on the most frictionless surface we've ever encountered," but it still proved an exceptional welcome to one of the many wonders of Switzerland.
Earlier that morning my wife, Ray, and I had hocked our three children at the ski school in town and then stopped at the tourist board to convince Claudia Staber to not only play hooky with us, but to bring along mountain guide friend Benedikt Perren to show us a few places we might not venture to on our own.
Our perfect timing saw us arriving at the end of one of the Alps' big storms of 2009, with knee-deep light, dry powder just metres from the pistes' groomed corduroys. With the highest cable car in Europe leading to the Klein (little) Matterhorn (now known by marketing types as the Matterhorn Glacier Paradise) closed by winds, we chose to warm up on several tight chutes and gullies surrounded by towering firs in the Schwarzsee area. The unmarked Little River and Deep River, for instance, were right there in the middle of the trail map, but well hidden without local knowledge.
With tough visibility up in the alpine and lots of blowing snow on the wide, open pistes, it was a real treat to have found such protected and tree-defined runs. Sometimes even thigh-deep in virgin powder, with towering rock faces for both protection and perspective, we seemingly had everything to ourselves. We also felt as if we were deep in the B.C. backcountry, not just slightly off-piste at one of the biggest and most popular ski resorts of Europe.
While Benedikt and I had a catch-up moment waiting for the ladies beside (but it felt like beneath) a massive, imposing vertical wall of rock, I asked him about the possibility of slides.
"Oh no, here it is safe—too schteep for layers to build up," he explained matter-of-factly. But then, looking four or five stories directly above our heads, he added, "Zo, a deadly avalanche swept a guy off zis cliff earlier in ze vinter."
"Was it the drop or being buried in the slide that killed him?" I asked, trying to sound unconcerned but also hurrying along the conversation before Ray and Claudia arrived to listen in.
"Oh no, it vas ze fall. He lost his head, too. Und now vee go ski."
After each lap down the radiator of chutes we popped back out onto a cat track that collected skiers of all levels from other routes. Along the way we passed hay-drying farm huts and, later on, alpine farmhouses and chalets as well as cut runs meandering their way back above a mountain stream eventually to a choice of gondola loading stations.
It was late morning before we made it up to the lonely T-bars of the Theodulgletscher (Theodul glacier). This was the one day of our trip that had windy and wintry conditions, but the intermediate pitch had shin-deep untracked snow. Off-piste safety, specifically crevasses, dictated regular regroupings.
If you skimp on something in the Alps, don't nix the mountain guide. Contrary to popular belief, a guide is not "For Experts Only," he's there to safely take you places you'll never discover on your own. Booked privately, a mountain guide is admittedly not a cheap addon for a day or two, but he can be shared by a group of up to six people, which makes the luxury affordable. And we would never have found that dark, gaping gash under the glacier, let a table at lunch for that matter, without Benedikt.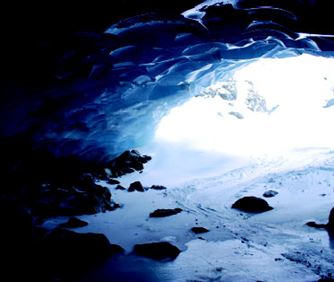 That dark, gaping hole under a town-sized slab of ice revealed a wondrous powdery-blue river that appeared to be magically frozen in time. Velvety smooth waterfalls disappeared down twisting-turning routes through the quiet ice cavern. The entire slide system of differing shades of aqua and shadows also formed the eerie walls and ceiling.
The only advice I remember hearing before watching Benedikt disappear into the blue was "Take off your skis und use zem like an anchor!" My anchor quickly became a weapon, and I was suddenly spinning down a natural amusement park ride with no steering or brakes. Holding Ray's new and borrowed Nikon above my head with a strange fear of "going under," I did learn to cleverly use different body parts to fend off frozen Henry Moore sculptures that appeared out of nowhere. After 100 metres or so, my ski pants and I spun out at the feet of the other three who had gathered beneath a large exit hole. Slippery was definitely an understatement.
Later, during a wonderful ethnically Swiss lunch at Bergrestaurant Blatten, one of many tiny, family-run wooden mountain huts scattered about onhill, Ray and I traced the runs we'd done so far and realized how much was ahead of us with only three more days left of our visit.
Skiing in Zermatt is broadly split into four areas: the lower elevation, closest-to-town Sunnegga; the vast midlands of Gornergrat; the high-alpine and glacier skiing of the Klein Matterhorn; and the slopes closest to the Matterhorn, Schwarzsee. Zermatt (not fittingly from Zur Matte or "in the meadow") has the second biggest lift-serviced vertical in the world, with a 14-km run that drops 2,279 metres from the Klein Matterhorn into town. Over our three-and-a-half days, no matter how much we skied, we barely made a dent. Trying to work in Cervinia, an entirely different but interconnected resort on the Italian side of the Matterhorn, was daunting. And because we were meeting up with a group of families in the Italian Aosta Valley a few days later, we left Cervinia's windy slopes untouched.
After a couple of post-lunch cruising runs, we skied the rest of the way into town to collect the kids and hear their tales of speaking to their instructors and classmates in English, French and, apparently the most humorous, both languages but with a German accent. Where we'd had cold and blustery weather, they'd had nothing but warm, blue skies and calm conditions in the aptly named Sunnegga area.
Foreign-food adjustment was easy for our often picky eaters, with schnitzel, spaghetti bolognaise and nose-tickling mineral water (mit gaz) for lunch. And tales of all-day skiing in the trees and powdery trails confirmed what we suspected—many Swiss instructors know what children like. All the same, we were glad we'd zipped in all our kids' pockets notes with our hotel name. Did I mention Zermatt is a big place?
In total contrast, it had been only the day before that we were enjoying the quiet but enchanting little Swiss-French town of Gruyères, spinning with jet lag and a list of too much to do. Aside from the impressive but so-called "family" ski area at nearby Moléson and the world-famous cheese from the Fromagerie de démonstration, the imposing 11th-century castle that looms over the town looked like a movie set for Chitty Chitty Bang Bang. Steps from the castle entrance, fans of the movie Alien would be right at home at the HR Giger Museum with its wildly grotesque but fascinating sculptures by the Swiss surrealist and Academy Award winner.
To avoid a flight connection in Europe and in the middle of the night (Toronto-time), we had flown first to New York on inexpensive LAN Airlines and then non-stop overnight on Swiss directly to our destination, Geneva. The easy-to- use smaller airport (as well as the upgrade to an Alfa Romeo 159 Sportwagon) made the final leg of the journey to Gruyères seem as if we were just heading to Quebec on a Friday night. Although in retrospect, the parents probably should have had a jet-lag nap with the kids before taking on the Giger Museum—either that or a stiff drink in the wonderfully creepy Giger Bar next door.
Our two-day home was a skip and a tumble down the steep hill from the walled village at Ferme du Bourgoz, the farm of Eliane and Jacques Murith. Ikea-clean with fluffy duvets, our family room was upstairs, with fowl clucking quietly in the backyard and a big, friendly Bernese mountain dog watching over everyone. The dairy cattle were housed a few minutes' walk up the road.
Our kids impressed us and Eliane by chatting away in their school French constantly as Ray and I struggled with the language and unintentionally provided the humour. The next morning, as we finished up our petite déjeuner of homemade cheeses, breads, cereals and jams, the more reserved Jacques returned from the barn and quietly plunked his tin pail of warm milk on the table, straight from the udder. With four slightly older children of their own, it was fun comparing our families and lives. And in a classic small-world anecdote, a week after arriving home from the trip our 11-year-old Meg was assigned a new reading buddy at school who'd just moved to Toronto—from Gruyères.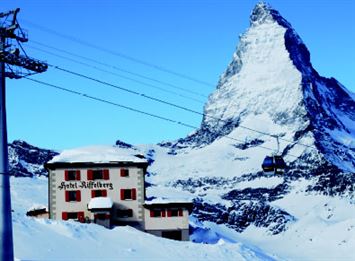 It was also fun a few nights later contrasting our little farmhouse
accommodation in French-speaking Switzerland with Hotel Riffelberg high above the world-renowned resort of Zermatt in the German-speaking southern canton of Valais. With countless hotels to choose from in town, I first wondered about the possibility of roughing it in an alpine hut. However, finding few (well, none) open in the winter, I did find three hotels nestled in the alpine, though, and zeroed in on the reasonably priced, 155-year-old Hotel Riffelberg.
Accessible via the Gornergratbahn, a steep-gradient rack or cog railway train built in 1898, the three hotels have unique settings high above the town. At 2,548 metres, the Riffelberg sits below but shares the same spectacular views with its swank sister hotel at 3,089 metres, the Kulmhotel Gornergrat. Trains rattle away regularly for the 23-minute trip, almost 1,500 vertical metres above town. Perfect for our needs.
Ski-in, ski-out accommodation is not as easily found in the Alps as it is in North America, but the advantages certainly are similar. If you're on the first floor of the Riffelberg and you're not careful, you could ski into your bedroom window. Indeed, every window has a commanding view toward the imposing Matterhorn (4,478 metres) or the higher Dufourspitze peak of Monte Rosa (4,634 metres); even our large window from the bathtub looked steeply down to the valley floor, the twinkling lights of town and the everlasting alpenglow.
Sleeping up in the alpine also means missing the shuttle buses and trudge through town in the morning and the simple act of getting to the lifts with everyone's gear. And for couples or families who aren't bent on partying beyond après ski (the last train up the mountain is around 7:00), it was the ideal routine to explore and play in town until hungry and then train it back to the hotel for supper. An added bonus in the morning: most days the Zermatt ski school meets about 100 metres from the hotel.
Typical of ski holidays in Switzerland and much of the Alps, breakfast and three- or four-course dinners are included daily, and meals at the Riffelberg complemented the spectacular setting and views of the big peak out the dining room windows. Even our regular dining room neighbours, Beate from Zurich and boyfriend Detlef from Freiburg, Germany, were lovely to share dinner and breakfast conversations with as well as ask for advice on a range of topics.
Some early-bird powder seekers who stay in town pay 25 Swiss Francs (about C$27) for a First Tracks program on Thursdays (which INCLUDES a buffet breakfast), but every day at one of the hotels off the Gornergratbahn is "first tracks" day. We certainly took advantage of our surroundings. When our tuckered-out kids quit a little early one afternoon, Ray and I headed to the 2,700-metre-long Gant-Hohtälli cable car that zooms over the dizzying and highest lift tower (94 metres) in Switzerland. Despite the packed trams, a little bit of pole-pushing (and my no-looking-down rules) led to some distracting views— and spectacular steeps—off an almost cartoonish ridge with a pair of bumbling Swedish skiers who couldn't make up their minds whether they were leading us or the other way around.
When comparing one ski area to another around the world, vertical drop is a pretty standard starting point. And of course, the width of a trail map as well as usable lifts and lengths of runouts can help determine the value of that vertical number. Europe and North America differ in their comparison of the amount of skiing, however. Ski areas in the Alps typically refer to "kilometres of pistes" or groomed terrain for resort size as opposed to "skiable terrain" or acreage in North America. The numbers can be stretched a bit on this side of the pond, however, when skiable acreage starts to include tight trees and redefining meadows as slopes. Europe's kilometres of pistes, on the other hand, have a minimum width (which during busy times could be wider) but no maximum.
Zermatt, nevertheless, has a hefty 313 km of marked and groomed pistes. But with all the new snow, and many years of playing in trails and trees at home, it took little convincing to get my entourage offpiste —sometimes only metres from the corduroys, other times with a short traverse into the wild, but always into soft, dry, untracked fresh.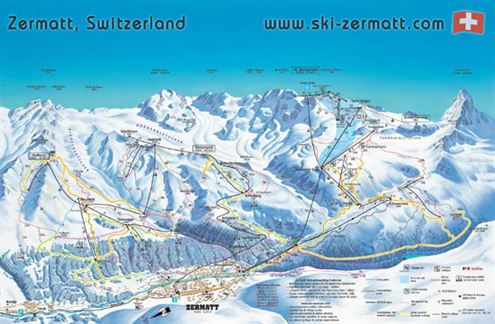 By the second day, the sky was bluebird, the powder still had few tracks in it and the omnipresent Matterhorn was no longer shades of menacing grey but looked down on us smiling like a big old watchful grandpa.
SWISS PREPAREDNESS
If you're touring Switzerland by car, driving to Zermatt requires leaving your vehicle down the valley at the town of Tasch and doing the final leg to the electric-vehicle-only town by train. Our drive through the scenic Rhone Valley on the way to Zermatt was in 20-degree temperatures in March, and hard not to see why this is Switzerland's wine growing region.
Swiss has daily aeroplan service to Zurich from both Toronto and Montreal. If you're heading directly to Zermatt, the travel time from Geneva or Zurich by train is roughly the same, about three hours. If you want to fly directly to Geneva, and make your connection before your long-haul flight rather than after you've arrived in Europe, LAN has inexpensive Toronto-to-JFK flights that connect with Swiss non-stop service to Geneva.
Hotel Riffelberg has 7-night packages (always the best deal in Europe), such as a family of four for roughly $3,200, including full breakfast and dinner and all taxes (February excluded). A lift pass is about $60 a day if you buy a multi-day (slightly more if you include Cervinia, Italy). Children under 13 (ish) are half of that. No kids?
Adult packages in January (C$1,800) include 7 nights, meals, 8 days of lifts at both Zermatt and Cervinia, equipment rentals and all taxes.
Gruyères has several small hotels and B&Bs. We liked life on the farm best. Ferme de Bourgoz, about C$90 per night for two adults, breakfast and taxes.
Our final stop was in Geneva where we scattered about on a walking tour of the old city, killed time at the Patek Philippe watch museum, and conducted tests at more than one chocolatier. Virtually all hotel stays include free public transit, a fine welcome.