Reading Time:
2
minutes
Helly Hansen's original synthetic baselayer transitions into a mid-layer jacket worth raving about.
With 11 World Cup top 10s, Erin Mielzinski is the best slalom skier Canada has produced in more than 40 years. Indeed, she was the first to win a World Cup slalom since Betsy Clifford in 1971. Mielzinski credits a lot of things for her success, including her Helly Hansen LIFALOFT jacket.
"I never wear a jacket in our training courses, even when it's -40C. They're just too bulky around the arms," she says. "This jacket felt natural and free—and it keeps me warmer than my thick jacket."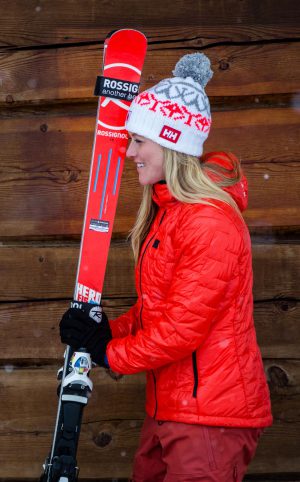 LIFALOFT is the latest innovation from Helly Hansen based on Lifa fibres. When Lifa launched in 1970, it was the first synthetic baselayer; it wicked moisture away from the skin and dispersing it for quick evaporation. Lifa has gone through a lot of iterations and advancements since then, but all were designed in-house and related to next-to-skin comfort. In that sense, LIFALOFT is a departure. It's the first-ever insulation with Lifa and the first collaboration with an outside brand, in this case PrimaLoft, a leading synthetic puffy supplier.
Helly Hansen blended Lifa and PrimaLoft together to create a new warmer insulation. Weaving the mix into a sheet created a material with more tiny air pockets than other synthetic insulations, which translates into more warmth for less weight. It's also hydrophobic, meaning it repels water and dries fast. Plus, making LIFALOFT uses significantly less water than most other synthetic insulations.
Helly Hansen first used the new material to make a jacket for the Swedish national ski team. Since the skiers spend so much time living out of a suitcase, they wanted a jacket they could use for training—and also wear to dinner. The LIFALOFT Insulator collection of thinner puffy jackets and vests pack warmth without looking too technical or taking up too much room. As a sponsor of Alpine Canada, Helly Hansen gave the national team LIFALOFT jackets as well.
Beyond the racecourse, Mielzinski certainly wears hers year-round for hiking, camping, traveling and skiing.
"LIFALOFT is thinner yet warmer than standard insulation," she says. "This makes the jacket more comfortable, easier to pack and gives it that feeling of a second skin."
But it was heli-skiing last spring with the LIFALOFT under a weatherproof jacket that the technology really impressed her. "What completely blew me away was that, although the weather varied throughout the day, I was completely comfortable," she says. "Even when I reached the bottom of each run, my temperature didn't spike. I didn't have to shed a layer even when many of my fellow skiers did."