Hello BC! The Freeride World Tour Returns to Kicking Horse for another Wild Ride
---
Dominique Daher – FWT18 – Kicking Horse
Get ready for big air, mind blowing tricks and spectacular runs. The 16th edition of the Freeride World Tour (FWT) hits B.C.'s Kicking Horse Mountain Resort February 17-22, 2023—North America's only stop on the global tour.
Initially planned as the first competition of the season, organizers postponed Kicking Horse's January event to mid-February due to sketchy weather conditions. "It has been a challenging start to the winter," said area manager Mike Rubenstein in December. Kicking Horse steeps were in a state that could not produce enough "rideable lines for a competition." That's saying something, considering the sketchy routes freeriders consider to be rideable these days.
No Easy Ride
With its chutes now properly filled in, the Kicking Horse stop is now the third and final chance for riders to make it through the cut to compete at the March finals in Fieberbrunn, Austria and Verbier, Switzerland.
Athletes qualify using results from two out of the first three events, but securing a spot is no easy ride. Kicking Horse is "littered with rocky spines, cliffs and spicy chutes," says Matt Mosteller, senior vice-president of Resorts of the Canadian Rockies (RCR). "Areas like the Ozone have a top section that literally drops off—all you see below is the floor of the bowl." Spectators can expect fast runs, dicey lines and big air with tricks.
Top of the Top
Four Canadians top the Kicking Horse roster, including Vancouver's Olivia McNeill, gold-medal winner last season at Baqueira-Beret, and Fernie snowboarder Katie Anderson who scored a stunning second-place finish at Kicking Horse in 2022. Dustin Craven, a local rider, makes his tour debut this season, earning a wildcard in the men's snowboard category.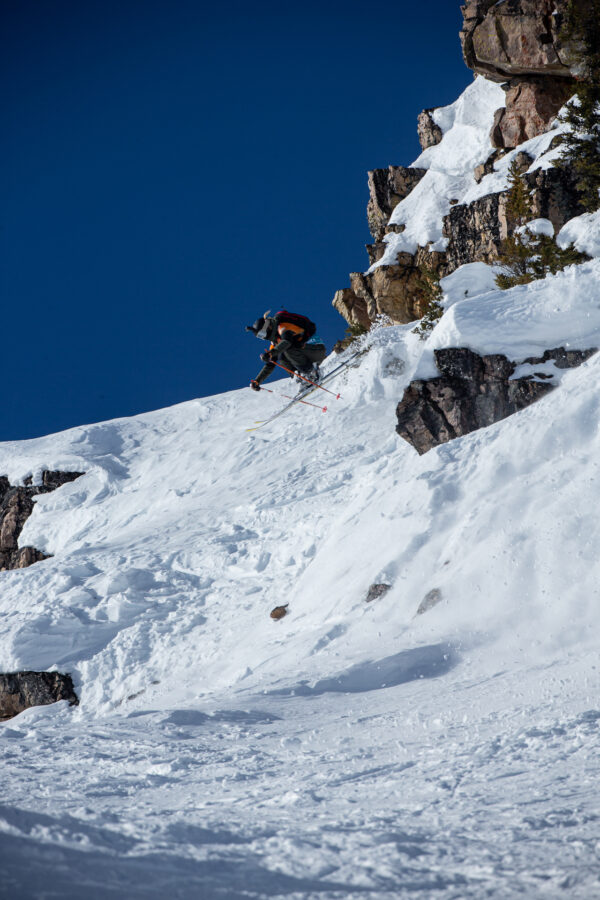 But all eyes may be on Quebec's two-time Olympic medal winner Justine Dufour-Lapointe, a surprise wildcard entry into the women's ski challenge. "I've always admired freeride skiers," said Dufour-Lapointe. "They're the top of the top, it's something I've always wanted to do." 
The athlete spent last summer in New Zealand's Remarkables, dialling in her new freeride setup while skiing with a backpack full of safety gear (required for competition). She capped her stay there by placing fourth in an FWT qualifier event at Winter Games NZ, where she also became the third female freeride skier to nail a backflip in competition. Said Dufour-Lapointe, "My only goal this season is to have fun and enjoy myself. That's when I get my best results. For the next year, I'd like to push the sport's boundaries with new jumps, new tricks and new grabs that have never been done before."
Alpina Watches: Official Sponsor & Timekeeper
Alipna Watches – Max Palm
Meanwhile, Alpina Watches has resumed its partnership with the Freeride World Tour for the fifth consecutive year, along with its sponsorship of Max Palm, a rising freeride star competing in the 2023 FWT.
For 138 years, Alpina has been designing watches in Switzerland, where the rugged alps inspire performance sports watches that look right at home in the mountains.
To mark its FWT partnership, Alpina is releasing a limited run of their Alpiner Extreme line ($2,195), complete with a FWT logo prominent on the dial.
The 41-mm stainless steel case resists the macho urge to be oversized, letting it fit better under ski gear. Being waterproof, freezeproof and shockproof, it's never going to be a source of worry for you. Automatic operation means there is no battery or winding required, it keeps running by virtue of body movement, like proper pole plants. Curious how it works? Flip the watch over and see the cogs and gears doing their thing through the clear caseback.
Watch FWT23's official teaser here.
—Quentin Reinhart with notes from David Fonda and Ian Merringer
2023 Freeride World Tour Stops
Baqueira-Beret Pro, Spain – January 28 – February 2
Ordino Arcalís Pro, Andorra – February 4 – 9
Kicking Horse Pro, Canada – February 17 – 22
Fieberbrunn Pro, Austria – March 11 – 17
Xtreme Verbier, Switzerland – March 25 – April 2
Tags: Alpina Watches, Dustin Craven, Freeride World Tour, FWT23, Justine Dufour-Lapointe, Katie Anderson, Kicking Horse Mountain Resort, Max Palm, Olivia McNeill, RCR, Resorts of the Canadian Rockies