---
by RYAN STUART – on assignment
I'm a firm believer in quality over quantity, especially when it comes to skiing. It's always fun, but most laps and days blur. Only the exceptional ones stand out. Skiing in Japan flipped this reliable truth. Two months after returning home I can still picture almost every run, starting with the first.
I slid off the empty lift, carved two buttery turns on a soft groomer and quickly dove into the trees. I'd spied them from the lift and was a bit suspicious. It was already afternoon and the new snow from last night was tracked up on the runs but only one line weaved through the open birch and beach trees. Anywhere else this would be trashed by now. Instead, one slight deviation and it felt like I was in the backcountry. The open trees were easy to GS through and the knee-deep powder was ridiculously light, exploding out of my way in contrail clouds.
As I slid out of the trees and back into reality I realized my first run captured everything I'd ever read or heard about skiing in Japan. I could go home right now feeling content. Of course I didn't. I skied onto another lift to do it again. And again.
Destination: たざわ湖スキー場 (Tazawako Ski Resort)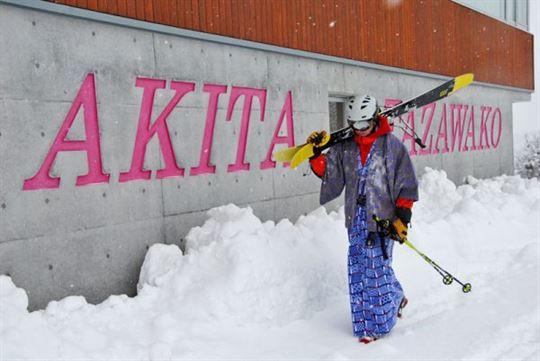 Most of the ski footage from Japan comes from one of two places: the northern Island of Hakaido or the Nagano area west of Tokyo. With something like 500 ski resorts in the country that leaves a lot of other potential destinations with the same endless snowstorms and perfectly spaced tree skiing. It was to one of these that Ski Canada editor Iain and I headed for in early February. Tazawako Ski Resort is in Akita Prefecture near the northwestern tip of Honshu, the main island. Close to the Sea of Japan it's influenced by the cold air coming off the Asian continent and the marine moisture from the Pacific. Add some 1,700-metre mountains and you get deep, reliable snow—there's obviously no need for snowmaking. Flights and bullet trains zip between Tokyo and Akita City several times a day. The ski area is a two-hour drive from Akita, but getting there is challenging unless you're on a guided tour or rent a car.
The ski resort
Tazawako is the largest ski resort in the area with four main lifts climbing a ridgeline up the mountain and 600 metres of vertical. The skiing's not steep or gnarly, but what it lacks in challenge it makes up for in lack of crowds and fresh snow. We never stood in a lift line of any size and it never stopped snowing. Actually, that's not entirely true. For an hour the first day the clouds lifted and we enjoyed the sweet view from the ski hill of Lake Tazawako, the deepest lake in Japan.
The skiing
Together with our British buddy Matt, we three were the only westerners at Tazawako over our entire visit. Even better, we were apparently the only ones looking for powder. It was unavoidable most of time. Then we got spoiled. If the run wasn't mostly untracked we started hunting for it, diving into the hardwood glades that separated every run and even lapping a backcountry pitch that landed us on the road and a short slide back to the resort. Coming back to Canada was harsh. My first day on skis after Japan should have been a great day—15 centimetres of fresh—but it paled in comparison to what I'd just experienced.
Accommodation
A short drive or shuttle bus away from Tazawako are several hotels. Like most the one we stayed in had its own onsen—they've tapped into natural hot springs and pump the steamy water into a shallow outdoor pool. It's a sweet perk at the end of a hard day of work. The hotels typically include traditional Japanese meals for breakfast and dinner and nightly entertainment of local musical performances. Just don't expect anyone to speak English or even read English on signs. After a few nights at the nearly-slopestyle hotel we moved into a Japanese farm guest house where we slept five to a room on pillowy foam mattresses in a woven-grass floor room and helped prepare dinner, including rolling our own rice sticks.
More snow
Every night it snowed about a foot and then would snow most of the day. Sometimes it fell straight down and other times it howled. Nothing ever seemed to get tracked up; it only got deeper, redefining what it means to go tits deep. The snow was consistently so light, there was so little mass to it, that the low angle terrain didn't matter. At times I felt like Moses parting the sea. The snow blew up all around me, but barely slowed me down.
Festival city
After three days of skiing the deepest, lightest snow ever, we took a break to check out some of the local culture. Japan's high tech reputation coexists with ancient beliefs. In the Akita area that includes lantern festivals, strong Buddhist and Shinto religious beliefs and Namahage. The latter is a mountain man who visits homes around the New Year hunting for badly behaved children. Each village has its own Namahage with its own intricate mask.
Japan's different
There's plenty separating Japanese ski culture with North America beyond the fact they don't seem to like skiing powder or in the trees. Take the excellent and speedy ski hill food. Beyond endless varieties of ramen there were also oddities like Mogul Curry, a soupy curry, rice and vegetable dish shaped and presented to look like a mogul field. Another: at the bottom of the hill is an air pump for blowing snow off your boards, boots and clothing. Or maybe that's just a testament to how much it snows.
Sake
The best part of the trip, after the skiing, was the sake. We drank it in copious quantities every night but never woke up with a hangover. And we always drank it cold. The hot sake we drink at home is probably made with regular rice and has an alcohol-type bite. Good quality sake is made with sake rice and the difference is huge – it always went down smooth. Akita is famous for its sake and we visited the Hideyoshi Brewery to learn how it's made and try several of their varieties. Each had its own unique flavour but all had a clean, crisp and dry taste. Our favourites were a young sake that doesn't travel well, but tasted fruity and almost effervescent and a sparkling sake made with champagne yeast.
Tokyo
Every trip to Japan should include a day or two in Tokyo. Buy a day pass for the immense subway system and hire a guide like Yumi Komatsu to show you around the various temples, towers, parks, palaces and shopping districts. And don't miss the Owls Garden where you can hang out with a dozen of the beautiful birds.
I want to go back
Lap after lap of knee deep, then waist and sometimes chest deep powder, I didn't want to leave Japan. The tree skiing is so different from what I've experienced in North America and the lack of steep terrain took nothing away from the fun. Add incredible food and a new appreciation for sake, and I'm smitten. I'm already plotting ways to return to the land of the rising sun. If you haven't been know that, in Akita at least, it is everything you've seen and heard.







Tags: Featured, Japan, Kazawako